NBA rookie Rui Hachimura has been a bright spot not only for the Washington Wizards but also for his homeland of Japan.
The 22-year-old No. 9 draft pick ranks fourth in scoring (13.8 points per game) and third in rebounding (6.1) among rookies who played a minimum of 10 games. Barring a trade or an injury, the young man is most likely going to play a vital role in the Wizards' success in the coming years.
More importantly, Hachimura gave Japanese fans a reason to tune in to the 2019 FIBA World Cup—he averaged 13.3 points, 5.7 rebounds, and 2.3 assists during the first round of the tournament. Both his country and the league knew full well to make the most of his burgeoning popularity.
It's no secret that local media has followed Hachimura's NBA rise religiously. The Japan Times reports that broadcast subscriptions to the association in the country shot up to 30% year-over-year since his emergence. That's not to mention the many brands that he's currently serving as an ambassador of, from sneakers and cup noodles to a 5G internet service.
"I think that for a player from Japan who will have a strong following, purely from a media standpoint, there is the availability of more media and international media in Washington D.C. than you may see in other markets," NBA commissioner Adam Silver said during a Tokyo visit. "That is one of the advantages that clearly Washington has."
But before making history as the first Japanese player to be selected in the first round of the NBA draft, Hachimura had to endure the same plight of fellow biracial athletes. In fact, he admits to having to deal with racism throughout his basketball journey. After leading Japan to a title in the 2014 FIBA U17 World Championship, he committed to play college ball for Gonzaga, where the cultural differences became more apparent.
"Communication. Language. That was very hard," Hachimura shared during an interview with The Undefeated. "It's different. Here and Japan are, like, the opposite things. Maybe I was thinking about going home a little bit, but I couldn't quit. I had a bigger goal. I am playing for my national team, too. I couldn't do it."
People love underdog stories, and his unlikely journey to the NBA has the makings of one. Rui had to be resilient in the face of adversity, which is why him being chosen as the brand ambassador for the G-STEEL GST-B100 by a Japanese watch company known for toughness is only fitting.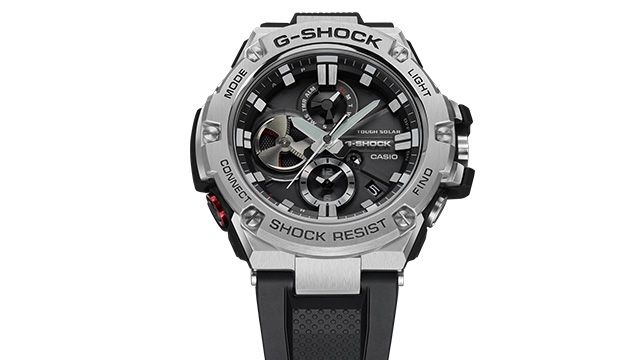 The G-STEEL GST-B100 is the first watch to introduce chronograph performance in analog format in its lineup. It sports G-SHOCK's signature timekeeping durability, thanks to its layered guard structure, resin case, and stainless steel bezel—which means it's shock and water resistant (up to 200m). Additional functions include Bluetooth connectivity, Tough Solar charging system, LED light illumination, and dual dial World Time.
Casio has always been about toughness and style when it comes to timepieces. In more ways than one, Hachimura's basketball career and style of play mirror these core qualities. He's not afraid to grind it out, and he knows when to work on refining his arsenal. We can't wait to see what's in store.
Learn more about Rui Hachimura and the GST-B100 on G-SHOCK's official website.