IT WAS only a few days after the beginning of the lockdown in March when Rizza Diaz found out through a drug-store kit that she might be expecting. Unable to go out, it was only weeks after that she was able to confirm it with a medical professional.
Giving birth (especially for the first time) should be an occasion that's full of hope. But what does it take to carry one in a time of pandemic that has affected millions all over the world?
Now, seven months into her pregnancy, PBA courtside reporter Rizza Diaz consistently tells herself to "momma up" every time she felt she was having it tough.
"It was so difficult. You're thinking about it, pero you can't actually do anything about it. The virus panic was still at its peak at the time, kaka-simula pa lang ng lockdown and it was ECQ," she told SPIN Life. "My initial checkup was virtual. May OB lang ako na kausap via videocall, and then nag-advice na it's accurate, and I should start taking care of myself better."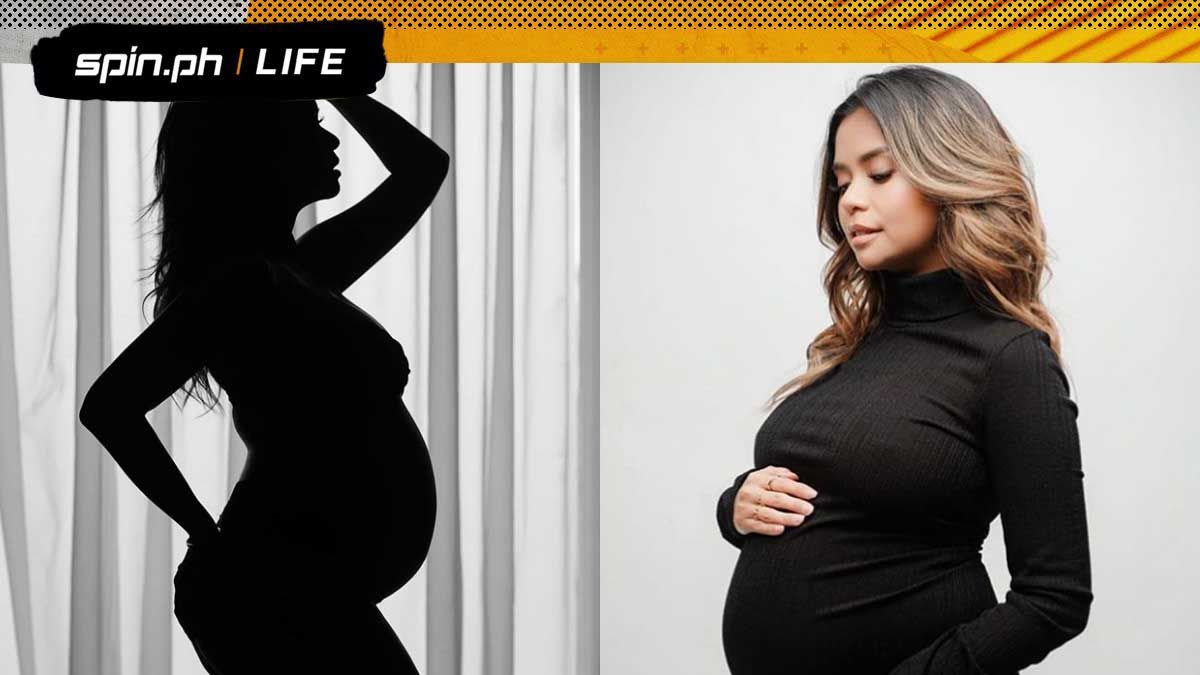 Continue reading below ↓
Recommended Videos
Meanwhile, her partner, Bacoor City Strikers guard Nicky Demusis, was stuck in his home in Hawaii. Diaz was literally all by herself.
Still, she never felt lonely.
"Twelve weeks into pregnancy, I went out for a checkup. It was unusual, they don't allow companions inside the room, ikaw lang at 'yung doctor," she shared. "And when I first listened to the heartbeat, it was such an experience. It was difficult — wala kang malabasan ng emotions, wala kang kamay na mahawakan — but it was still a lot of happiness for me."
Right after the checkup, she called the MPBL player to tell him the news.
"I never thought long distance relationships actually worked until that day. Yes, I wish he could've shared those moments with me physically, but with his efforts, I don't feel alone. And I do talk to my baby all the time," she continued.
She added: "I just try to keep myself occupied. I read up on tips online, self-help books. There would be times that it's tough, but mostly, I was overpowered by so much joy, love, and hope. Nicholas just constantly boosts my morale from miles away."
Although Demusis had the chance to return to the Philippines to be with her, Diaz shared that they had agreed to let him stay in Hawaii, so that he could earn and save money for their family.
With games yet to resume, and with the Philippine economy in a recession, they felt it was the better decision for the couple.
"It's a sacrifice, but he's doing his best to be the breadwinner of the family already. Hindi pa ako nanganganak pero nakikita ko na nagpaka-padre de pamilya na siya. He taught me a lot [about] how to humble myself. He just wants to get the best for us," Diaz said of Demusis.
With their baby due in late November to early December, she's already had a lot of time to contemplate her daughter's future. One thing's for sure: With the pandemic still raging, it's not going to be anything like any child has ever experienced.
"But these times would make you resilient, and you appreciate life even more. As compared to what we all grew up with, my baby's going to be born in a smaller world," Riza said. "It's not a problem. We're giving her our best. It's high time I 'momma up'."
___
Spin fans unite at the Spin Viber Community! Join the growing community now and complete the experience by subscribing to the Spin Chatbot.