Mitch Liwanag used to endure 12-hour work shifts standing up in heels in a four-star hotel for a meager salary that was below minimum wage.
Now, she is the country manager of ECHO, previously known as Aura PH. She leads ECHO as one of the very few female bosses in an industry heavily dominated by boys. On the business side, she deals with finance, operations, marketing, social media strategy, and liaising with clients. On the esports side, she sometimes oversees the team's strategy and training and metes out disciplinary measures on her players and coaches. She is now one of the highest-paid esports executives in the country.
But it all started when she could not abandon her first love of gaming even as a hotel staff.
"I was actually a front-office supervisor at a four-star hotel," Mitch tells Esquire Philippines.
"Even then, I could not separate myself from being a gamer. Before, I used to play CS Go. But of course, at the front office, you can't play games on the PC. I couldn't stand not playing during breaks. So I looked for interesting mobile games at the time, and I discovered Mobile Legends."
Mitch Liwanag, Country Manager of ECHO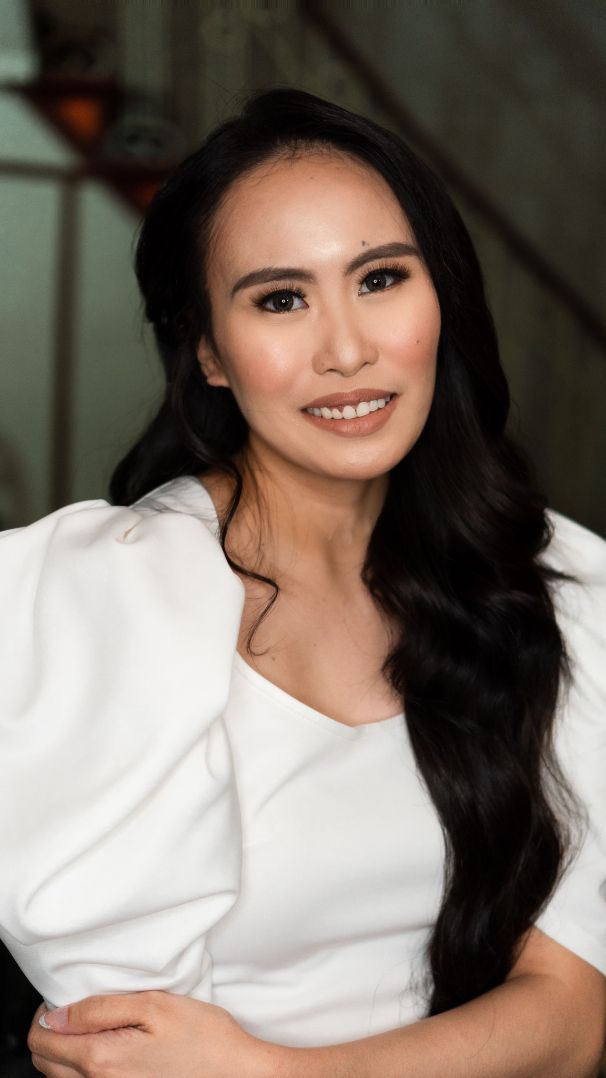 ADVERTISEMENT - CONTINUE READING BELOW ↓
Mitch enjoyed the game's multiplayer environment and eventually gained friends and contacts through the game.
"Naadik talaga ako, as in every break, naglalaro talaga ako."
One day, someone invited her to join a squad. It was at that point that Mitch truly honed her skills and grew as a player. She joined local female leagues, where she gained a reputation as a skillful player.
When her squad gained popularity through small-time tournaments, other teams tried to enlist her as a pro esports player for the Mobile Legends Professional League or MPL, she had to decline.
"I could not risk losing my job just for Mobile Legends!" she said.
So Mitch offered to manage the team and sponsor its players, despite her meager salary.
"Iha-handle ko na lang kayo," she said. At that time, sponsors did not exist for esports teams in the Philippines, not even in the big leagues. Mitch had to shell out cash from her own savings just to support the team.
"Mayroon naman akong naitabi, kaya ko naman kayong suportahan," she told the players. She would finance their training and logistics just so they could compete at small tournaments.
"I financed and supported them so they could compete at small tournaments. Wala naman akong return of investment, it's just my passion and I really wanted to help other players to grow. Ako kasi talaga, pagdating sa laro, gumagastos talaga ako."
When Mitch decided to help other players, she decided to go all out because she knew what it was like to be a pro player without funding. Her players were also students who had no sources of income.
"Somehow, they would win, but I would not ask them for a portion of their winnings. I'm already happy seeing them compete."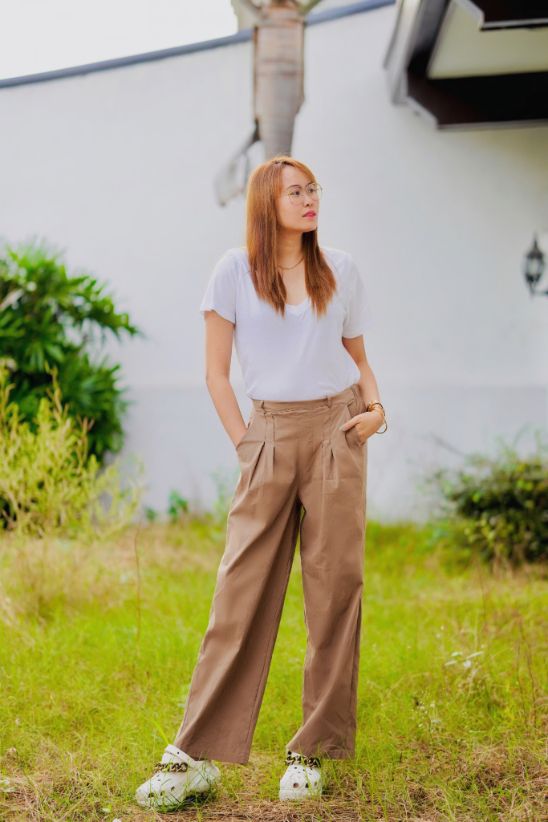 During the time Mitch was financing and supporting her own team at tournaments, she became friends with King Cosmos, a known player in the Mobile Legends community. Cosmos invited her to join Digital Devils, one of the earliest pro esports teams in the Philippines.
"That's where it all started. Some of the first people in the Mobile Legends scene were there in Digital Devils. We funded players to grow. Even if we spent a lot of money and nothing came back to us, we were very happy to have helped the players grow and become successful," says Mitch.
Becoming ECHO's Country Boss
Mitch was eventually scouted by Aura to become the Philippines' country manager for the organization.
"When we were just starting, being a country manager for ECHO was not really my expertise. For me, it was so hard to adapt. I came from managing players, and when Aura approached me, they said they were going to help me, and I'm grateful for that.
ADVERTISEMENT - CONTINUE READING BELOW ↓
"I told them I was scared to handle such a big company here in the Philippines. I didn't have enough experience, and it wasn't easy for me.
Mitch admitted that she did not know how to handle clients, finance, operations, or marketing, things she didn't have a clue about.
"It was really like entering a job you don't know anything about! For two months I felt like I was struggling in the dark."
But her boss helped her through it all.
"Chris, my boss, really trusted me and helped me every day on how to be the country manager handling clients, finance, operations, and marketing while staying on top of the esports side of the business.
Mitch also felt daunted by the large amount of money being invested into the team, it was a sum beyond anything she's managed before. She did not know what to do.
"I needed to do the budget for the company, ang laki ng mga perang ito, paano ang gagawin ko? Ganito pala kalaki yung ginagastos ng investors sa esports!"
But she eventually learned the ropes through hard work and persistence. Now, Mitch Liwanag is ECHO's mirror, light, comfort, and guide.
Even as the country's big boss for ECHO, Mitch is still a gamer at heart.
"Even though I have a baby now and am busy with the team, I make sure that I still play Mobile Legends."
Not all esports bosses do that.
"I make sure I can relate with their gameplays. I play one or two games a day, I try to master the skills, new heroes, and more. That's why when I call the attention of my coaches, I still know what I'm talking about. Syempre yung ibang managers, hindi nila alam yung laro, right? Ako, hindi nila ako malulusutan."
"Very hands-on ako, even with creatives or other departments in the organization, I make sure I am knowledgeable in their areas. I am never out of place in any meeting, especially about Mobile Legends. Dito ako nagsimula, and I make sure that every issue that we tackle in every meeting, I know what to say, and I understand what they are saying."
'Nagsasardinas lang kami, natutulog sa iisang kama'
Today, Mitch Liwanagcommands ECHO and assembled the much respected main team composed of prodigy midlaner Alston "Sanji" Pabico, fabled roamer and Chou specialist Tristan "Yawi" Cabrera, SEAGames, M2, and M4 World Champion Karl "KarlTzy" Nepomuceno, master of heists and backdoor plays goldlaner Benedict "BennyQt" Gonzales, and prodigy of the Exp Lane Sanford "Sanford" Vinuya.
In her early days in the pro esports scene, she took players under her wings and honed and played with them without sponsors, money, and even a decent internet connection.
Veteran players in the ML scene such as Jaypee Dela Cruz, Coach Brian "Panda" Lim, Marc Danielle "Dee" San Luis, and Marc Jayson "Eson" Gerardo passed through the auspices of Mitch Liwanag. They have all represented the country in professional tournaments abroad, which they also dominated.
"Maipagmamalaki talaga namin na nakasama namin sila sa Digital Devils. Nasa iba-ibang teams na sila ngayon, pero dati, ito kami, nagsasardinas lang, natutulog lang sa iisang kama, naghahati-hati sa isang internet kahit 20-katao nasa loob ng bahay, apat na teams."
ADVERTISEMENT - CONTINUE READING BELOW ↓
("We are really proud that we spent time with these players in Digital Devils. Now, they're with different teams. But we all came from the same roots: We ate sardines, slept on a single bed together, and shared a single internet among 20 people inside one house. There were four teams.")
Everything changed when the pandemic hit.
When the lockdowns started in 2020, the esports and gaming industry in the Philippines boomed. Suddenly, more people had more time to play games, watch tournaments, follow players, and subscribe to gaming streamers.
Pre-pandemic, concurrent viewers in national tournaments was usually 5,000 t0 10,000. Now, they reach up to 500,000.
So far, the industry's growth is showing no signs of slowing down.
"We never expected the esports scene to be this big," Mitch says. "Before, it was so difficult to put together a team and handle them because there wasn't any funding coming from big organizations."
"Talagang kami-kami lang. Hati-hati. Kung anong meron, yun pagtitiisan namin."
("We were on our own. We split the expenses among ourselves. Whatever little we had, we shared it and never complained.")
Now, big organizations and companies are supporting professional esports teams in the Philippines.
"Hindi na kami mahihirapan para matupad yung mga pangarap ng mga players," Mitch says.
What Most People Don't Know About Boot Camps
In the professional esports scene, a "boot camp" is the headquarters of the team where players live together and train together. Many aspiring pro players dream of living in a boot camp, but Mitch says life in the boot camp may not be what many expect it to be.
"Akala kasi ng mga aspiring players ngayon, pagpasok mo sa boot camp, masarap ang buhay. No. Lagi naming pinapaalala sa kanila na kapag pumasok ka ng boot camp, nasa trabaho ka rin."
Mitch makes sure everyone in the boot camp is disciplined. She doesn't care how well you play, you have to follow the rules.
Life Inside ECHO's Boot Camp
This writer used to regularly send food to a popular boot camp north of Manila because some of its residents kept complaining about not having enough food to eat when they wake up in the morning.
That doesn't happen in ECHO.
Unlike in other boot camps, Mitch does not allow her players to fend for themselves when it comes to food.
"Kapag nasa boot camp ka, dapat wala ka nang iisiping iba. Gusto namin, uupo ka na lang doon sa gaming chair, nakaligo ka na, naka-kain ka na," Mitch tells Esquire.
"Hindi ka namin gugutumin. Ako ayoko rin naman ng nagugutom, ang hirap maglaro sa umaga nang walang kain. Minsan nagagalit pa ako sa kanila, especially kay Killuash, siya ang pinakamahina kumain! Magtu-tournament na lang kami sa MPL, hindi pa siya kumain! It came to a point na sinabi kong hindi siya maglalaro kapag hindi siya kumain."
("When you're in the boot camp, you shouldn't worry about anything else. All you have to do is take a shower, eat, and sit in the gaming chair. We will not starve you. And I hate going hungry, it's hard to play without having eaten anything! Sometimes, I get angry, especially with Killuash, because he doesn't eat! Once, we were on our way to a tournament and he still hasn't eaten. It came to a point that I had to tell him I will not allow him to play if he hasn't eaten.")
ADVERTISEMENT - CONTINUE READING BELOW ↓
"Sa boot camp, hindi nila nagagawa yung mga nagagawa nila sa bahay kasi ipinagkatiwala sila ng family nila sa amin, so we make sure that we groom them and be responsible for them," Mitch tells Esquire.
("Aspiring players think life in the boot camp is a cruise. No. We always remind our players that when they enter the boot camp, you're at work. In the boot camp, you cannot do as you please as if you're at home. Your family entrusted you to us, so we make sure to groom you and be responsible for you.")
"If I catch you sneaking out, I will punish and penalize you."
Discipline in the boot camp was something elusive for teams in the esports industry. But not for Mitch or ECHO.
According to Mitch, she has experienced handling countless players who have let go of themselves and do not take care of themselves. In ECHO, she makes sure that does not happen.
"Maraming aspiring players na akala nila, pagpasok nila ng boot camp, makakapag puyat na sila, hindi na sila matutulog, aabusuhin nila ang sarili nila, nakakalabas sila anytime—in ECHO, no. That's not possible."
Among the rules Mitch strictly implements is staying in the boot camp when it's time for training.
"If I catch you sneaking out, I will punish and penalize you. Hindi kasi iyon pwede sa akin, lalo na at responsibility kita. Natututo sila sa game, at the same time, sa life."
Some of Mitch's players now at ECHO were already big names and came from reputable teams, and they thought they would not be subjected to such discipline when they arrived in ECHO's boot camp.
According to Mitch, among the rules in the ECHO boot camp is to sleep early. Typically, lights off is at around 1 a.m.—a relatively early time compared to other boot camps—at which time the WiFi is switched off.
"We make sure na lights off na lahat at napapahinga na yung isip nila. Hindi namin sila pinababayaan na maglalaro kinabukasan nang walang tulog, dahil ako, naranasan ko na iyon, at mawawala ka talaga sa focus."
"Lalo na ngayong ang mga players ko ay galing sa iba't ibang organizations na malalaki, akala nila hindi sila madidisiplina kasi malalaking players na sila. No. Sa ECHO, we make sure na pantay-pantay lang. Lahat natutulog sa tamang oras."
(We make sure that everybody's lights are off and their minds are able to rest. We don't allow them to play the next day when they're sleep deprived, because I've already experienced playing without ample sleep, you'd really lose focus. Especially now that we have big players coming from big organizations, they would think they're above the rules. No. In ECHO, everyone is treated equally. Everyone sleeps on time.")
'Gusto ko secured ang buhay ng mga players.'
Life as an esports player does not always pay out handsomely in the hundreds of thousands as what many people think. For many pro athletes in the big teams in the Philippines, teams pay a salary of around P30,000 per player. Other sources of income would come from streaming and content creation, but not all players have that.
ADVERTISEMENT - CONTINUE READING BELOW ↓
Among the pro esports players in the Philippines today, Renejay Bacarse has among the highest incomes which he sources from his Facebook streams, YouTube views, endorsements, and a couple of businesses he put up. ECHO's Yawi, a former teammate of Renejay, comes a decent second as his Facebook and YouTube hits rival those of Renejay's.
Mitch knows this, so she pushes her players to do content on top of their training and other responsibilities.
"We encourage them and we don't hinder them from growing. Extra income na rin nila iyon when it comes to vlogging, lalo na for Yawi. He started like that already in Nexplay. I always remind them to do their content because that's additional growth for them that's where they can see their other potential in esports."
Mitch Liwanag: A career in esports is not forever. Players need to take advantage.
"Kapag nawala na yung pagiging pro player mo, at hindi rin naman ito pang habambuhay, at least di ba after esports, mayroon ka pang ibang side na maipapakita sa mga tao. So we really allow them basta hindi natatamaan ang practice, iyon ang pinaka-importante sa akin. Kapag trabaho, trabaho."
("Once you're no longer a pro player, and this is not for a lifetime, at least you have something to show audiences after esports. As long as it does not have conflicts with practice, do content. But when it's time for work, work.")
When asked about why Mitch shows exceptional concern for the welfare of her players, her eyes brighten up.
"Oo! Kasi dumaan talaga ako sa hirap ng ganoon eh. Sa akin, gusto ko, secured yung buhay nila at hindi ko rin sila pinipigilan mag-aral. Sinasabi ko rin sa kanila, kung ano yung makakatulong sa kanila, gawin nila. Pero gusto rin namin, naisasabay o nababalanse yung trabaho. Ganoon naman ako, kasi naging ganoon din ako dati."
("Yes! That's because I went through that struggle. I want my players to have a secured future and we don't stop them from continuing their studies. I always tell them to pursue whatever is helpful for them. But of course, we also want them to be able to balance it with their career.")
Mitch Liwanag on the 'Dark Side' of Esports
We asked Mitch to share what she thinks is the most important advice her players need the most.
"Alagaan nila ang kung ano mayroon sila ngayon. Most of the big players right now, they are really spending too much on nothing. They think, "Deserve ko ito, deserve ko yan." My advice is mag-ipon kayo habang nandito kayo ngayon sa industry na ito. Hindi habang panahon ay players tayo, right?
("They should cherish what they have right now. Most of the big players right now are really spending too much on nothing. They think, 'I deserve this.' My advice is for them to save while they're here in this industry. This is not permanent.")
"Most of the big players right now, they are really spending too much on nothing."
Mitch says the shelf life of a player in the esports industry is short, so they should not waste the opportunity to save money and invest in other things.
ADVERTISEMENT - CONTINUE READING BELOW ↓
"Alagaan niyo yung career niyo, huwag ninyo pabayaan. Lagi niyong iisipin na yung mga naiipon niyong pera, para sa inyo rin.
"Iyon kasi ang pinaka 'dark side' ng esports. Players really spend a lot, they don't really think kung ano ang inilalabas nilang pera every week. I always tell them, 'Guys, pagdating ninyo ng 18 o pag tumanda kayo, magiging thankful kayo sa akin na nakapag-ipon kayo. Kung ano ang ibinigay sa inyong opportunity, namnamin nila dahil madalang pang iyan. Sobrang sarap sa esports pero sobrang hirap din. '
("Take care of your careers, don't take if for granted. Always think that the money you'll save now is for your own good. That's the 'dark side' of esports. Players really spend a lot, they don't really think about how they spend their money every week. I always tell them, 'Guys, you'll thank me when you're 18 or older that you were able to set aside money. Whatever opportunity is given now, enjoy it because that's rare. It's fun to be in esports but it's also very difficult.'")
And her advice to amateur players aspiring to set foot in the boot camp?
To the aspiring players, don't lose hope. We're always looking for youngbloods to join ECHO. Galingan niyo pa and I'm sure the coaches will get you. Huwag kayong susuko sa pangarap niyo kung gusto niyo talaga ang esports. ("Don't give up on your dreams if you really want to pursue esports.")
Also to the ECHO fans, thank you so much. Sobrang dami nila ngayon, salamat sa suporta niyo sa mga players at sa buong organization. We're so happy to have you on our team.
This story originally appeared on Esquire Philippines.