A bomb was planted under the seat in row six on the right side of the bus. Victoriano was right beside the bomb when it exploded.
"Naaalala ko pa ang lahat… ako lang kasi yung inilabas nila doon na hindi nawalan ng malay."
("I can still remember everything… I did not lose consciousness when they brought me out of the bus.")
All the other survivors lost consciousness after the blast, but miraculously, Victoriano was kept awake during the horrific attack.
"Ako kasi yung pinakahuling inilabas. Ihiniga ko pa yung sarili ko, sabi ko gusto ko munang magpahinga pero may sumampal nang malakas sa akin, sabi bawal daw ako matulog. Minura ko iyon, sabi ko, gusto ko magpahinga," said Victoriano.
("I was the last one they pulled out of the wreckage. I tried to lie down because I felt tired, but someone slapped me hard on the face, saying I should not sleep. I even cursed at that guy, shouting I wanted to rest.")
Headlines on national broadsheets on January 26, 2011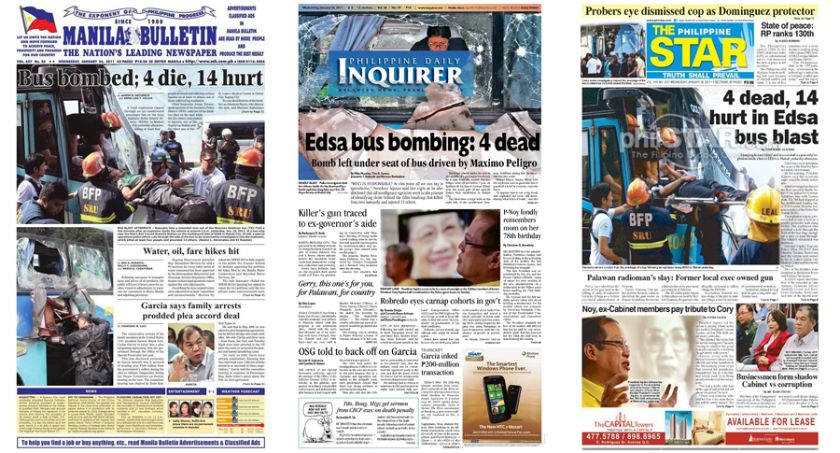 ADVERTISEMENT - CONTINUE READING BELOW ↓
'Akala ko panaginip lang.'
Because Victoriano was the only one who did not lose consciousness after the terrorist attack, he was aware of the horrific scenes that unfolded at the scene. Body parts were splattered on the ceiling of the bus, everything was red, and the strong scent of gunpowder lingered in the air.
"May dalawang nakaupo sa harapan ko, at sa dalawa sa likuran ko. Yung sa harapan ko, patay. At sa likuran ko, patay yung isa. Yung nakaupo sa bomba, patay din."
("There were two people seated in front of me, and two behind me. Those in front, dead. Those behind me, one died. Those seated above the bomb, they also died.")
"Noong una, akala, panaginip lang. Di ba, madalas tayo pag gano'n, sa panaginip, diba, araw?
"Pero bakit ang tagal kong magising?"
("At first, I thought I was dreaming. Isn't that always the case, we think we are dreaming when something really bad happens in daytime? But then I thought, why couldn't I wake up?")
ADVERTISEMENT - CONTINUE READING BELOW ↓
His sense of reality came rushing forward when he saw his own injuries. His arm had a gaping hole. He looked down at his legs and saw that they were missing some very important parts, too. He was seriously wounded, his legs spurting out blood.
"Nakita ko yung braso ko, butas. Nung sinubukan kong umalis, hindi ko na maramdaman yung paa ko," said Victoriano.
("I saw my arm, it had a gaping hole. When I tried to leave, I couldn't feel my legs.")
That's when he realized he could die. His whole life flashed before his eyes.
"Ang daming nag flashback sa akin, sa buhay ko…"
("I saw a lot of flashbacks from my life…")
Jeff Victoriano shouldn't be alive today.
The blast tore through the bones and flesh of Victoriano in both of his legs and arms, with hundreds of pieces of shrapnel embedded within his muscles. Rescuers thought he would not make it. When he was brought to Ospital ng Makati, doctors wanted to amputate his limbs immediately.
ADVERTISEMENT - CONTINUE READING BELOW ↓
"Yung mga surgeon, gustong putulin yung paa ko saka mga kamay. Tapos yung loob ng paa ko, sobrang daming shrapnel. Pero may dumating na orthopedic doctor at tinignan niya yung x-ray ko."
("The surgeons, they wanted to amputate my legs and arms. My feet had many pieces of shrapnel. But an orthopedic doctor looked at my x-ray.")
Dr. Ernie Villavert, a renowned orthopedic surgeon, examined Victoriano's x-ray study, approached Victoriano, and held his shoulder with a reassuring smile.
"Huwag ka mag-alala, palalakarin kita," said the doctor. ("Don't worry, I will make you walk.")
A huge scar on Victoriano's right leg, a painful reminder of the blast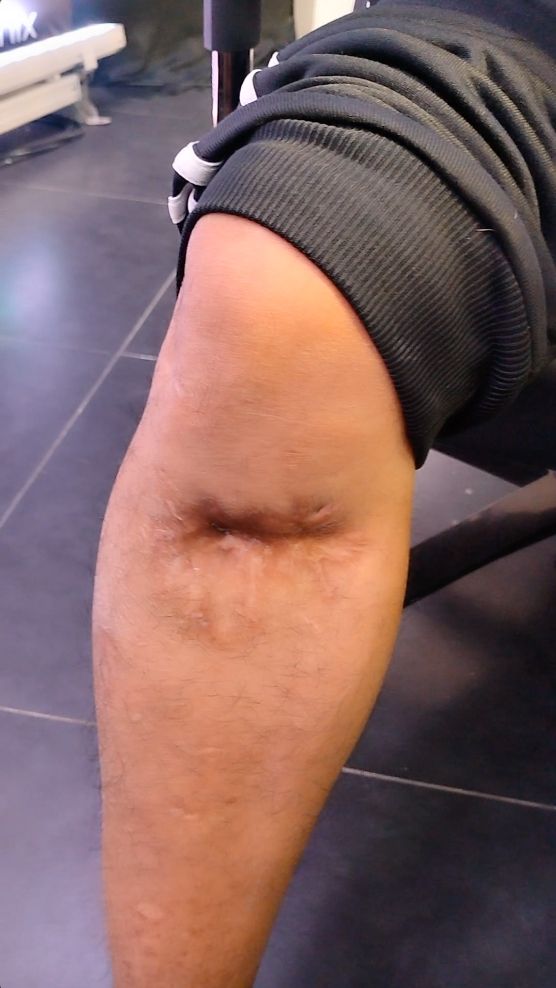 ADVERTISEMENT - CONTINUE READING BELOW ↓
It was Dr. Ernie Villavert who gave Victoriano another chance at living his life. He successfully saved Victoriano's limbs from amputation despite the opposite opinions of other surgeons who wanted to amputate them immediately.
Victoriano had to take a leave from work for six months to recuperate, but when he went back to his job, it was very difficult for him. He couldn't walk like he used to. He entered a period of depression.
"I used to do hiking, surfing, longboarding. So, lahat ginagamitin talaga ng legs. Six months after the bombing, umakyat ng bundok, naka-baston ako. Hindi na ako nakababa," Victoriano told SPIN.ph
"Sobrang namaga yung paa ko. Pinagalitan ako ng mga tao noon, sabi nila dapat hindi ko pilitin kung hindi ko kaya."
("I used to do hiking, surfing, longboarding. You use your legs in all of those things. Six months after the bombing, I climbed a mountain, I had a cane. I never made it back down. My legs got swollen, and I was reprimanded by the people there, saying I should not have forced myself to climb.")
ADVERTISEMENT - CONTINUE READING BELOW ↓
The guides brought Victoriano down the mountain using a makeshift stretcher made of bamboo and a hammock.
'Pinag forced resignation ako,' Jeff Victoriano painfully recalls.
I was disabled for a whole year,' said Victoriano. He couldn't go down the steps of the MRT, his stamina was significantly weakened, and every step he took was painful. Many times, the elevators at the MRT were out of order. He was always late for work.
But just when he thought things could not get any worse, it did. His company forced him to resign.
"Sobrang depressed talaga ako kasi hindi ko na masakyan yung longboard ko. Isang taon akong baldado. Pero siyempre, kailangan ko nang magtrabaho. Bumalik ako sa trabaho ko, pero after six months, pinag forced resignation nila ako."
("I was very depressed because I couldn't ride on my longboard anymore. I was disabled for a year. But of course, I needed to go back to work. But when I did, they forced me to resign after six months.")
ADVERTISEMENT - CONTINUE READING BELOW ↓
"What the fuck?" we blurted out.
"Lagi akong nale-late. Hirap kasi ako maglalakad. Yung normal na five minutes na lakad, inaabot ako ng 20 minutes."
("I was always late because it was difficult to walk. What would normally take five minutes to walk, it took me 20 minutes.")
But he didn't know it would be the start of his stellar career in esports, where he would develop talents and hone the country's first world champions in MLBB esports.
'Esports saved my life.'
It was Victoriano's lifelong dream to represent the Philippines in world competitions in esports. But when his first chance came, he neglected it.
"One team invited me to become a pro player but I refused because I wanted them to include my other teammate too. Eventually, the person who invited me represented the country in esports."
That was in 2000 and the team played Special Force.
Seventeen years later, when another shot at esports came, Victoriano did not hesitate.
ADVERTISEMENT - CONTINUE READING BELOW ↓
When all other jobs turned their backs on Victoriano, it was the Mobile Legends: Bang Bang professional scene that embraced him.
"Esports talaga ang nagsalba sa akin. Ang dami nagsasabi na naiinggit sila sa akin kasi yung passion ko, naging career ko. Sabi ko naman, kaya din naman lahat. Basta talagang, isusugal mo yung one chance na kailangan mo."
Ito na na talaga yung buhay ever since e. So, simula nung talagang nag-coaching ako one time, sabi niyo, gusto ko magdevelop ng players na makakapag worlds. Ang unang nagbigay sa akin ng worlds ay yung Sunsparks.
("Esports saved my life. A lot of people tell me they are envious because I have a career that is also my passion. I tell them, anyone can do it as long as you give everything for that one chance you get.")
His "one chance" came when the newly minted organization reached out for help in forming a team.
ADVERTISEMENT - CONTINUE READING BELOW ↓
"When they offered me a job to form BREN Esports, I immediately grabbed the opportunity."
With years of experience playing MOBA games and participating in small tournaments, Victoriano knew exactly what kind of talents to recruit for BREN.
Victoriano would be the players' confidant. They would often tell him about their struggles. More than an operations manager, he would act as an older brother to the players and motivate them when they are down.
In 2019, BREN secured its first international championship at the MSC 2019 in Jakarta, Indonesia. In 2020, the team would cement the Philippines' legacy in MLBB esports as the strongest region when they became the M2 World Champions.
"I may not be able to live my dream of representing the Philippines in world esports, but at least I can help develop players who will. That is my motivation," said Victoriano.