By Gabby Alvarado
LIZA Avelino was at the lobby of a Kathmandu inn, waiting for a companion to join her and some new friends on a sightseeing tour, when the ground began to shake violently.
They rushed out to the street while around them brick houses crumbled, sending people fleeing every which way. Hours later, with their inn also in disarray as aftershocks continued to rock Nepal's capital, Liza and her companions spent the night in tents.
Pitching a tent is something that Liza and her friends, all mountaineers, have had plenty of practice. In fact, they've all just come back from separate expeditions around Mount Everest. They were in Kathmandu to catch their respective flights home.
Little did Liza know that life at the foot of the majestic peak can be scarier than her ascent close to the summit of Island Peak, on the side of Everest. Up there she had to battle the elements and persistent colds that ultimately forced her to abandon the climb, with a heavy heart, at 5,900 meters above sea level.
In Kathmandu, she and her friends were stranded for a day, cut off from the rest of the world after that horrific natural disaster that ended up killing nearly 9,000 people in 2015.
Continue reading below ↓
Recommended Videos
"Nakakatakot," she says now. "I wasn't afraid na may mangyari sa akin sa mountain. If it's my time, it's my time. That time na nakababa na ako sa Kathmandu, lindol ang nakakatakot pala talaga."
Danger and life in rarefied air can be irresistible, though. Undeterred by the frightening experience, Liza pushed on.
Just a few months ago, she reached the summit of Mount Damavand in Iran. At 5,610 meters above sea level, it is the highest volcano in Asia. Counting Mount Kilimanjaro in Tanzania, which she scaled last year, Liza has now conquered two of the recognized Volcanic Seven Summits in the world.
Not bad for a 48-year-old, self-taught mountaineer whose rude initiation into the Himalayas in 2015 was done with borrowed gear because hers – she realized belatedly – were not suitable for the climb and the harsh environment.
It's remarkable where determination can lead a Hong Kong domestic helper with precious little time for training, someone whose humble workouts for her mountain quests is comparable to Rocky Balboa's no-frills, back-to-basics training for his fight with Ivan Drago. Apart from weekend hikes on Hong Kong trails, Liza built up strength with thrice-weekly, one-hour walks up and down the stairs of the 27-story building where her employers reside – a 15-kilogram bag on her back for good measure.
"Pero kulang pa din 'yun," she says. "If possible you have to do hiking three times a week para talaga maging fit."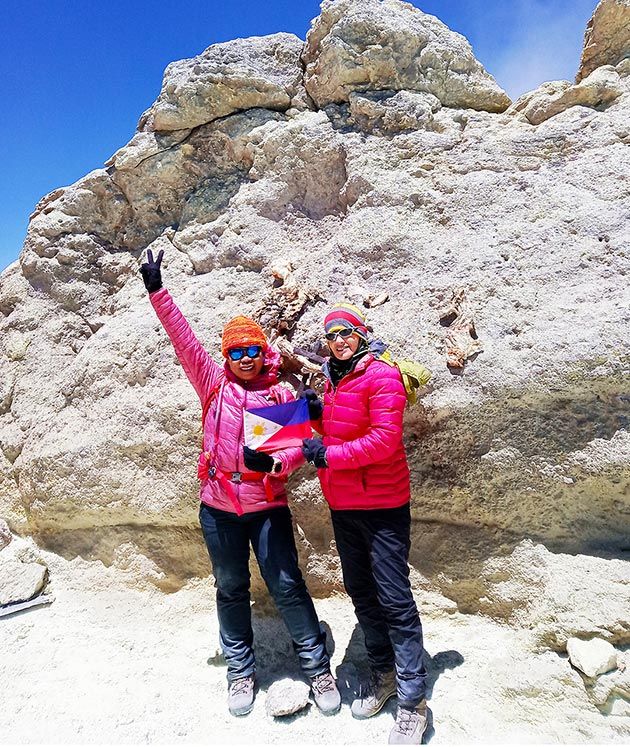 Her exertions may not be Darna or Marvel Comics worthy – but intense just the same.
Liza's love affair with trail walking and mountaineering started in 2006. During a visit to the public library, she chanced upon a book about World War II Hong Kong, basically a guided tour of military structures built along an island trail as a fearful city braced for the Japanese invasion in the 1940s. Curious, she decided to follow the trail.
"Sa Jardine's Lookout nakita ko yung magandang view ng Hong Kong Island. Then I saw marami pala siyang trail and it's actually safe," the Davaoena recalls. "Na-realize ko I want to do this, I feel good na nandun sa taas."
She was hooked.
She joined a hiking group made up of expats and professionals, where everyone – Liza included – took turns becoming trail guides for members on weekends. When she became better at it, Liza joined a team for the 100-kilometer Oxfam Trailwaker in 2010. A year later, she led a group in a 48-hour walk from Sai Kung to Yuen Long. Soon she ran out of mountains to climb. That's when she thought of exploring the world.
She began with Mount Yari in Japan one April day. It was memorable because it was her first time to walk in knee-deep snow. Red ribbons tied to poles lined up the route at 500-meter intervals to keep trekkers from losing their way; they could have stood as little reminders too that it was Liza's birthday.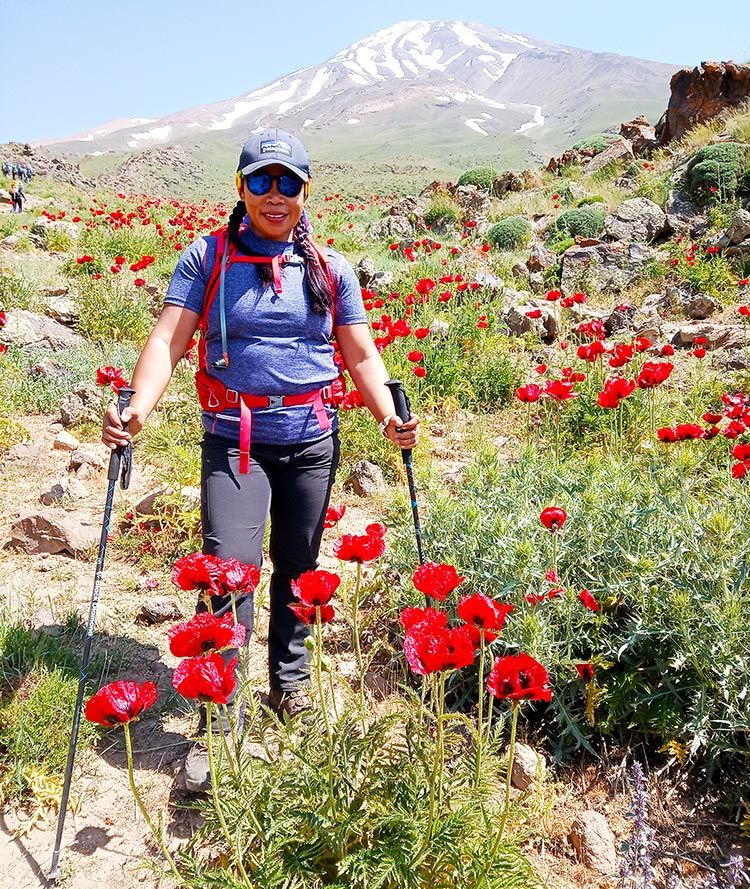 She has since summited Dafeng and Erfeng, two of the peaks along the Mount Siguniang ranges in Sichuan, China. She has also gone to Mount Kinabalu in Malaysia and Mount Hallasan in South Korea. During vacations in the Philippines, she has found time for short hikes on peaks like Mount Pulag, Mount Hibok-Hibok and Mount Arayat.
Her goal is to have one big climb every year, just enough time for her to save money for a trip. She also doesn't take some of her holidays so she can have those days available for the planned climb. Fortunately, Liza's employers are supportive; they sometimes provide her with plane tickets.
Reaching the summit of natural wonders like Mount Damavand, her most recent climb, gives Liza a high.
"Challenging po yung terrain ng Mount Damavand," she says, adding how she also had to do some rock climbing to get to the top. "Nakakapagod. Mauubos talaga yung lakas mo.
"Then the last challenge is the sulfur hill, sand na may sulfur. Kasi alive ang volcano, may lumalabas na sulfur. You have to cover your mouth with bandanna. Sandy sya, so mag-one step forward ka, mag-i-slide ka ng dalawang steps pababa. Hindi firm ang footstep mo.
"Then yung high winds – talagang left, right and back, parang itinutulak ka. And then yung usok ng sulfur nandyan nakapalibot. Medyo buwis-buhay. But for the last 30 minutes of the climb, sabi ko sa sarili ko wala namang nag-utos sa akin na gawin ko ito, so I have to go through it."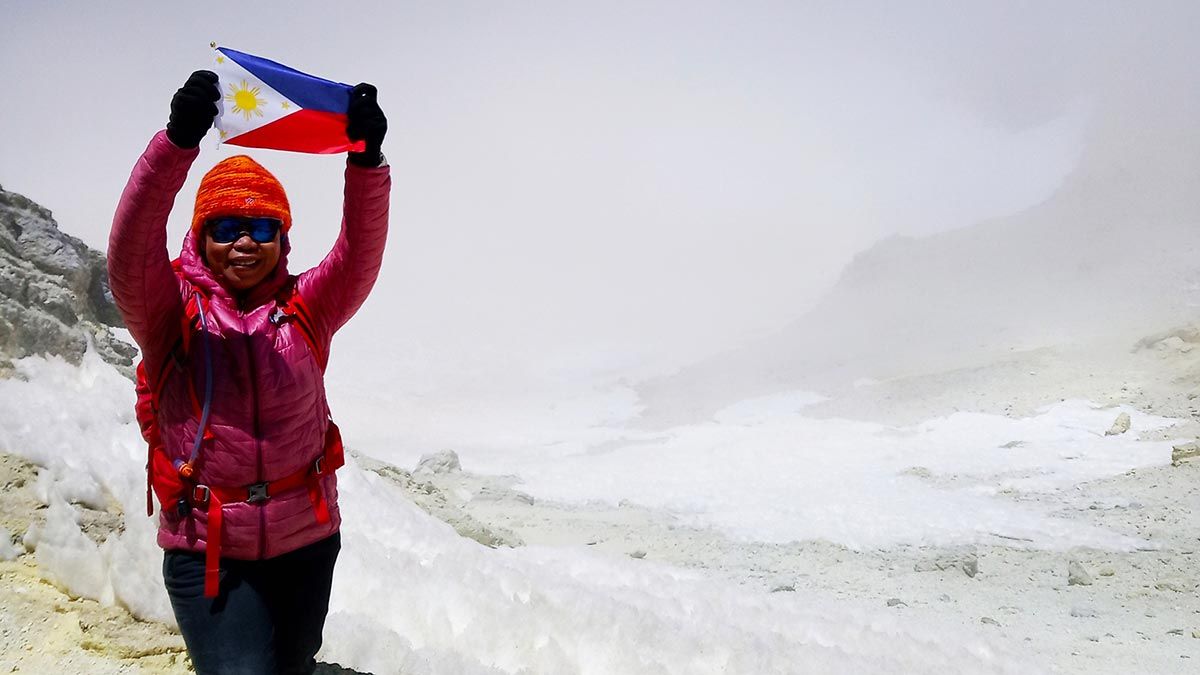 Mount Elbrus, in Russia, is the next of the Volcanic Seven Summits she'd like to climb but that may have to wait. Liza plans to take a year-long break before attempting to scale the 7,000-meter Lenin Peak on the border of Kyrgyzstan and Tajikistan. "Initial plan is to reach Camp 2," she says. "And, if possible, up to Camp 3."
Time may not be on Liza's side, as far as completing the Volcanic Seven Summits is concerned. She's not getting any younger, her knees suffer too from the climbs. And apart from her day job, she's involved with the Filipino Dynamo dragon boat team and is a motivational speaker in women's forums in Hong Kong.
One thing she definitely wants to do is return to Kathmandu and the Everest Base Camp and give Island Peak another shot.
"Because of that experience, naisip ko life is so fragile. You complain about so many things, but life is still not bad. You need to find the positive things in your life.
"I feel I was so lucky to survive. I still wanna go back and try again."