"ANYONE who rides a bike is a friend of mine."
Although Gary Fisher is not a household name in the Philippines, he's a rock star in the eyes of the local mountain biking community being the man considered as one of the inventors of the modern mountain bike.
During the inauguration of the country's first official Trek Bicycle Store at the Bonifacio Global City, cycling enthusiasts of all ages lined up for the chance to have the 64-year old cycling pioneer sign anything from helmets, racing jerseys and even bike frames.
Autograph-seekers also seized the chance to have a photo or selfie taken with the 'Father of the Mountain Bike.'

In 1974, Fisher took a 1950s Schwinn Excelsior X bicycle and rooted around "junkers" in bike shops and dumps for motorcycle parts to create the first reliable, low-maintenance mountain bike.
With just US$600, he and a friend created a company that made the world's first production MTBs. In 1992, Fisher established a partnership with Trek Bikes which now markets a line of premium bicycles under the Gary Fisher Collection.
Fisher, a Trek brand ambassador, has been traveling around the globe to promote the brand and inspire riders of all types, from hardcore mountain bikers to urban utility riders and everyone else who goes around on two wheels.
Continue reading below ↓
Recommended Videos
Trek Bike Philippines' marketing head and SPIN.ph columnist Agu Paiso describes Fisher, with his dandy moustache and bespoke suit, as the perfect brand ambassador.
"You ask him any question and he has a smart answer for it. He's very anecdotal and very experiential. He's seen it all from the inception of the mountain bike to its latest developments. He's traveled a lot and is a big cycling advocate. He's not championing the Trek brand but cycling in general," noted Paiso.
Fisher started competing in road and track races at the age of 12. A member of the Counter-Culture Movement in the 1960s, he was actually suspended in 1968 because race organizers said his long hair was against the rules. In 1972, he won the TransAlp race in Europe and a Masters XC national title.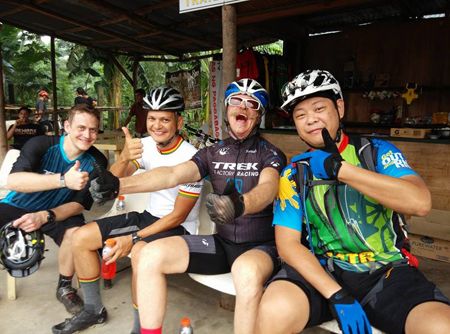 In a brief interview, SPIN.ph asked Fisher what his impressions were of mountain biking in the Philippines.
"It's pretty similar to scenes all around the world. We all like to ride together and ride single track. Here, its more of a cross-country influence than in the US or Canada. It's more of an enduro-style bigger bikes and downhill," Fisher said during a break in his signing activities.
"People wearing baggy shorts and loose jerseys and stuff. Europe, here and Brazil where I was a couple of weeks ago and Mexico are more into cross-country. I had to do more hard-tails and short travel bikes. And you don't see the big hip bikes here as much," Fisher observed.
Paiso said Fisher, who makes it a point to ride in the countries he visits, had a great time checking out the local scene when his hosts took him to Heroes' Trail inside Fort Bonifacio.
"He had a blast. He met some retired generals of his age riding bikes and some Trek riders. He had taho and saba which he loved," Paiso shared.
"We had to pick him up at NAIA Terminal 1 and we were late picking him up due to the traffic. He told us he made friends with all the taxi drivers there. They'd offer him a ride and he would decline then talk to them," Paiso recalled.
We asked Fisher, a recent visitor to Brazil, India and Nepal, if bike commuting is possible for Metro Manila.
"Oh completely. You gotta get all of the stupid cars out of the city. They don't belong … More and more people realize that the problem is cars not bikes. Cities aren't for cars, they're for people," said the cycling advocate.
Aside from his innovations that include drum brakes, motorcycle-style brake levers and triple chain rings that are now standard equipment of mountain bikes, Fisher remains involved with the design and marketing of the bikes bearing his name, many of which have been used in international competitions that include the Olympics.
From being an active member of the so-called 'Hippies' to an inventor that has given birth to a sport and a whole lifestyle, the San Francisco native was asked about the long journey that has brought him to the Philippines as a first-time visitor.
A smiling Fisher responded, with a twinkle in his eye, "I travel long distances and I give people permission to follow their dreams."