UP TO now, Joyce Ignacio has a hard time believing that her only child, Anton, is a jet ski racer. After all, growing up, she had to force him to ride the attractions in Disneyland. "I really didn't expect that he had that lakas ng loob," she said. He stuck to basketball and soccer, and liked singing and music so much Joyce thought he might become a performer.
Now, however, Anton Ignacio is the Philippines' youngest professional jet ski racer. At 13, he became the youngest champion of the Jet Ski Association of the Philippines (JSAP) when he surpassed older competitors in the third leg of the JSAP National Tours held last August 10 and 11 at Caliraya Lake, Laguna. On the fourth leg on August 31 and September 1 at Subic Bay, he still wowed spectators with a second place finish.
Joyce said, with a laugh: "I never thought that he would enjoy something like this na adrenaline rush. Kids change."
Continue reading below ↓
Recommended Videos
Overcoming his fear
But powering through the water is in Anton's blood. After all, his father Bombet is a decorated jet ski racer himself. He was a national champion back in the 1996 Petron National Jet Ski race, and in 1997, he flew to Arizona to represent the country at the International Jet Ski Competition.
But Bombet retired his personal watercraft (or PWC, the formal name for a jet ski), when he moved to the USA in 2000. He moved back to the Philippines in 2008, but it was only in 2016 when Bombet finally bought a new PWC for recreational purposes.
The family would often spend weekends at their beach house in Mindoro, but even when Bombet was taking his new toy out for a spin, Anton wasn't interested. "He didn't want to ride it," Bombet recalled. "He just [wanted] to go to the swimming pool. Ayaw niya pa ngang umangkas sa akin kasi mabilis daw."
But when Anton began to try kart racing however, he started to build an affinity for speed.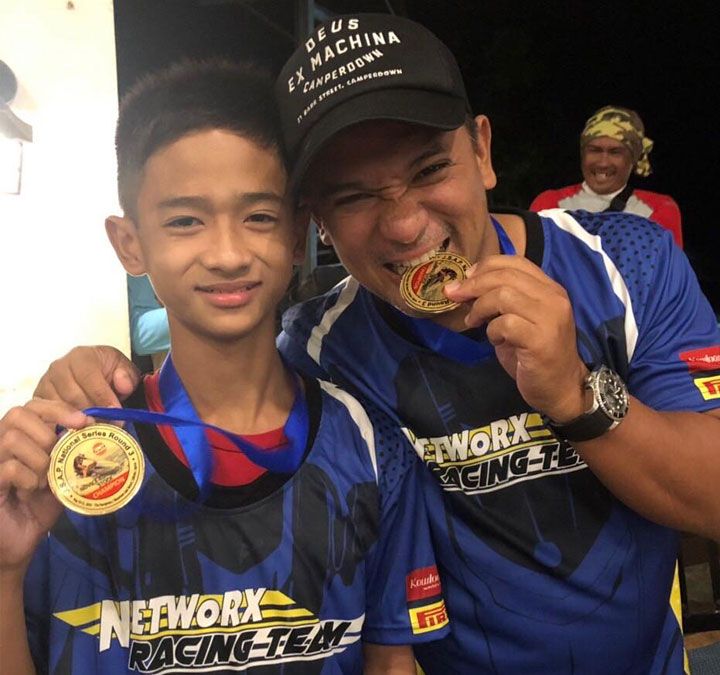 In 2017, Bombet gave Anton his very own PWC from Australia. That's when Anton began getting more confident rocketing across the waves. At ten years old, he started taking his jet ski out more and more often. Bombet said, "He tried it for a couple of days. Slowly, I can see how good he maneuvers [it]... Nakikita ko ýong lakas ng loob ng bata."
With a newfound courage, Anton practiced whenever they would go to their beach house in Mindoro. "I just kept trying. I didn't want to fall," Anton said of his first few days on the PWC. His first coach was his father. Bombet said, "Since I have a background in racing, I taught him how to make the turns. I taught him how to do the racing line. Nakuha naman niya kaagad."
The "momager", who's always been supportive and has never missed a race, is open about being against her son's involvement in the sport at the beginning. For good reason: "Jet skiing is one of the most dangerous extreme sports," said Bombet. "Kasi imagine our skis run a hundred, hundred-twenty kilometers an hour on the water, without any brakes. The water is like a cement road." Back and neck injuries are common among PWC users.
But eventually, with her husband guiding her son, Joyce felt a little more secure about Anton's new sport. "It grew on us bit by bit," Joyce says. Despite her natural instincts as a mother, she allowed Anton to join his first ever race in August, which he dominated. "Not until we let him join his first race, that's when I really developed my trust in him that he can do this as a professional jet skier."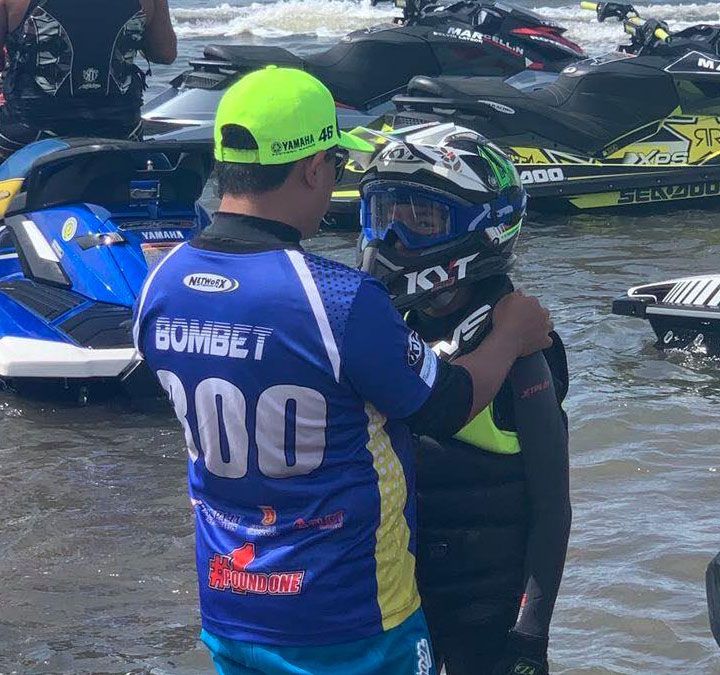 A family affair
When SPIN Life visited the Ignacios at their Quezon City home, it was trick or treating day at their subdivision. As neighbors were ringing the doorbell to get their Halloween candy, Anton showed off his racing gear. "This is my helmet," he said, showing off his full face headgear from KYT, emblazoned prominently in the middle with his last name and the Philippine flag.
His voice got animated as he showed off the rest of it: his wetsuit, his back and neck braces, his life vest, all marked with the same neon green as the decals plastered across the side of his helmet. While his jet ski wasn't in the house at the moment, his parents pulled up pictures and videos that showed his two PWCs in action: a red naturally-aspirated Yamaha VXR 1800, which he uses for practice, as well as the one he used in this year's races, a green Yamaha EX 1100 modified by Sydney Watercraft and Networx Jetsports. (Networx Jetsports, an extreme water sports company based in Subic, is run by BJ Ang, who also happens to be Anton's coach.)
How is a race like? "You're like, 10 or 8 in the starting line. When they give the signal to go, you all start at the same time," Anton said. Races — conducted in a closed course marked by buoys — are over in around 15 nail-biting minutes, though endurance races can last twice that.
He knows what he needs to do to improve as a racer: "When I'm at the back, I have a hard time catching up." He's still learning how to maneuver the waves better, to nail the racing line and overtake his opponents.
While it's true that jet skiing is a high-maintenance activity, his parents are more than enthusiastic about their support. Especially for Bombet. "I was the happiest when he wanted to do these things. He wanted to do the sport that I want to do," said the elder Ignacio.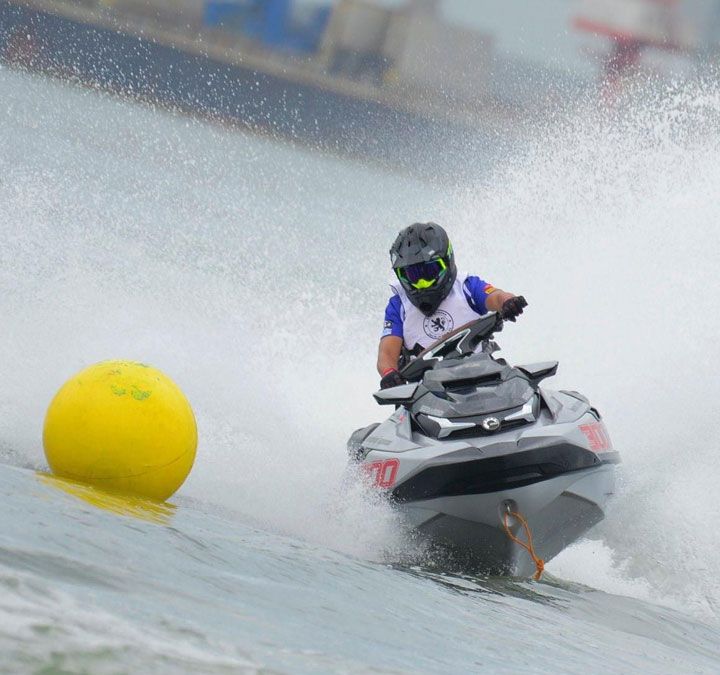 Bombet's support goes way beyond just providing the equipment and cheering at the sidelines. He had to get back to competitive jet skiing to encourage Anton. "I have to win to motivate him," he said. After 22 years, Bombet found himself back in the saddle, racing with his son. It looks like he hasn't lost his touch — he finished at the top of his category in the third leg of the JSAP National Tours. Just like Anton, he also won second place in the fourth leg.
When SPIN Life asked Anton about his jet ski idols, he said, "I look up to my dad." When asked what he wants to do when he grows up, he said, "I want to race."
Still, his parents let him decide if he wants to continue racing. "We can't force him if ayaw niya," Bombet said. All they wish is that Anton pursues something that keeps him happy and inspired. He is still, after all, only a 13-year-old boy.
For Joyce, she's proud to see that her son has grown up to be very confident, energetic, disciplined, and focused. "He's an only child but he doesn't act like one. He learns in sports the values that we can't teach him."
On November 22, Anton will be entering GCF International Jet Race Challenge in Malaysia. He won't be bringing his own PWC for this one; instead, it's a time attack race, where competitors, one by one, will ride the same jet ski around the course to see who can carve through the water the fastest. With all racers using the same craft, it will be a test of pure racing skill. But for now, one month before the competition, Anton doesn't look worried. He's a 13-year-old kid enjoying trick or treat — just having fun. And Bombet and Joyce are all for that, as well.