"RAVENA ka, walang duwag na Ravena."
Even before Ateneo coach Oliver Almadro dropped that iconic line mid-game back in UAAP season 81, Dani, the youngest Ravena, knew her athletic journey wasn't going to be easy. But she's transcended the pressure that comes with her family name and carved out a reputation in the volleyball community for herself.
"I [had] a very big shoes to fill entering Ateneo, but for me naman, I'm very competitive in everything that I do, I have that mindset, I've [got] a tough skin," she told SPIN Life, recalling her humble beginnings in the collegiate league.
If you recall, Dani rose to the occasion in last season's finals match against the University of Santo Tomas Tigresses. The Lady Eagles' crack libero was supposed to continue her run with the team as she enters her junior year, but all events were suspended because of COVID-19.
This year could have been her chance to deliver even more of her signature plays. But Dani isn't crying over spilled milk. "Like we always say, this isn't something we expected. The problem around is much bigger than any sport and any event, I know UAAP will come back soon."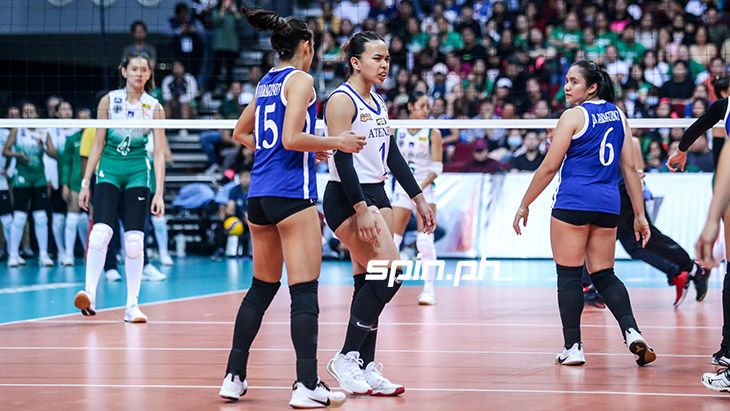 Continue reading below ↓
Recommended Videos
The 20-year-old is the only Ravena left in Ateneo, now that her kuyas, Kiefer and Thirdy, are making waves away from Katipunan.
But because the pandemic has forced them to all stay in together, Dani have been relishing the past two months her usually busy family is spending together at their home during the lockdown.
If COVID-19 hadn't happened, dad Bong would have had his hands full steering the TNT KaTropa squad in the PBA All-Filipino Cup. Manong Kiefer would have been busy in the same conference, gearing up for a grueling journey with the NLEX Road Warriors after a forced, 18-month leave from basketball.
Meanwhile, Thirdy would have continued to try his luck in the international stage, while mother Mozzy, a former college volleyball legend and a former national athlete herself, would be working her two jobs as a sports desk consultant and a team official in Adamson University.
But now?
"Siguro one thing we don't take for granted are the rare times we get so sit down and have dinner together," reflected Dani. "Before this happened, iba-iba talaga ang schedule namin, everyone has their own thing, but ngayon we have no choice but to be together, so we do activities that we can do together like painting, swimming, walking the dogs."
The youngest Ravena has nothing but appreciation for the athletic bent of her family.
"'Yung general rule na my parents followed is that sports would teach us discipline. Even after training, one of the main priorities ng parents namin is to follow a certain discipline to get what we want," she shared.
She added: "My parents don't really sugarcoat us in everything that we do, even when we were kids, so I tend to be very competitive even outside the court — in my academics and even when I go out with my friends to play bowling, for instance."
Last week, Dani created her own YouTube channel to let her supporters have a raw, unfiltered sneak peek at her life off the court.
"I've been really into watching vlogs before, but I want mine to be [different from] the usual. There will be a an off-court side of me that I don't usually show people, and in this vlog, I would [showcase that]. This is about my lifestyle and the things I want to learn and try in the future," she said.
Her new on-screen life now extends to team training, too. As defending champions in the league, Dani shared that the team staff continuously monitors the players remotely to keep them in shape.
Dani revealed: "The team had online meetings to catch up and we send our own workout videos so the coaches could instruct us on which aspects to improve while training at home.
"We don't know when our next game would be, and everyone is planning on getting better. And this competitive mindset has helped me, and I have my parents here to thank," she said.
Ravena nga siya.
Spin fans unite at Spin Viber Community! Join the growing community now! Complete the experience by subscribing in the Spin Chatbot and downloading the Spin Game Sticker Pack.