NEVER underestimate what a plastic flying disc can achieve.
Since January, Patrizhia Reyes of Maynilad and a driver have been fetching a bunch of kids from some of Manila's poorest communities every Saturday morning and taking them to the water concessionaire's sprawling complex inside the La Mesa Ecopark.
On a wide-open grass field with the Sierra Madre mountain range and the La Mesa watershed as backdrops, Reyes and six coaches working pro bono teach 40-60 youngsters the skills to play Ultimate, a fast-paced game where two teams composed of seven players each toss a frisbee to teammates to score a point by reaching an opponent's end zone.
Hearts and Minds
Reyes, a creative specialist at Maynilad community relations, advocacy and marketing, said they came up with the 'Water Warriors' campaign to spread goodwill among residents in depressed areas who resort to illegal water connections or refuse to pay their water bills.
The project targeted 12 service areas identified at "difficult" by Maynilad field personnel.
An Ateneo psychology graduate and Ultimate afficionado, Reyes came up with a campaign that employs a combination of frisbee clinics and inter-barangay competitions coupled with an education drive about water and how people can positively contribute to the environment.
Continue reading below ↓
Recommended Videos
"We used to do basketball and volleyball but now they're pretty common and no company has done Ultimate since us. Others have proposed dodgeball or soccer but these are contact sports. Ultimate is non-contact and self-refereeing."
"It's one way to enter areas with the message that Maynilad is there for them," Reyes said.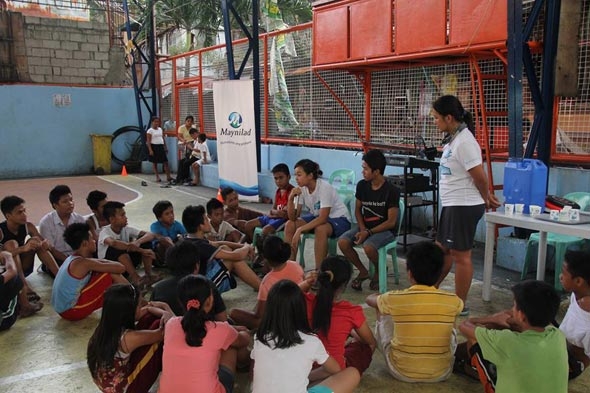 Starting with the Tondo area in June last year, 'Water Warriors' slowly covered other barangays in Caloocan and Quezon City. Working closely with Gawad Kalinga, Maynilad invited participants who were recommended by partner schools that are part of the Daloy Dunong Outreach Program (a puppeteer teaches students about the importance of water) or sought recommendations from the different barangays.
"This is where the frisbee clinics came into being. We connected the sports element where you need water but at the same time you have to save the environment. That's why we call them 'Ultimate Water Warriors,' they are an extension of the Water Warrior campaign. Double meaning siya," Reyes explained.
Aside from the instruction, Maynilad also donated frisbees since buying these from stores cost from P550-700 each brand new.
The first inter-barangay competition in December drew eight teams, but it wasn't an entirely smooth take-off.
"The other schools were complaining about Barangay 128 and 129. You have to understand there is a difference in culture. Nagmumura, nagtutulakan so nagagalit yung teachers so ayun sinabihan na namin. Pero over time naging disiplinado na sila," Reyes said.
After the tournament, the best players from each team were then picked to join the Maynila Ultimate Water Warriors who train regularly at La Mesa.
Sport as a teacher
"Sport in general is a great equalizer. What makes Ultimate different from other sports is the Spirit of the Game," Reyes explained.
The 'Spirit of the Game' refers to an honor system that places the responsibility for fair play on every player. SoTG guides how players referee the game and how they conduct themselves.
"We want to impart the values it teaches to the kids from Tondo, many of whom are out of school youths. We want them to (be able to apply it in their everyday lives), even after our clinics," Reyes said.
Watching the kids play in La Mesa, it was pretty obvious that they were highly competitive — with the usual shouts of encouragement and trash talk - but at the same time, teammates were calling out "Iso! Box" between themselves and surprisingly, observing the rules even to their disadvantage without being told to.
"The reception has been promising. The kids learn fast and they're quite happy. We get those from 13 to 19 but we make exceptions since there are younger kids who play exceptionally well. There are some who are good at passing and receiving but lack the size but you can't ignore talent.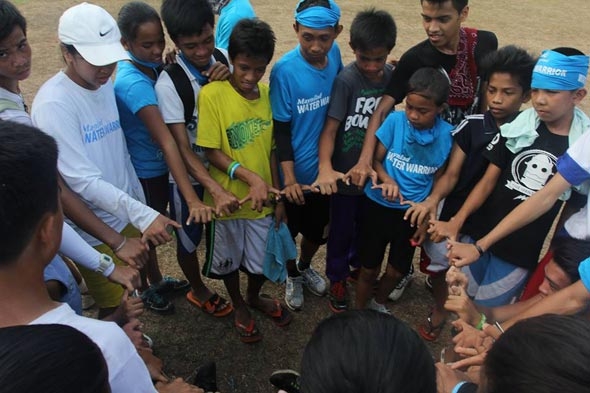 For Reyes and some of her friends, it's a personal advocacy to teach Ultimate since she has been regularly playing it since college. She receives help from the Philippine Ultimate Association (PUA) which provides coaches while Maynilad supplies the food and the venue.
Now, even without the Maynilad team, Reyes learned that the kids also train on their own.
"They even invite us during their Sunday training sessions at Luneta. One barangay trains in the "Field of Dreams' of Gawad Kalinga. Even without the support of Maynilad and PUA they do it on their own," she noted.
Based on the potential of the campaign, Reyes said they are planning to expand the inter-barangay competition to places beyond Maynilad's concession areas.
"We're opening it to everyone or anyone interested to join."
One of the original plans was for the kids to join the official PUA Summer League and the Little League for high school students as a team. A summer boot camp is being planned this May as soon as funding is secured.
"We're planning to put up a real boot camp for them. Although this is just a pilot program, I see great potential here," she said.
Potential
During a lull in the action, we were introduced to Ian dela Rosa from Masambong, Quezon City. The 14-year old said he used to play basketball before being introduced to Ultimate.
"We thought they were looking for volunteers for relief goods, we were surprised to see people playing frisbees on the court. I was nervous at first since I didn't know the rules and I get tired easily but I managed to keep up with the other players. Now I play frisbee instead of basketball," he said.
Reyes added that players from UP and DLSU were impressed with him, particularly on defense, after seeing him play with only two months of experience.
There was also the smallest player on the field, 11-year old Angelica 'Kwaling' Esqualing from Caloocan City. The shy Grade 6 pupil said playing Ultimate was "masaya na nakakapagod" and he has shown the ability to score even against bigger players.
Reyes pointed to two players on the field, Leandro and Leslie Navarro.
"Their mother has leukemia, forcing the kids to stop studying. Leslie works part-time with GK where she sews while Leandro is trying to find a way to go back to school. Frisbee is a sign of hope - many people go to their area and they just leave after they're finished with their outreach. I don't want that, I want to sustain this program," Reyes said.
We try to teach them a little at a time but what's impressive is that they quickly grasp what we're telling them. I don't know if it's because they're kids so they pick up fast or are intellectually good at sports.
As an indication of progress they've made, the Ultimate Water Warriors played as a guest team in the recent Inter-Ultimate Development League (IUDL) composed of teams from private schools where the team made quite a splash with their impressive performance.
"I told them in our huddle during the IUDL, 'Ang frisbee hindi lang pag mayaman, ngayon prove natin anyone from all walks of life puwedeng maglaro and kahit saan puede kang mag-laro ng frisbee.'"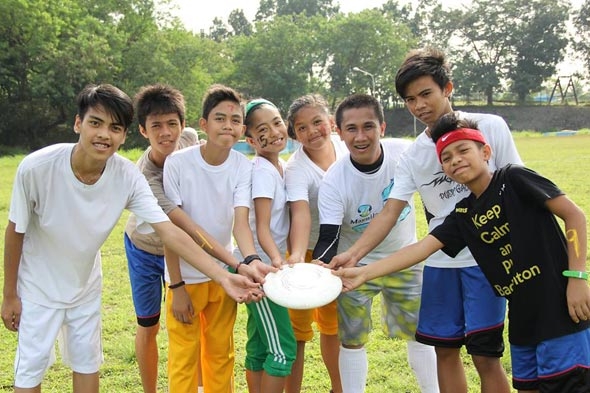 When asked what she has seen and hopes to accomplish, Reyes took a moment to think as she stared out into the field of playing children.
"Hope. I see hope for the kids. Before we approached them, a lot of them did not have any direction. Now you can see they look forward for this. It helps changes their attitude, their outlook towards life. Maybe one of these kids could be our representative in future international tournaments. Just to be part of that success in the early stages."
Apart from learning basic drills, go-to and handle drills, plays such as horizontal and vertical stacks and how to play defense, Reyes is hoping she and her coaches could impart to their players a whole lot more.