Come on, Sam Presti.
You're not fooling anyone.
After pulling the trigger on the Paul George trade, the general manager of the Oklahoma City Thunder can't be the biggest loser of free agency, especially with the unprecedented haul of picks and pick swaps that the team received. For the first time since the franchise relocated to Oklahoma City, the Thunder are in prime position to reboot by rebuilding through the draft and focusing on player development.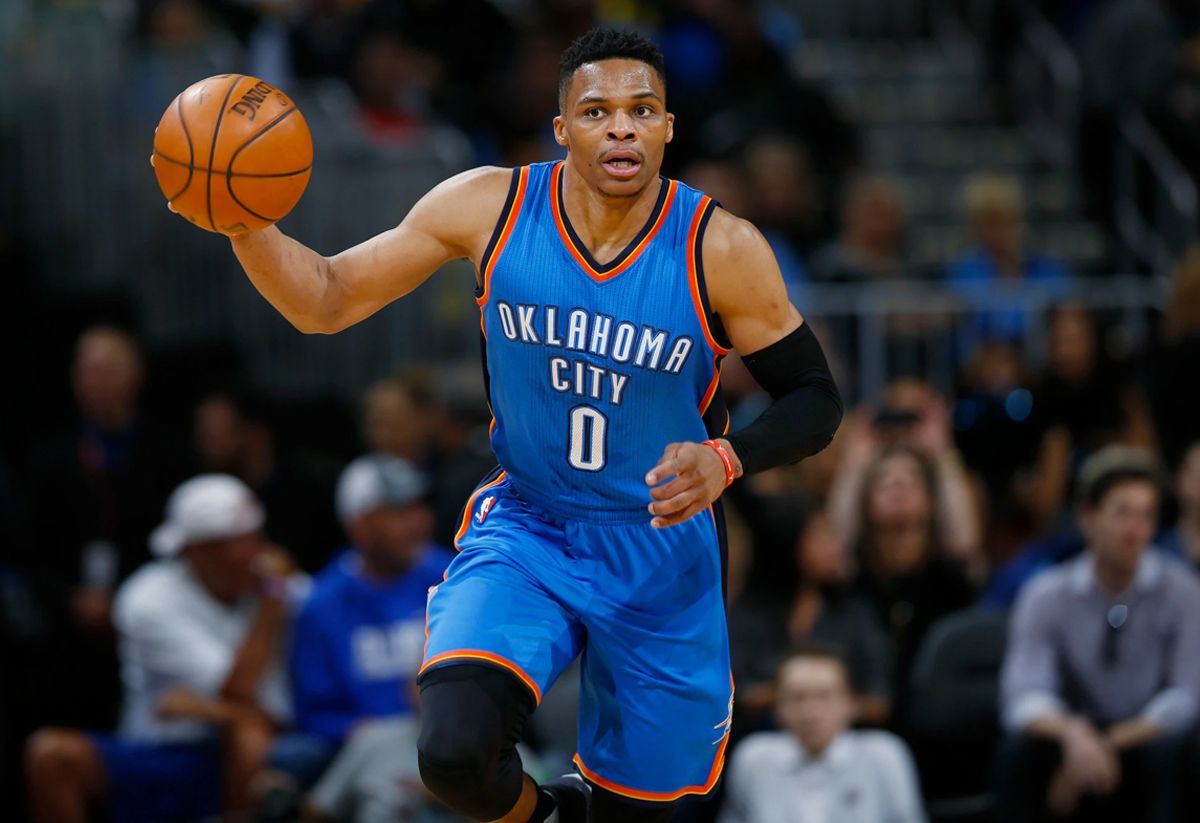 They didn't go anywhere with George, what more without him, so the next step for Presti is to look for a taker for superstar Russell Westbrook.
Continue reading below ↓
Recommended Videos
If anything, Russ has the least to gain from PG's departure — except maybe more shot attempts. The Thunder even reportedly dangled Westbrook and George to the Toronto Raptors for a package of picks plus Most Improved Player Pascal Siakam, which Masai Ujiri naturally just laughed off.
Presti finding a better situation for Oklahoma's most loyal player since Nick Collison would do the latter a favor for his years of service. In turn, Brodie could help his maiden squad load up on assets and youth needed for a franchise reset. This win-win scenario allows Westbrook to stay in the championship hunt while giving his former team a chance to break free from mediocrity and set its eyes on the future.
A love-hate relationship
If Russ had his way, he would've wanted to retire in a Thunder jersey, the team that drafted him fourth overall in 2008. However, it has become appallingly obvious that the franchise couldn't win with him as top dog. Since inking that three-year, $85.7 million contract extension after Durant left, all Westbrook has to show for it was a Most Valuable Player trophy and three seasons where he averaged a triple-double but then got booted out in the first round of the playoffs.
While he isn't solely to blame for their perennial playoff woes, the two-time NBA All-Star Game MVP's erratic playing style has been indicative of their team success. His dwindling shooting percentages and quick temper pretty much cancel out his historically well-rounded game, which has been unfairly trivialized as stat-padding. The city of Oklahoma may admire his decade-long loyalty, but that doesn't exactly mean that the entire fanbase is thrilled to have him there.
Start from scratch
It only makes sense for Presti to follow up this blockbuster deal with a series of transactions to clean house. If OKC goes for a soft rebuild, Gallinari and the likes of Patrick Patterson and Andre Roberson could be on the move after Westbrook. In the event that the Thunder hits the reset button, there's a possibility that Steven Adams, who has been mentioned in trade rumors once at the end of last season, Dennis Schroder, and Jerami Grant will have to be shipped before the deadline, despite their fit with the team's new timeline.
Outside their future first-round picks, Oklahoma's only reasonable building blocks from the current roster are Gilgeous-Alexander, Terrance Ferguson, and maybe Hamidou Diallo. Fans should be confident in their front office's ability to draft and acquire MVP-caliber stars (which, unfortunately, they also tend to lose in the long run). Like other lottery-watching team executives, Presti will be salivating over the 2022 NBA draft, which will most likely be the first year that high school players are allowed to go straight to the big leagues since LeBron James was drafted by Cleveland in 2003.
Where to, Westbrook?
The Miami Heat, Orlando Magic, and New York Knicks are among potential landing spots for Westbrook. A Russ-Butler tandem could prove to be a high-octane pairing that's likely going to be a hit in Florida. But it also could get too hot to handle, even for a sage of an executive like Pat Riley. No one wants to play in Orlando other than Nikola Vucevic, so the Magic has to grab opportunities like this if it hopes to add star power. Meanwhile, the Knicks sacrificing their young core for a head-strong 30-year-old would be the most Knicks thing to do. As we write this, Houston also looks to join the fray. However, it would require all the genius and management moxie of Daryl Morey to get this convoluted deal done.
Some are suggesting a Big Three with Blake Griffin and Andre Drummond, a straight-up Westbrook-Andrew Wiggins swap, and a UCLA reunion with Kevin Love. In the end, it all boils down to Westbrook and his willingness to adjust his approach to the game for the good of the team. Whether he improves his shot selection or temperament, it's up to the eight-time All-Star to thrive with whomever he ends up with, hopefully achieving something greater than individual accolades.
So do it, Mr. Presti. Let this be the icing on the cake that this wild, power-shifting 2019 NBA free agency deserves.