JUST LAST weekend, K-Pop group K/DA made the official announcement that they would be collaborating with Seraphine, a social media influencer who had suddenly appeared out of the blue a few months back.
K/DA — made up of four female members — announced that Seraphine (who had posted a cover of K/DA's biggest hit "Pop/Stars" on her Soundcloud account back in mid-July) would be producing the band's new album.
Seraphine seemed positively giddy with excitement at the prospect of the collaboration.
"i know a lot of you have been guessing, but i can finally say that i'm collaborating with K/DA!!! i'll be working with them to help produce their album and (gasp!) feature on an upcoming track," she wrote on Twitter.
Continue reading below ↓
Recommended Videos
This would all be a trivial bit of music news — one collab among many in a saturated industry — except for the fact that K/DA and Seraphine aren't real people.
They are the creations of Riot Games, the developers behind League of Legends.
K/DA is something like Damon Albarn's Gorillaz — if the animated group were powered by the combined red-hot fandoms of K-Pop and esports, and backed by the muscle of a billion-dollar company. Its members are made up of four of the arena battler's most popular characters.
Trading their weapons for slick street wear and vocal chops, the group is voiced by actual Korean girl group members and American singer-songwriters, and backed by a full production team that crafted a catchy, hard-hitting anthem.
When K/DA made their debut in the opening ceremony of the 2018 League of Legends World Championship, the four singers performed "Pop/Stars" on stage, while augmented reality versions of the characters strutted and sang and danced beside them.
And while many suspected the chirpy, purple-haired, so-obviously-CGI Seraphine (who has tweets like "what a day to OVERSLEEP") was connected to Riot Games somehow, it was only last weekend that Riot owned up to her creation.
Taken together, K/DA and Seraphine represent League of Legends' successful push into creating a metafictional world that lives outside the competitive battles that have defined the game. It's a glossy, mind-bending place, half-real and half-not, existing simultaneously inside a video game and a Billboard-charting song and a music video with views in the millions. That world is only the start of Riot's ambitions to become more than an esport.
And Spotify wants in on the action.
Audio assault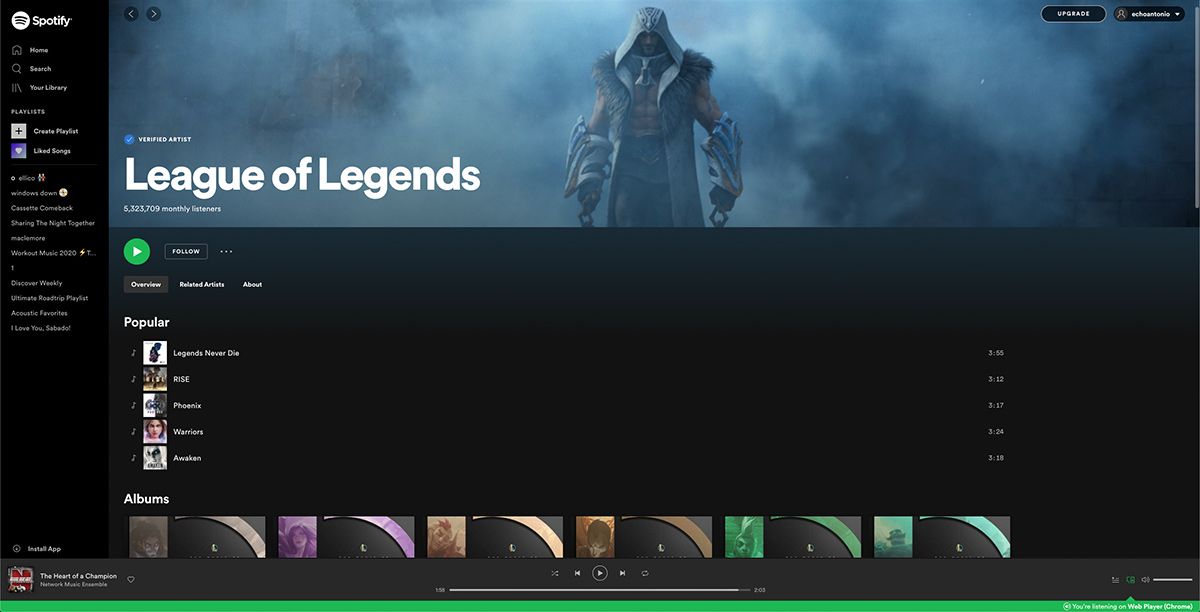 If you go on the music streaming app and head over to the "League of Legends" artist page, you'll see a discography of pulse-pounding instrumental tracks and slick pop anthems (like "RISE" from two years ago) that date all the way back to 2015. These get more than 5.3 million listens a month. This doesn't include K/DA's own artist page, with almost 3 million listens a month.
"There are significant overlaps between music fans and gaming fans. Music is a huge part of the League of Legends world," said Neal Gorevic to SPIN Life.
Gorevic is Spotify's global head of marketing strategy. In an email interview, he told us that the company's main goal is simple: "We want to be available wherever — and however — our users choose to listen. Esports and gaming are no exception."
Recently, the streaming app created an entire "Esports Music" hub for the game. You may have already seen it in your Spotify home page. To access it, you can also go to the Search pane, where it's slotted alongside other destinations like "OPM," "Concerts," "Charts," and your customized "Discover" page.
Inside the hub — with the descriptor "All the League of Legends action. All in one place" — you'll see official playlists, including the "Road to Worlds 2020." The Worlds, or more formally, the World Championship, is League of Legends' signature event, the end to an epic esports season as teams from all over the world duke it out for the Summoner's Cup. This year, the tournament will commence at the end of the month in Shanghai, China.
It was in Worlds 2018 that K/DA were first revealed.
Gorevic is continually astounded by the entertainment that League of Legends brings into the Worlds. "As it relates to music, Riot Games continues to push the limits of possibility to enhance the fan experience," he said, "as exemplified by the Emmy-winning augmented reality dragon at Worlds 2017 or by the record-shattering 'Pop Stars' single from K/DA that was performed at Worlds 2018."
Below the playlists in the Spotify hub is another key element of the Spotify-League of Legends partnership: podcasts.
Show must go on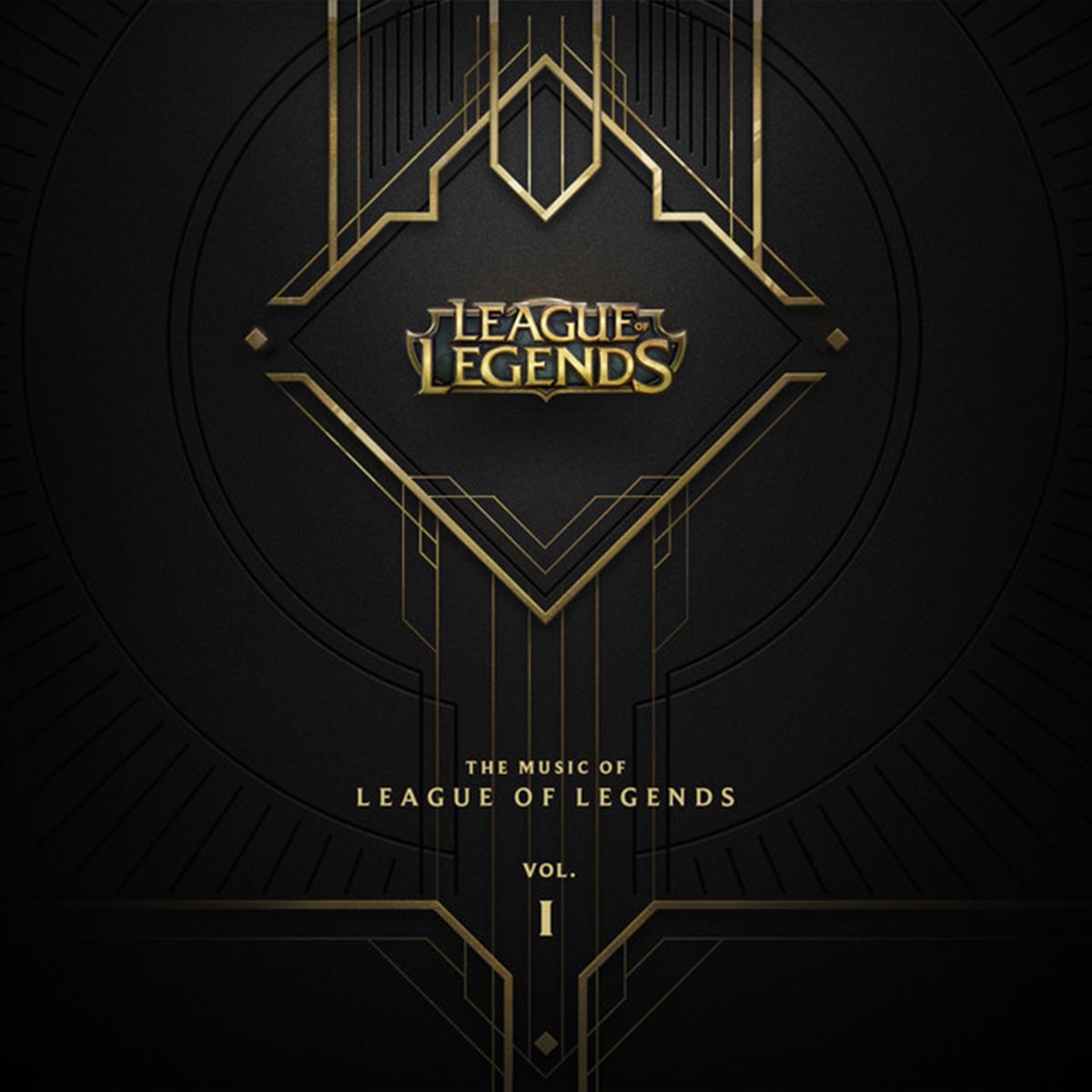 Spotify is going all-out in the podcast front. This year alone, it announced that it was signing up personalities like Michelle Obama, Joe Rogan, and The Ringer's Bill Simmons for exclusives.
Now, it's looking to flex some of that audio show muscle with League of Legends.
"Podcasts as an audio format are highly immersive and intimate," said Gorevic. "Creating an ongoing podcast series around the content is another way to offer fans deeper access to the sport."
He revealed to SPIN Life that several new League of Legends podcasts are in production, including a nine-episode series called Untold Stories: Top Moments From the Worlds. (The app posted a two-minute teaser for the show on August 24.)
"Listeners will be able to hear about the top players and anthems through game highlights, recorded interviews, game sound effects, and new interviews with key players," Gorevic said.
He also said a behind-the-scenes look at the next Worlds anthem is also in the works — which, according to a report on Variety, would be launched on the app via a "takeover on Spotify."
He added: "There is also an interesting story to tell around esports and the development of podcast content. For us, it feels like a natural fit."
Podcasts. Playlists. If it wasn't immediately clear at first how the immersive sensory assault of a competitive video game could carry over into an audio-only experience, the two-pronged attack of songs and audio shows is how League of Legends will come alive inside the streaming app.
And it all dovetails with Riot Games' ambitions to take League of Legends beyond the events, beyond the esports… beyond the game, even.
With the audio hub present in the app, "we plan to create a unique and seamless audio streaming experience for millions of Spotify and League of Legends fans across the globe," said Gorevic.
Expect to see Spotify within the game as well. According to the Variety report, Spotify will also have "an in-game banner" that will be displayed during certain segments of gameplay at various esports events.
Spotify is in it for the long haul. It's a multi-year partnership that will ramp up as the Worlds approaches, but Gorevic is positive that this is only the beginning.
"Spotify and League of Legends Esports are the two largest brands in our respective industries," he said. "We're excited to continue working closely together to create compelling audio experiences for music, podcast and gaming fans alike."
Spin fans unite at the Spin Viber Community! Join the growing community now and complete the experience by subscribing to the Spin Chatbot.