WHEN JR Gallarza posted a photo of a University of the Philippines teammate's worn-out pair of basketball shoes on Twitter as a tongue-in-cheek joke, he did not expect the subsequent response.
Just days before the UAAP season, Gallarza, the team captain of the surprising 2-0 (win-loss) Fighting Maroons, shared a photo on his Twitter account of a pair of shoes owned by UP rookie Pio Longa which had obviously seen better days.
Gallarza said he posted the photo not to seek help but more as a joke.
"The response was funny. I posted it as a half-hearted, sort of joke. They were actually my shoes that I handed down to one of the rookies at the dorm," the Filipino-Canadian forward told SPIN.ph.
"I'm not saying (teammate Pio Longa) was poor or anything like that. We're a team, we give each other things. We use whatever we have right?," added 22-year old Elementary Education major.
When I saw the shoes ripped and they were originally mine, I felt bad. Not for him per se but for the team as a whole, the season's a week away so I kinda posted it like a little bit of a joke actually."
The response surprised even a self-confessed 'class clown.'
Continue reading below ↓
Recommended Videos
As soon as the tweet spread on the social networking site, Gallarza started getting offers, not only from friends but rival players in the UAAP as well.
"It was amazing that it was other basketball players that reached out. First was (Ateneo's) Chris Newsome, a friend of mine who's been like one of my crew out here. Having him respond was really great," he said.
"Next was (La Salle's) Jason Perkins and his girlfriend who reached out and offered some extra pairs. You know those guys are sponsored by Nike. Thirdy Ravena (also of Ateneo) reached out too because someone tagged him in the tweet."
Even La Salle volleyball star and fellow Havaianas endorser Mika Reyes also offered to help her fellow student-athletes.
"It was really funny the response but I felt the love though. I was surprised that many people reached out."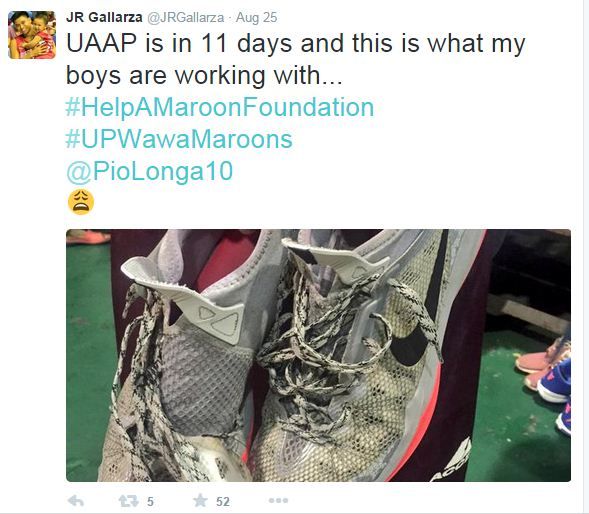 Did Gallarza actually receive pairs of footwear?
"Oh no! No! We couldn't do that. We are taken cared off really well here. But it made us really feel warm. Even though we play against rival schools it's really cool to know that other basketball have your back, you know? We're all playing the same sport. We're all in the same mission. I guess they feel that."
With all the buzz generated by UP's hot start, Gallarza said the Maroons are not letting it get to their collective heads.
"I can't speak for the other guys if it's a distraction for them. But all I can say is we won the first one. We came back and performed again for the second. People were going crazy after the second one. Once we enter the gym or even when we leave, we all stay together. Our focus and our mind is directed to one goal and that's the Final Four."
Winning has also started a significant change in the campus of the perennial underdogs whose last and only UAAP basketball crown was in 1986.
"Let's just say the last time I felt like this would be (after last season's lone victory against) Adamson. It was like a 15 minutes' fame sort of thing. Now it's like on another level. Every single day the response on campus — I don't know if you saw the pictures or the videos — but during the game there were students who were actually cutting class and being given permission to cut class and to watch.
"Just seeing that, we're waking up people and the UP community with this. We would like to continue this trend, the improvement and the increase of fans and everything."