LUIS Manzano delivered muay thai high kicks, JM De Guzman performed wrestling takedowns, Sid Lucero did strangle holds and JC De Vera displayed intense focus in Fight Form.
Fans were able to watch celebrities in a different light when Under Armour Philippines officially launched the first leg of its 'Earn Your Armour' campaign with the 'Fight Form: Elite Edition' at Bonifacio High Street in Bonifacio Global City on Sunday.
The demonstrations highlighted Under Armour's kinship with the martial arts community with featured demonstrations of muay thai, jiu-jitsu and wrestling in an elevated boxing ring.
Actors and fitness enthusiasts Luis Manzano, JC de Vera and JM de Guzman showed their martial arts prowess to the delight of the audience as dozens of martial arts enthusiasts gathered for an evening of intense workouts.
"They have to really want it. You can't say you want to do it for a day or a week — you have to have commitment to reap all the benefits," advised Manzano, who said he was glad to showcase his martial arts skills to the crowd.
Pioneered by Coach Erwin Tagle, "Fight Form" is a fitness program that utilizes martial arts movements in a non-contact format.
The high-intensity workout lets athletes practice mixed martial arts movements such as jabs, kicks, sprawl and brawl, and others without need of a sparring partner. Scores are based on the number of repetitions within a set time limit, or maximum time to sustain a particular movement or position.
Continue reading below ↓
Recommended Videos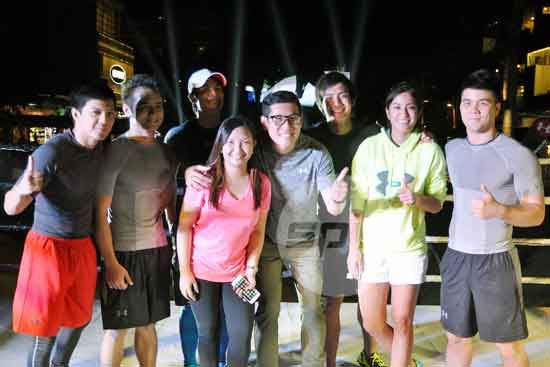 The launch of "Fight Form: Elite Edition" kicks off a six-week program for aspiring athletes to "Earn Their Armour" with daily and weekly challenges.
Participants must log on to www.tripleready.com to register, then download the Endomondo fitness app to receive their challenges and to log their accomplishments. At the end of the series, the participants with the highest number of points get to bring home a full suite of Under Armour apparel and footwear.
Also at the event were MMA Asia superstar and One Fighting Championship bantamweight title holder Mark Striegl, volleyball superstar Gretchen Ho and actor-host Robi Domingo.
"With the growing popularity of mixed martial arts, the public wants to experience that same kind of exhilaration and physical challenge without necessarily engaging in combat against another opponent. 'Fight Form' lets the athlete get that kind of experience while honing his agility, speed, and endurance, which are cornerstones of the Under Armour philosophy", said Adrian Chai, chief marketing officer of Triple Private Ltd, the exclusive distributor of Under Armour in Southeast Asia.
The next leg of Earn Your Armour will be on July 22 at UP Town Center. Tryouts are ongoing at Ultimate Fitness and Anytime Fitness.