OVER 12,000 participants have signed up for Run United 1 on March 16 at the SM Mall of Asia grounds in Pasay City.
At a media briefing at the Balboa Restaurant in Edsa Shangri La in Mandaluyong City, Unilab Active Health (ULAH) organizers said the popular running series will focus on progressive runners for 2014.
In its fifth year, Run United has observed the profile of its participants evolve from mostly newbies to mainly progressive runners. This marked change prompted ULAH to rethink its focus and to introduce appropriate products and services for their progressing set of customers.
"Progressive runners are committed and it is clear in their minds that they want to become better. So they look for opportunities, products and services to help them in achieving their goal, which ULAH provides them," said Lester Castillo, ULAH sports events and public relations executive.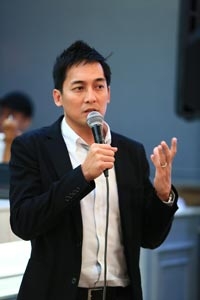 Continue reading below ↓
Recommended Videos
In running, progressive athletes are described as those who are committed in continuing the sport and are finding ways to 'level up.'
Previous Run United events offered 3K-5K-10K races whereas this year's edition has longer distances with options for 5K-10K-21K.
For 2014, Run United adopted the Olympics Values of "Citius," "Altius," "Fortius" which are latin words for "faster," "higher" and "stronger," respectively.
ULAH's mantra, "Exceed Yourself," aims to inspire everyone to establish new personal records – Citius, progress to longer distance categories – Altius, or finish strong – Fortius in the 2014 Run United Series.
"Our races have always been about people exceeding themselves. We have been part of the journey of many participants, who have become a better version of themselves. We will continue to support them as they progress in their field, whether it is running, biking or triathlon," said ULAH vice president for operations Alex Panlilio.
ULAH's sponsored races started five years ago to encourage more Filipino families into an active lifestyle. It succeeded in doing so as participants in its Run United and Tri United races steadily increased. The first ever Run United on March 2010, initially intended for the company's employees, attracted 6,000 runners, which has since more than doubled.
Its year-round lineup of races is just among the solutions that ULAH offers. It was in 2010 when Unilab Active Health launched its series of athletic events in running, biking and triathlons. This included the Run United series, which initially had only two legs — Run United 1 and 2.
As it developed closer interaction with the athletic community in the country, ULAH gets regular feedback from the athletes. The comments are used to further inspire the ULAH team to find ways to better cater to the requirements of runners, cyclists, swimmers and triathletes.
"We pride ourselves in being able to cover all aspects of progressive athletes' growth and development. ULAH has an array of sports nutrition products that takes care of their needs before, during and after their race," said Castillo.
These products include Enervon Activ multivitamins, Enervon HP Recovery and Active Health sports gel.
ULAH has also started developing sports apparels that are made of cool, breathable, fabric to help improve the performance of the athletes and keep them comfortable during a run. An innovation in this year's Run United singlets is that a sweat-activated design becomes visible in the upper back area of the singlet. Each of the values "Citius," "Altius," and "Fortius" becomes more visible as soon as the person wearing the singlet starts sweating.
ULAH taps the expertise and experiences of top coaches, sports science experts, and sports nutritionists to come up with solutions for progressive athletes. It also provides them with access to trainings via its regular sports clinics that will allow them to reach their ultimate potential.
ULAH's brand ambassadors include running coach Rio dela Cruz; triathlon coaches Dan and Ani De Leon-Brown, Raul Cuevas, and Andy Leuterio, and the Bull Runner Jaymie Pizarro - all are active in mentoring and training progressive athletes.
"We believe that better training, better gear, better nutrition, and better races, will all lead to athletes becoming a better version of themselves. As soon as you start doing it right, you become better," said Castillo.
Other races scheduled for the year are as follows: Tri United 1 2014 on March 9 in Subic, Olongapo; Run United 2 2014 on June 1 at SM Mall of Asia; Tri United 2 2014 on July 6 in Laiya, Batangas; Run United 3 2014 on October 5 at BGC-SM Mall of Asia and Tri United 3 and 4 in October and November respectively (final dates and venues to be announced).
For more information, check the following websites: www.unilabactivehealth.com and www.runrio.com.