SPECIALIZED Philippines has announced that elite triathlete Monica Torres and actor Mateo Guidicelli are among its 2014 ambassadors.
"Specialized has been sponsoring a number of athletes for several years now, but it is only recently that we have come to have such a diverse group of athletes," said Joey Ramirez, chief executive officer of Dan's, the Philippine distributor of Specialized.
"We have always been about performance. In selecting our ambassadors, we consider their racing credentials as well as their enthusiasm to really represent Specialized in their training and racing lifestyle," he added during the media conference at Conti's Greenbelt.
"We're happy to say that we have truly productive partnerships with our ambassadors. Our athletes really ride our bikes to their maximum potential, they give us valuable feedback on how we can improve on the products and services, and finally they help us spread the word to our customers on why Specialized is the number one bike brand in the world."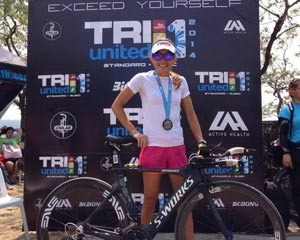 ADVERTISEMENT - CONTINUE READING BELOW ↓
From a limited roster of athletes just several years ago, Specialized now sponsors nearly two dozen road cyclists, mountain bikers, and triathletes in the country. They recently signed actor Guidicelli, an accomplished mountain biker and triathlete himself, and professional triathlete Torres.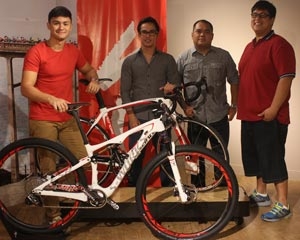 In the mountain biking scene, teenage phenom Ariana Dormitorio continues to set the trails ablaze with her dominating performance in every race she enters, while Nino Surban is now regularly competing in regional, UCI-sanctioned events. Over in the age group ranks, Specialized supports both the Fitness First cycling and triathlon teams.
The Fitness First cycling team is one of the most successful teams in executive cycling, while the Fitness First triathlon team continues to regularly grace the podium with fixtures such as Mark and Doray Ellis and Keshia Fule.
The Isuzu D-Max–Team Prima continues to excel in the cross country and downhill mountain biking scene. Its rising star is 18-year-old downhill specialist Jerich Farr.
Having raced downhill since 2008 when he was only 12 years old, Jerich became the number one novice rider in his category by the time he was 14. Two years later, he would be the youngest rider in the pro categoryand finished second overall in the pro open category of the DROP National Series.
In 2011, Jerich won the gold medal in the juniors category of the Singapore National Cycling Championships. That same year, he was the third runner-up in the open category of the Specialized Asia Pacific Downhill Challenge held in Indonesia. He was also the 2012 Rookie of the Year in the DROP Series.
For the second year in a row, Dan's has also been awarded the coveted Specialized Distributor of the Year Award for the Pacific Rim region.