REIGNING champion August Benedicto will have his hands full on Sunday when he faces three foreign pro elites in the kickoff leg of the 2015 Unilab Active Health triathlon series at Dungaree Beach inside Subic Bay Freeport.
The Team ULAH spearhead's quest for a repeat is expected to face stiff opposition from Mitch Robins of Australia, Saranon Chantaraj of Thailand and Eneko Elosegui of Spain - all veterans in the global long-distance triathlon circuit.
Also seeing action in the elite men's division of the race organized by BikeKing and supported by ULAH in cooperation with the Subic Bay Metropolitan Authority Tourism Department are local stalwarts John 'Leerams' Chicano, last year's Tri United 1 champion; Daniel Brown and Benjamin Rana.
Last year's women's champion Anna Stroh and second placer Ani Karina De Leon-Brown will resume their rivalry in the distaff side of the event supported by Aboitiz, Enervon Activ, Active Health Sports Gel, Enervon HP, AboitizPower, Orbea, Shimano, Maxxis, TIMEX and Saucony.
Cash prizes amounting to P40,000 will be up for grabs in the elite category, with the champions in the men's and women's divisions getting P10,000 each.
Close to 800 triathletes are taking part in the race that will also feature a sprint distance race. Top three male and female winners in the age groups and team categories will receive medals and gift packs.
The Sprint Distance course will have a 750-M swim, a 20-Km bike and 5-Km run and a more challenging Standard Distance course of 1.5 Km swim, 40 Km bike, 10 Km run for the more seasoned triathletes.
The swim is set at the waters off Dungaree beach, followed by a new and still flat bike course that will stretch out to Argonaut Highway and Rizal Drive for the turning point before heading back to the transition area near the beach.
The run course this time around will be composed of 2.5 Km loops (compared to last year's 5 Km loops), which participants will engage in, before going back to the main venue, where the finish line is set.
The race is also supported by media partners Men's Health, SBR.ph, Multisport and SPIN.ph.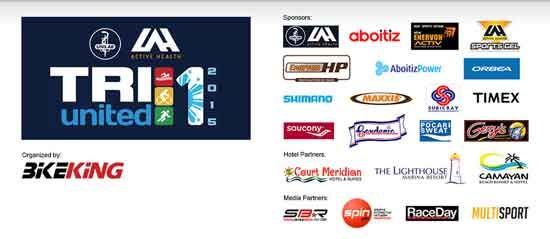 Recommended Videos