TREK, the largest bicycle brand in the world, breaks new ground in the Philippines with the launch of the first Trek Bicycle Store in the country.
The new store, located at Two Parkade along 30th Avenue in Bonifacio Global City, was inaugurated by Gary Fisher, the man credited as one of the inventors of the modern mountain bike.
"I've known Trek for the longest time and they are one of the big brands in cycling. They are at the top in mountain biking and competitive road racing. They make technologically advanced bikes and they build their own frames which is very rare for bike companies now. They still build their best frames by hand in the US and they are very passionate about their bikes," said Toby Claudio, the scion of Toby's Sports and one of the major proponents in bringing Trek to the country.
The store will have a full range of road, mountain, triathlon, women's, kids and city bikes, with accessories and apparel to match, courtesy of Trek's very own Bontrager brand.
Claudio said their latest store features Trek's Project One customization program, allowing visitors to design their bespoke Trek bike. He said customers can choose from paint schemes to selecting specific parts for their bikes.
Continue reading below ↓
Recommended Videos
To help customers in selecting a bike that would fit them best, from a production model or from Project One, the store offers Trek's Precision Fit service, a proprietary bike-fit system that measures not just the rider's dimensions, but also evaluates their efficiency as they pedal on a stationary, computerized bicycle.
SPIN.ph columnist Agu Paiso, in charge of Trek's marketing arm, said the challenge for the store is to transform Trek into a cycling hub for Metro Manila.
One strategy is providing quality service for a clientele which he considers as "switched on" when it comes to their bikes.
"It's not just about moving products, it's all about building relationships," Paiso explained.
The full-service bicycle store promises a premium retail experience that showcases Trek's extensive product lines, while championing the cycling lifestyle.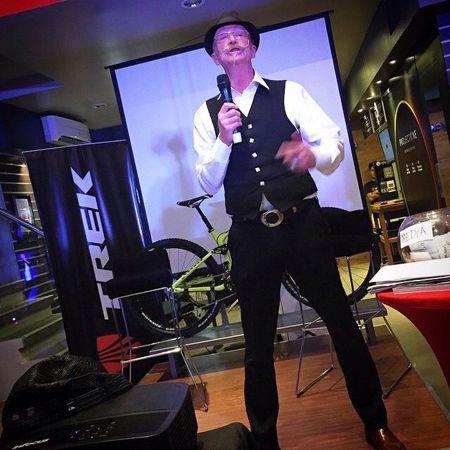 "Customers will have the chance to own a 'one-off' bike and there are an infinite number of possibilities - from the paint job to the parts and the accessories for a truly unique bike," said Claudio. who admitted that cycling is his favorite sport.
"You're getting fit while having fun at the same time. And the bonus is you get to see the beauty of our country. Just came from Baler and I was on the bike for eight hours enjoying the fresh air and the outdoors - it's a great activity for anybody," he said.
According to Claudio, prices will range from P12,000 to a cool P700,000 model that only weighs 10 lbs - the lightest production road bike in the world.