"G'DAY, mate!"
The inaugural Century Tuna Ironman 70.3 Subic Bay Pilipinas turned into an all-Australian show as Tim Reed led a podium sweep of the race a day after turning 30 with a come-from-behind victory at the Subic Bay Freeport.
Subic-based Mitch Robbins came in around four minutes behind Reed while third place went to 2014 Safeguard Active 5150 champion Josh Amberger, who led for much of the race before being overtaken by Reed in the run stage.
"It all picked up on the road after the bike and it all panned out. I just tried to keep very relaxed and run my own race and hope it would take a little out of (Amberger's) race," Reed told reporters shortly after he crossed the finish line.
The Aussie, distinctive in his Budgy Smuggler trunks that has become his trademark racing kit, emerged fourth from the swim before overhauling the leaders in the event that drew 900 participants from 36 countries, according to Wilfred Uytengsu of the organizing Sunrise Events Inc.
Reed romped to victory after the pre-race favorite, three-time Ironman World Champion Craig 'Crowie' Alexander, withdrew a few hours before the race, citing a lingering back injury.
Caroline Steffen of Switzerland, another marquee name, was also sidelined by dehydration.
Continue reading below ↓
Recommended Videos
In the distaff side, Parys Edwards of Great Britain won with a time of 4:18:10, taking control in the bike stage before cruising to victory in the run.
Finishing second was American Beth Gerdes, who returned to run the Ironman four months aftrer giving birth. Australian Dimity Lee-Duke completed the podium finish for the Women's Pro Elite.
"The race just turned out perfectly for me ... at the turnaround I only had two minutes ahead of the other girls and I knew (Beth Gerdes) was a fantastic runner and I really worked to increase the depth," Edwards said.
Banjo Norte and Monica Torres topped the Filipino Elites in the event that also saw the participation of actors Matteo Guidicelli and Onemig Bondoc as well as broadcast journalist Raffy Tima.
Podium winners were awarded jeepney-inspired trophies and medals plus cash prized and gift packs from sponsors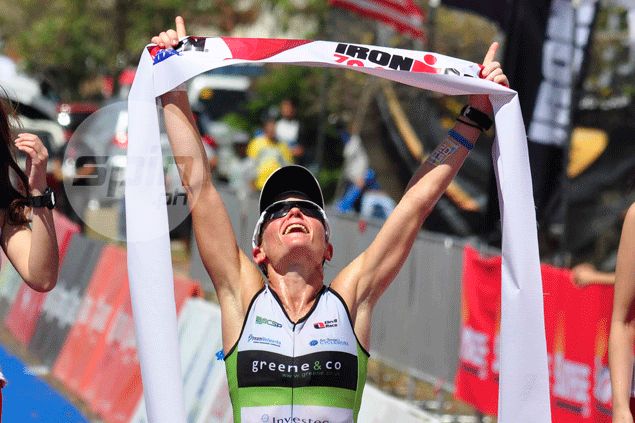 The race began with a 1.9-km swim course from Dungaree Beach along the shore of the former US Navy Air Station in Cubi Point.
From the beach, the athletes transitioned inside the Subic Bay Airport from which they biked out via the runway to the Subic-Tarlac Expressway with the turnaround in Floridablanca.
The 21 km run started from the Subic Bay Exhibition Convention Center that led back to Dungaree Beach before turning back to SBECC.