I don't recall even signing up for Chicago, but I do remember hollering "Guess who's going to the Windy City to meet Mary in October?" to the missus, while reading the email informing me I had made the lottery. Together with over 40,000 runners from all over the US and around the world, I would be toeing the start line in about 10 months and had to get started with my training. The scheduled arthroscopic surgery on my shoulder in March notwithstanding, I would still be able to stick to my two-marathons-a-year minimum with enough time to train. Since being bitten by the marathon bug 10 years ago, I'd made it a point to do at least one overseas and one local 42k (along with a sprinkling of ultra marathons and multi-sport races to keep things interesting) as part of my annual pilgrimage as an endurance sport devotee. I had so far only completed one distance race for 2018 - a 50k trail ultra where I finished dead last, but one that left me feeling more alive than I had ever been by the time I crossed the finish line.
The Struggle Is Real
Dragging my feet through the last hundred meters just to complete an insignificant twenty-six kilometer training run on a perfectly pleasant Sunday morning, this was me a few weeks back trying not to panic. But on this beautiful Sunday morning, the struggle was indeed real, and I felt like I had lost a significant amount of fitness and endurance as I huffed and puffed through those last few meters. My thoughts raced ahead to Chicago with a marathon route known to be a PR (personal record) course: generally flat with just one uphill climb towards the end that wouldn't be much of a problem if I trained for it. The last time I raced unprepared or with minimal run mileage (Singapore 2017), I ended up walking more than half the course and finished with my worst time ever. If I didn't shake things up and get out of this funk soon, I could suffer the same fate.
Continue reading below ↓
Recommended Videos
I needed this race like I needed a hole in my head.
Still, I thought, I could always will myself through when the going gets tough. That's what happened in a number of distance races, and I finished all of them. But somehow, this time felt different. As I'm getting along in years like everyone else, I've realized that I have to put in even more work just to turn in an acceptable finish.
With my weekly physical therapy sessions for my shoulder and the occasional half hour swim, I managed to follow a thrice-a-week run training session that didn't seem to build the confidence I needed. Despite the surgery, my shoulder was still a bother, and my growing impatience about the healing time wasn't helping. It had been more than three months since the operation and I felt like progress had ground to a halt. And then something miraculous happened to my nagging, recovering right shoulder. During a game of pick-up basketball one weekday evening, I went for an offensive rebound and got the same shoulder entangled with an opposing player's limb. I felt a sharp sting on my right bicep as I lost hold of the ball, but somehow managed to finish the game, though with some soreness to my right arm. The tenderness persisted for days, accompanied by an unusually shaped bulge in my bicep akin to a tennis ball. But then I noticed something else: the shoulder discomfort had all but dissipated. Somehow, that rebounding mishap had done what the past three months of therapy couldn't: it accidentally right-sided my shoulder. My doctor (who had operated on my shoulder) couldn't quite explain what had happened. My physical therapist told me to count myself lucky and wished that his patients would 'suffer the same experience.' But back to training…
Over the remaining weeks leading up to race day, I wisely (or not), decided to run not more than eighteen kilometers but mix some cycling and swimming into my now four-times-a-week run program. The weather conditions ran from scorching sunny days to torrential rainy ones. I told myself that Chicago would be cool, or even cold, and that would be a big boost to helping me finish the race with the dubious training plan I had cooked up since I could race comfortably and avoid overheating.
Racing Chicago
The weather in Chicago on arrival was cool and sunny, and our cab driver said that it had been that way for the past week. I hope it holds up until the weekend because that would be perfect, I chirped. The week's forecast showed patchy rain and some thunderstorms for the weekend, which did not totally put a damper on my mood. I had run in some cool and rainy conditions before (Tokyo and Istanbul), but then every race is different. I just hoped it wouldn't be too cold or too wet on Sunday.
I hadn't raced a marathon major since Berlin in 2014, so the magnitude of the expo for the pick up of my race kit was a tad overwhelming. We took local school buses as shuttles to the venue and queued for roughly 20 minutes just to get into the expo proper. The sight of so many runners and non-runners filing into the exhibition hall still staggered me, while noticing more than a few runners in their Boston Marathon commemorative jackets (with their finish times embroidered on the collars at that) did intimidate a bit. A quick walk through the exhibit areas to pick up a few brochures and check out some products was all I needed to complete my morning, and then it was back to the shuttle waiting area for the ride back.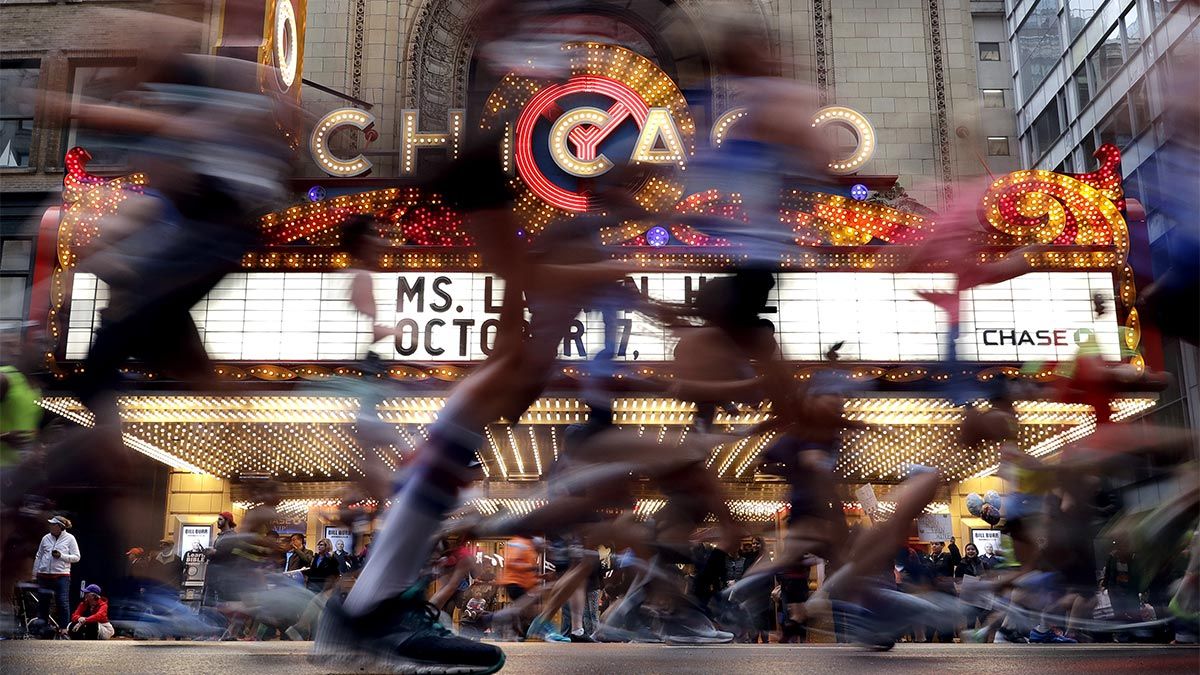 Fast forward to race day. Deciding to walk to the venue from my hotel gave me the opportunity to stretch my legs (aside from walking about 10k the day before exploring the city) before the race in the middle of a gentle downpour with 14 degree Celsius temperature. Checking in my gear bag of after-race clothes and food was easy, stress-free, and done in a couple of minutes. What took weeks was the wait to use the portalet. This was one detail the organizers hadn't improved on, considering this was the 41st time they were running this annual event. The lines of runners waiting their turn snaked all over the drenched lawn with quite a number of us getting anxious of the dam bursting and/or being late for our start corral assignments. I ended up having to join the next wave of runners and crossed the start mat almost fifteen minutes after my scheduled start time. By the time I got going, I had to go again for another pit stop less than a kilometer into the race. Standing in line and waiting for my turn with only two portalets for a slew of perturbed runners added five extra minutes to my final time, not that it mattered by the time my race was over.
The cool weather that I had hoped for during my training phase did show up and stay on, and even if it came with a little rain, provided me with more confidence to run while making sure not to speed up to early, as I am always prone to do. I also made sure to take in the anti-fatigue capsules, energy gels, and hydration tablets at the specified intervals to optimize the nutrition necessary to get me through. But nutrition strategies are just part of the equation for successfully completing a marathon, and I soon realized that "Running A Marathon With Minimal Mileage" would never make it to Amazon's best-seller list. The first sign of trouble came at just past the 10-mile (or 16k) point. While my effort and breathing were normal, I already began to feel some tiredness in my legs. By the time I got to the halfway point, I was forced to switch to run-walk mode to ensure I could still run across the finish line.
Running through the twenty-nine neighborhoods of the city was still an experience. We began at the north and proceeded to loop the west and south areas of the city, with each section displaying their own character and flavor. The volunteers (total for the event numbering about 12,000) throughout the course provided ample encouragement, assistance, and support in the form of aid stations, traffic safety, and straight up cheering. And similar to other marathon majors, Chi Town's residents were never short in numbers or motivation. The level of enthusiasm was maintained at nearly every section of the course with musical performers, school cheerleaders, a recurring Pikachu-costumed supporter that appeared three times (at least) throughout the course, and natives of various ethnicities and ages holding up signs reading "Kick some ass-phalt," "Run faster so we can start drinking," and "Find a cute butt and follow to the finish" while whooping and shouting (sometimes shrieking, even) words of encouragement to the runners.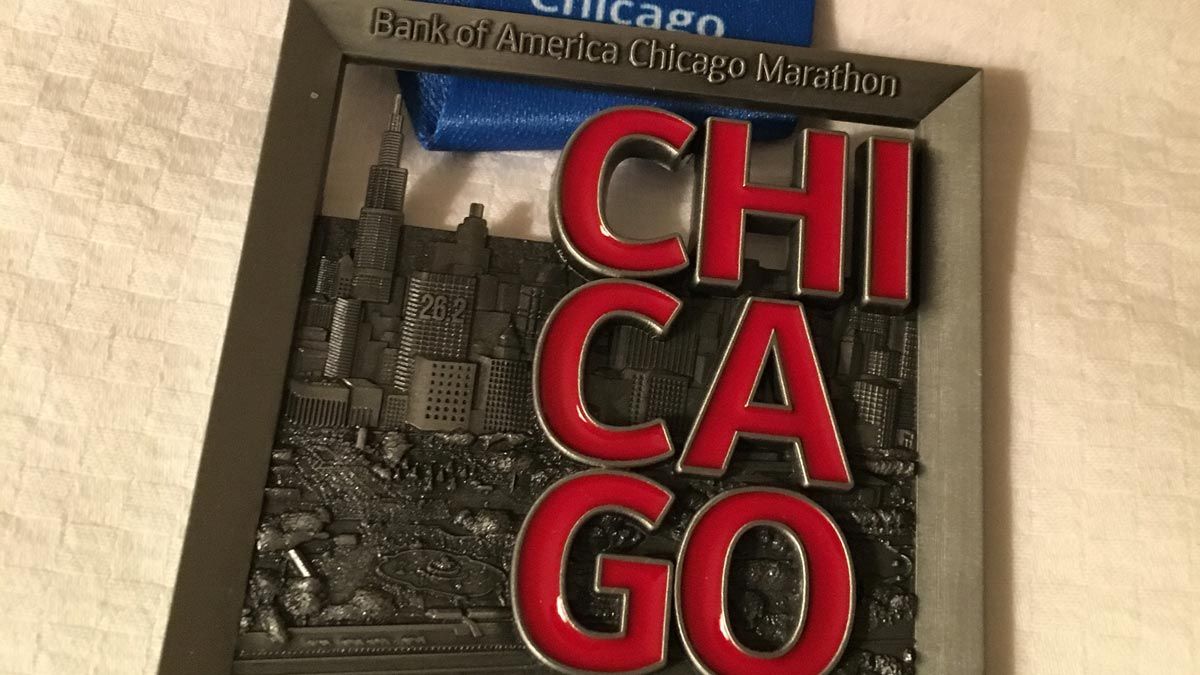 The marathon has a way of humbling you, whatever level of fitness you are at. I found myself running (and walking) alongside runners who were twenty years older or thirty pounds heavier — and a good number of them passed me at various points of the race. This was a lesson I learned early when I did my first marathon and one that is constantly repeated at every endurance event: Reserve all judgments until after the race. Better yet, don't judge at all. Lesson number two: Be encouraging. Pain and adversity can oddly enough bring about the best in people. Over the last few kilometers of a marathon, when runners are struggling to put left over right and battling everything from cramps to 'The Wall,' it is here that the kindness of strangers shines through. Words of motivation like 'You got this,' 'Just a little bit more,' and 'Not much further now' serve to pick up flagging spirits and aching bodies, providing the needed morale boost to keep pushing all the way to that 26.2-mile marker.
I crossed the finish line way past my self-imposed target of sub-five hours, smiling and running as I did, after which I picked up my medal and chugged my dry-hopped-with-extra-brightness-specially-brewed-for-the-event Goose Island beer to celebrate. It was a good run but I was also happy it was done.
What is it about Mary that makes her so hard to resist? She wakes me up to train at unreasonable hours, makes me forego late nights with friends, and beats me down come race day. And yet I'm still here raring for more of the same. There definitely is something about Mary, because we have another date next month in Bangkok.
And as always, I'm looking forward to it.