A 13-year-old swimmer from Olongapo City defied the odds to win in the inaugural Mountain Athletics Challenge that drew 100 competitors at the Sandbox Alviera in Pampanga over the weekend.
"I just wanted to try and face the challenge," Julianne Cristine Javier, a student from the Olongapo City National High School, told Spin.ph after she tallied the best time among four entries in the distaff side - and in the process won the admiration of the other competitors with her grit and determination.
Javier said she has been joining various competitions accompanied by her mother. In the event that she won, Javier would deposit her winnings in a college fund to help her pursue her dream of being a doctor.
The two winners each received P10,000 cash, P10,000 worth of The North Face gift certificates, a six-month Platinum membership at Fitness First, five passes to the Sandbox and a coveted spot in the 2016 TNF100 endurance race.
In the men's division, 29-year old David Joseph Articulo leaned on his triathlon background to rule the field of nine equally determined finalists.
"Ubos hininga! Never ko na-experience ang ganitong kahaba na routine na 7 to 8 exercises… focus lang," said the UP Mountaineer member who admitted he was already on "autopilot" during the last three exercises in the last round due to the physical strain.
"Sobrang laking tulong ng (Mountain Athletics) for any sport. Tumataas yung heart rate mo and napu-push mo yung sarili mo to the limit. Sobrang importante ang conditioning sa sports and outdoor activities," Articulo pointed out.
Continue reading below ↓
Recommended Videos
The last course, done under the stifling heat of a noon day sun and the Zambales Mountain Range as a backdrop, was a crossfit-inspired challenge that included side straddles, weight lifting, burpees, lunges with backpacks loaded with sand, squat jumps and tire flips.
Mountain Athletics is a high-intensity-interval-training program (HIIT) that is specifically designed to improve performance in outdoor activities like trail running, climbing and mountaineering. These sets of exercises must be accomplished correctly at the fastest possible time.
Prior to the rigorous finals, participants had to endure two equally challenging rounds under the supervision of Fitness First coaches who designed the course.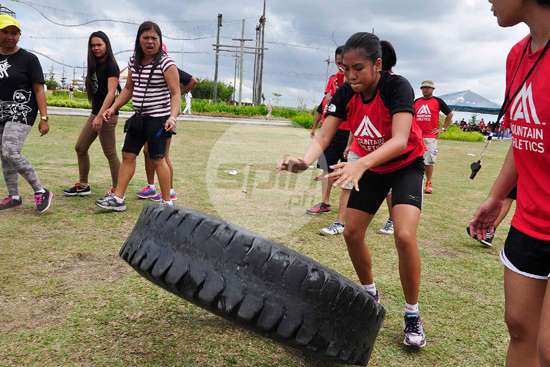 The qualifying round was a timed course that featured several exercises meant to push the boundaries of a person's speed, endurance and strength.
The 30 fastest men and women then went on to the semifinals round where they were required to reach the top of a 30-foot tall rock climbing wall, run a flight of stairs then rappel from a five-storey high tower while trying to beat a cut-off time - a feat that not only tested one's technical skills but also his mental fortitude.
True to The North Face credo of "Never Stop Exploring," the event drew an interesting crowd — from a 61-year old retiree from Tarlac who took up trail running 10 years ago; veteran mountaineers; a family of musicians engaged in an active lifestyle; fitness buffs; and recreational runners.
Jundel Llagas, TNF Division manager, said the brand has always been an "advocate of experiential activities" and events like Mountain Athletics helps them connect with their consumers and followers in "the most authentic way."
"We're very happy to encourage that kind of spirit. Exploration shouldn't be confined to technical, hard-core individuals. Exploration is for everyone and The North Face would want to be the brand that leads them to that kind of notion. Any fitness level at any age, you can start an appreciation for the outdoors. All it takes is that spirit and the courage to just bring out the best in yourself", Llagas said.