AFTER NIKE, did you know that Skechers is the No.2 sneaker brand in the US?
Skechers overtook adidas in the sports footwear market in the first quarter of 2015 and is now behind giant Nike, according to the Wall Street Journal.
THE US sportswear brand, long known for its casual footwear, has taken huge strides in developing its running arm with its Skechers Performance division and hopes to put more runners in their sneakers.
SPIN.ph was among the selected members of media and running community who tried on the company's latest offering to the running shoe market, the Skechers GOrun Forza stabilizing running shoe, during a test run one Saturday morning at High Street in Bonifacio Global City.
SPIN.ph talked to Precy Santos, brand marketing manager for Skechers Performance, about their plans in the country.
"For Skechers, we want to be the tug for the runners despite having so many brands is the mantra that we will really live by: 'Go like never before.' We really want to be that brand that really inspires a lot of people to really test running if they are not yet into it and if they are already, to become a better version of themselves. Our hero for that is the person of (long distance runner) Meb Keflezighi. But at the same time, what we want for the shoe also is to be used by a lot of runners out there."
Keflezighi, the 2014 Boston marathon winner and who will compete for Team USA in the 2016 Rio Olympics, has been the face of Skechers and its mid-foot or M-Strike technology.
ADVERTISEMENT - CONTINUE READING BELOW ↓
"That's the key thing we highlight every time with our shoe. Every GoRunner has that midfoot strike. Especially if you're a beginner, there can be so many mistakes. A lot of times you don't even know if you're doing the right strides but with the mid-foot strike, early on, we're already facilitating efficiency for the runners."
Normally, runners are prone to heel strikes with the motion of landing on one's heel, roll over to the mid-foot then the toe off.
"With Skecher's Midfoot Strike, you automatically land on the mid foot and you're already very stable and you eliminate one extra step. Imagine if you're doing a 3K or 42K, how many steps would there be in that run? If every time you do "3-2-1, 3-2-1" that's inefficient and you get tired easily. With mid-foot strike naturally you're more fresh pa even after a longer run," Santos explained.
As for Skecher's plans in the Philippines, Santos said they "want to mirror" what Skechers US already has done, mentioning sponsorship of the LA Marathon and a bunch of Go Elite athletes.
She said there are plans for Skechers to be more visible in the running scene. Milo Apex founders Jim and Toni Saret, who help train people for the Milo Marathon, and competitive runner Richard Salano are among their current brand ambassadors and there are plans to add more.
For their latest offering, the Forza has a seamless minimal upper that combines with a two-part Resalyte stabilized midsole for 'a true stability running experience.' The shoe is the winner of Competitor Magazine's 'Best Debut' Spring 2016 award.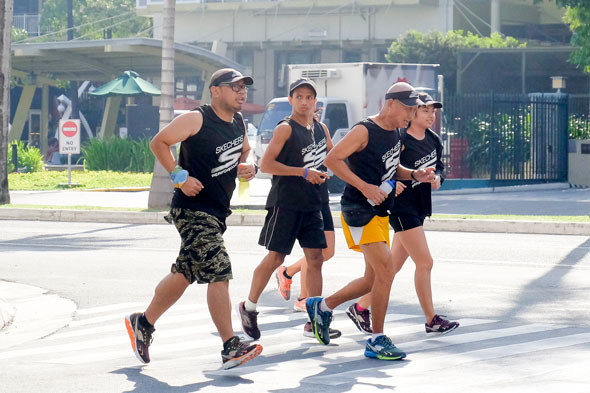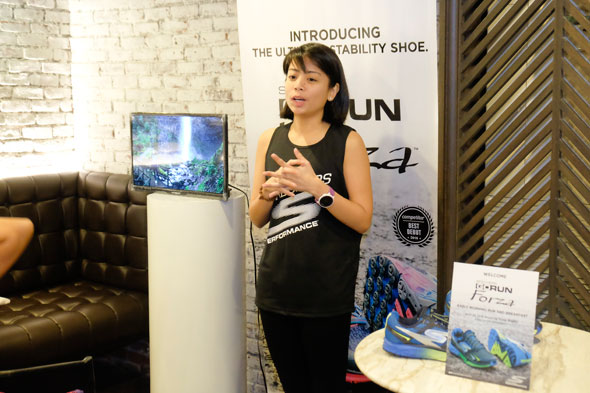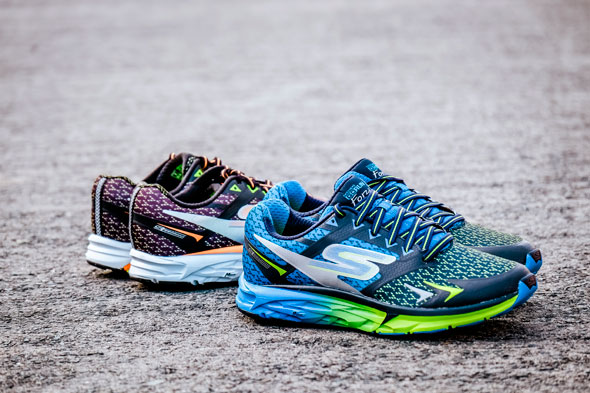 ADVERTISEMENT - CONTINUE READING BELOW ↓