SUBIC BAY, Zambales - Three-time Ironman world champion Craig 'Crowie' Alexander and two-time Ironman Asia-Pacific Champion Caroline Steffen were supposed to be the much-awaited marquee names in last year's Century Tuna Ironman 70.3 Subic Bay before injuries forced them out.
'Crowie' and 'Xena the Warrior Princess' savored redemption on Sunday after both won their respective categories in the Pro Elite in the 2016 Century Tuna Ironman 70.3 in Subic Bay Freeport.
The 42-year old Alexander, racing in the Philippines for the first time in an illustrious triathlon career, proved his supremacy in one of his favorite events and notched his 28th consecutive Ironman 70.3 win in the process with a time of three hours, 48 minutes and 56 seconds.
Second placer Patrick Lange of Germany earlier maintained a one minute and 30 second lead ahead of a pack led by Alexander to Transition 2 before the 'King of Kona' made his move in the run at 11km mark to the finish line. Tim Reed, last year's winner, came in third.
"I fought strong, I tried to be smart. Made sure I drink and paced myself. It paid dividends for me," said Alexander, who overcame a "very slow start" in the swim leg.
"After (the swim) I felt good … when you get off the bike two and half minutes behind you, you don't try to do it all at this stage. Just pace yourself. Slowly and slowly I got closer."
In the distaff side, Steffen overcame the heat to maintain a steady pace to finish with 4:09:40 as the Swiss quickly built a 400-meter lead over her nearest challenger, Czech Radka Vodickova. Australian Dimity Lee Duke made the podium again with a second successive third-place finish.
"It was really, really hot… I had completed plans today and you have to be flexible and be ready with a Plan B. I took it easy on the bike and gave a really, really good go in the run," said Steffen, who vowed to come back and defend her title next year.
More than 800 participants endured sweltering heat and humidity in the 1.9km swim, 90km bike and 21km run course that spanned the former Subic International Airport in Cubi, SBMA Island and the SCTEX up to Floridablanca in Pampanga.
Tri United's August Benedicto overcame Paul Jumamil during the run and was the fastest Filipino male after he finished ninth overall, with the first-time dad achieving a personal best in the 70.3.
Monica Torres was the fastest Filipina while Thailand's Jaray Jeranay was the fastest age grouper in a race that featured athletes from 44 countries.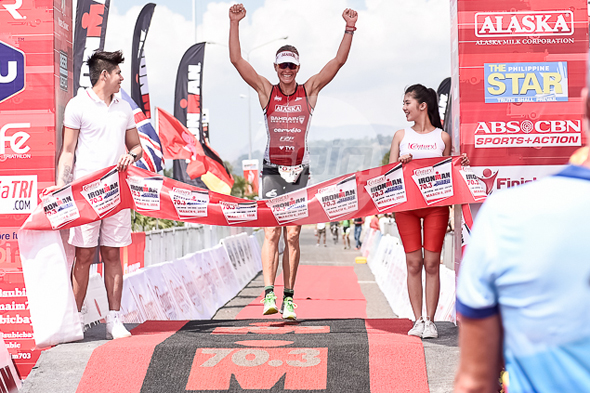 POV,Zoom In