CONTROVERSIAL as the past few weeks may have been following the burst of the University of Santo Tomas' Bicol bubble, it opened the dialogue for a possible resumption of practices for collegiate teams and non-professional squads in general.
And on Friday, the Inter-Agency Task Force (IATF) for Emerging Infectious Diseases through the Joint Administrative Order on the resumption of sports and physical activities (Sports JAO) have considered the possibility of allowing teams to return to the court.
"I am confident that the pros would be willing to share what they are doing because after all, it's one industry and everyone is concerned with each other," said Games and Amusements Board (GAB) chairman Baham Mitra.
"If one accident happens, then the whole group is affected. We appreciate their efforts and their putting their time and resources in complying with the JAO and we would want them to showcase it so others may appreciate and emulate."
But even before the wheels move on for that potential resumption, San Beda team manager Jude Roque has already drafted a proposal of the guidelines which college basketball teams could adhere to once the government finally allows them to go back to the court.
Roque furnished Spin.ph a copy of the said proposal which has already been submitted to the Department of Health (DOH).
Continue reading below ↓
Recommended Videos
In the proposal, the resumption of trainings for collegiate teams can only be staged in places listed under modified general community quarantine (MGCQ) or lesser, with players below the age of 20 and senior citizens in the staff all prohibited from participating.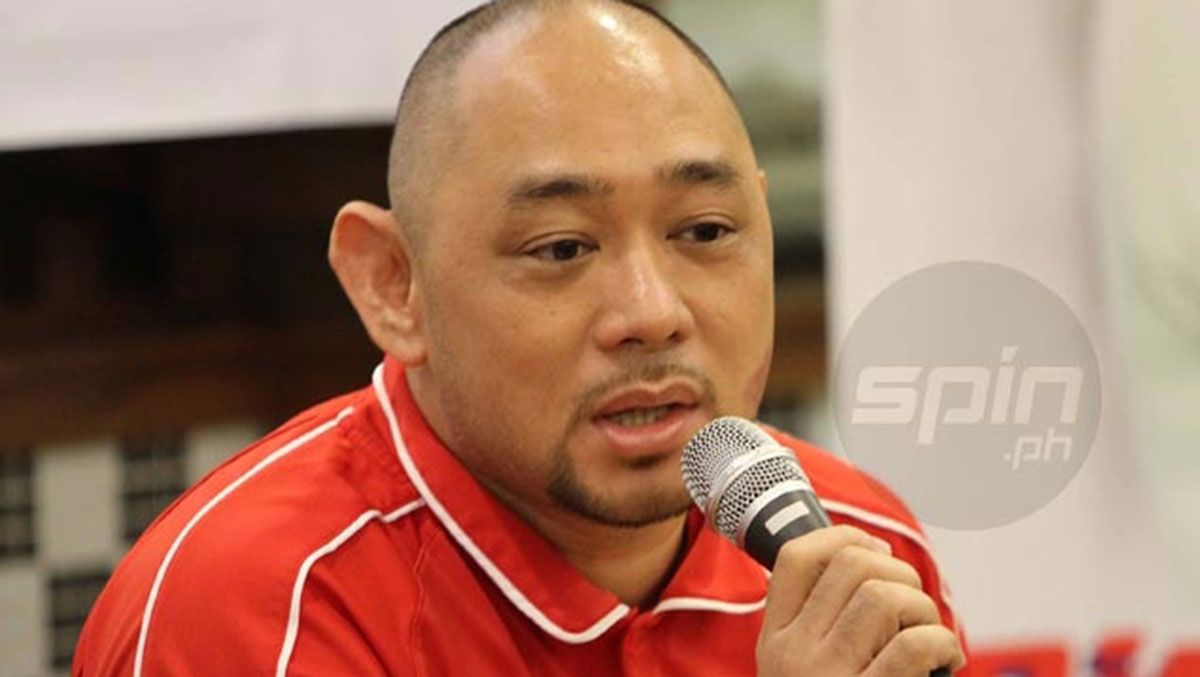 Roque also required participants to take Polymerase chain reaction (PCR) tests, needing negative results of course, as well as furnishing parents' consent and school approval, on top of the DOH-issued protocols being observed.
As for the pre-workout preparations, Roque listed off 10 requirements:
1. Training venues and surrounding areas including the car parking area must undergo thorough disinfection to be conducted by sanitation specialists with emphasis on antimicrobial and antiviral disinfection.
2. The installation of UV sterilization lamps and air purifiers with Hepa filters in enclosed venues is highly recommended.
3. Placement of foot baths in all points of entry
4. Placement of physical distancing markers (at least 1 meter apart) in all areas used
5. RT-PCR testing for all participants. Only those with negative results are allowed to join.
6. All equipment and other materials to be used in the workouts must be sanitized.
7. Medical supplies and equipment must be provided.
8. Hand sanitizers, hand soaps, and DOH-prescribed bleach solutions must be provided.
9. Assign a qualified health and safety officer to oversee the workouts.
10. An emergency situation contingency plan must be in place.
The proposal also necessitated participants being barred from taking any public transportation to and fro the venue, with private vehicles being the only ones allowed entry and the teams required to provide vehicles for the participants, with social distancing rules still being observed.
Before entering the venue, temperature checks conducted by the health officer is also required, with participants placing both their feet on bath mats. A sanitation team, made up of no more than three persons, is also expected to provide hand sanitizers, as well as disinfecting equipment and to the participants' personal items. Coaches and trainers must also wear gloves.
As for the training proper, only four players, a coach, and a trainer are allowed per session, with non-contact drills being held in 45-minute increments. On top of that, a maximum of three workout days per week is also proposed.
Participants who are not part of the training session must wear face masks, while those who are part of the session must also come to the venue already in their workout gears. The proposal also stated that there should be no borrowing of personal items, while eating or showering in the training venues are also barred.
"The Safety Officer ensures that all protocols are followed; checks temperature of everyone upon entry to the facility, reminds everyone of physical distancing, hand hygiene, cough etiquette, etc., and oversees disinfection of facility/equipment before every session. He must also keep record of all persons who attended the workouts for contact tracing purposes," the proposal read.
Here's the full copy of Roque's proposal: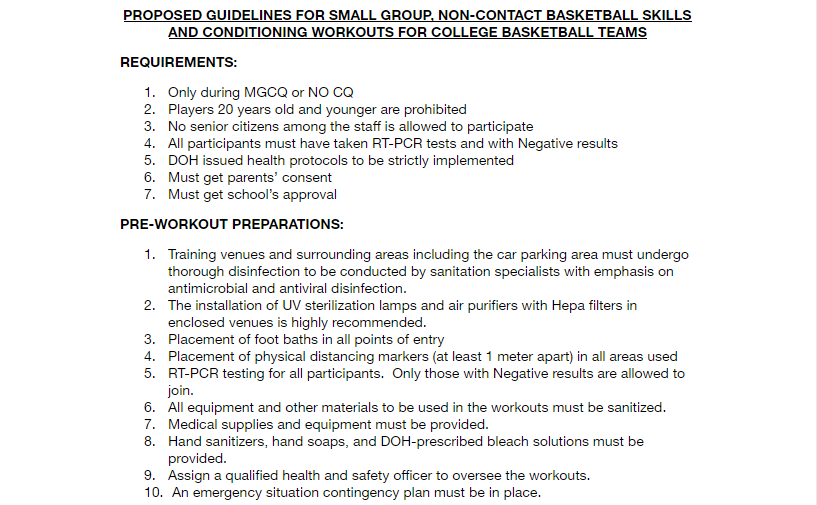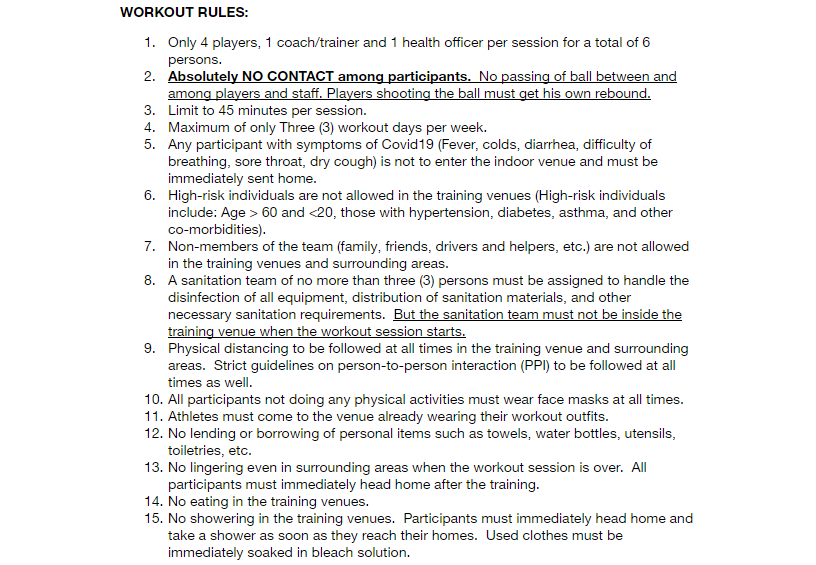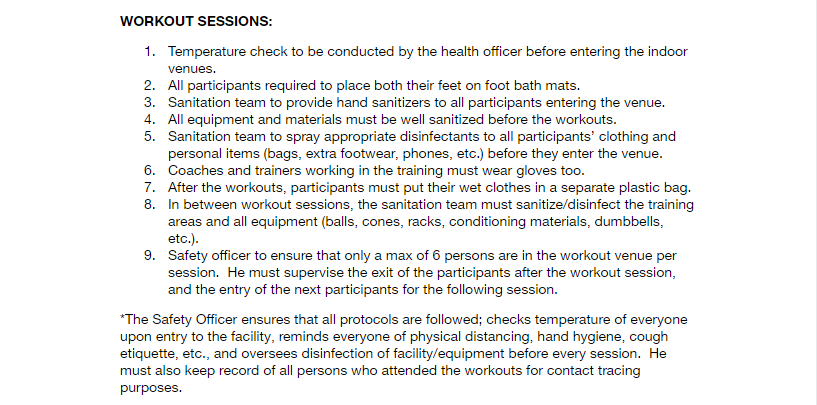 ___
Spin fans unite at the Spin Viber Community! Join the growing community now and complete the experience by subscribing to the Spin Chatbot.