"My fellow Canadians, my brothers and sisters. I have placed the kingdom of Canada under military rule."
That was the pronouncement of Romana Didulo, the self-styled "Queen of the Kingdom of Canada."
Didulo claims to have taken over the rulership of Canada and has issued the most absurd decrees. She has amassed thousands of followers, many of whom are also followers of QAnon, the conspiracy theory and political movement that has roots in the U.S. Didulo herself is a QAnon believer.
According to a BBC report, there's a spreadsheet being circulated by Didulo's followers on Telegram that claims she has already raised $150,000 from supporters. Didulo has not denied the claim, according to the report.
Although the details of her past are vague, the BBC report says it is thought that Romana moved to Canada from the Philippines about 30 years ago. Didulo has over 70,000 subscribers on the messaging app, which she uses to issue proclamations, decrees, and other communications with her "subjects."
ADVERTISEMENT - CONTINUE READING BELOW ↓
Romana Didulo and her delusions
In June 2023, Vice tracked down Didulo to a remote town in Canada that was devastated by Hurricane Fiona. Didulo was there to "prove" the town was not devastated by the hurricane.
"For reasons only known to my editor and therapist, I've been reporting on Didulo and her QAnon following for over two years now." wrote Mack Lamoureux, whom Vice has allowed to abuse his mental health to keep track of Didulo's delusions:
"For those who don't have similar, life-damaging brain worms as me, Didulo is best described as a QAnon cult leader and is truly one of the most bizarre conspiracy figures to come out of the pandemic. She's somehow convinced a not-insignificantly sized group of people that she's not just the "Queen of Canada" but she's also a being from another dimension in touch with an "intergalactic alliance." Her "lore" is deeply confusing and ever-changing but the starting point is that Didulo, alongside former U.S. President Donald Trump, is waging an international war against a global cabal of pedophiles. She squeezes as much money out of her followers as she can in an effort to keep the cult leader party going and, for now at least, it's working."
Residents of the town she visited sent her packing away.
Despite the obvious devastation, Didulo arrived in Cape Breton on a mission to "prove" the hurricane wasn't real and that local news and the government were misleading the people. Her journey took her to Glace Bay, a town on the northernmost tip of the island that was smashed by Fiona. Many of the homes were severely damaged, some quite literally having their roofs torn off by the 105 miles per hour winds.
Among Romana Didulo's self-styled titles are "Queen of Canada," "Head of State and Government,"and "Commander-in-Chief." The self-titled queen of Canada rejects government authority and claims to have taken it over. She also claims to have taken over the rulership of the real queen of Canada, Queen Elizabeth II, who Didulo claims to have been executed.
ALSO READ:
Lily Garcia: The Post Office worker who became Asia's Strongest Woman
ADVERTISEMENT - CONTINUE READING BELOW ↓
Rocket developed by students from Cebu launches in Tarlac
Romana Didulo was influenced by QAnon
But what are Didulo's duties as "queen of Canada?" Apart from issuing proclamations and decrees, she has also declared unlawful administering COVID-19 vaccines and the wearing of face masks—offenses she ruled are punishable under pain of death.
Influenced by QAnon, Didulo promotes conspiracy theories, among them is the claim that there are Chinese Communists who dug secret underground tunnels in Canada. According to Didulo, these tunnels are being used for child sex trafficking.
While her proclamations seem harmless, some can actually cause a lot more trouble for her believers. The self-proclaimed queen decreed the abolishment of mortgage debts, much to the delight of her followers, some of whom actually stopped paying their mortgages.
Didulo's Canadian followers are assimilating her ideas, including issuing their own documents based on Didulo's "decrees," which the self-styled queen says replace Canadian law.
ADVERTISEMENT - CONTINUE READING BELOW ↓
But a mayor in Ontario has had enough.
In a tweet posted on August 17, 2022, Mayor Diane Therrien of Peterborough, Ontario blasted Romana Didulo and her followers.
"I hate giving airtime/spotlight to these imbeciles. Here is my comment: fuck off, you fuckwads," tweeted Mayor Therrien.
Despite this, Didulo continues to issue the wildest proclamations to her Telegram subscribers. Romana Didulo has taken conspiracies to the next level and decided to personify them. "We have returned honor dignity and loyalty to this country. Again, you will be proud to call yourselves Canadian," says Didulo. Mayor Diane Therrien of Peterborough, Ontario blasted Romana Didulo and her followers.
Approximately 30 followers of Didulo staged a rally at a Peterborough police station after their "queen" commended them to put the city's officers under citizen's arrests. Several of Didulo's followers were arrested for causing public mischief and assaulting police. Didulo, who was seen at the event, claimed she was not participating but merely observing.
ADVERTISEMENT - CONTINUE READING BELOW ↓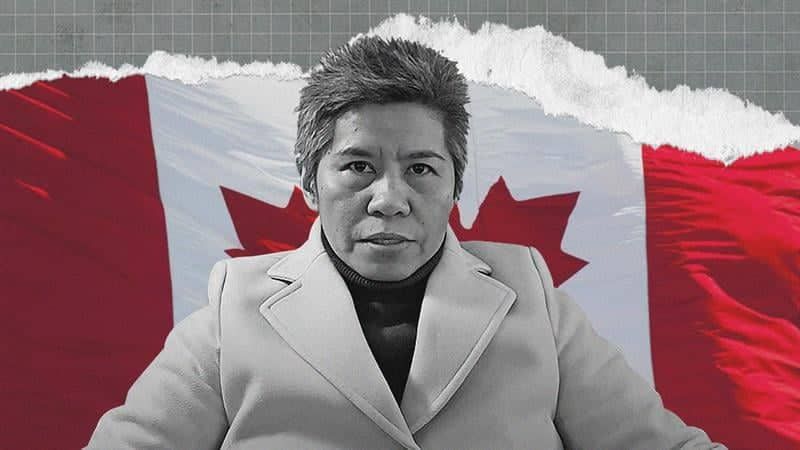 Get more of the latest sports news & updates on SPIN.ph