JOHN WICK is back to threaten us with a good time as he throws hands, guns, pencils, and other projectiles at the assassin world as an excommunicado fighting for his freedom.
If you've watched it, you already know that the story feels like a fitting finale for the main franchise. However, as of this writing, there's news of a potential fifth chapter in the series thanks to getting a major W in the box office. And if you stay for the post-credits scene, it hints at what could possibly be part of a future plot. What's for certain is that we can look forward to another Wick appearance in the upcoming spin-off, Ballerina.
But if you haven't watched it, can the latest John Wick movie serve something new to the High Table?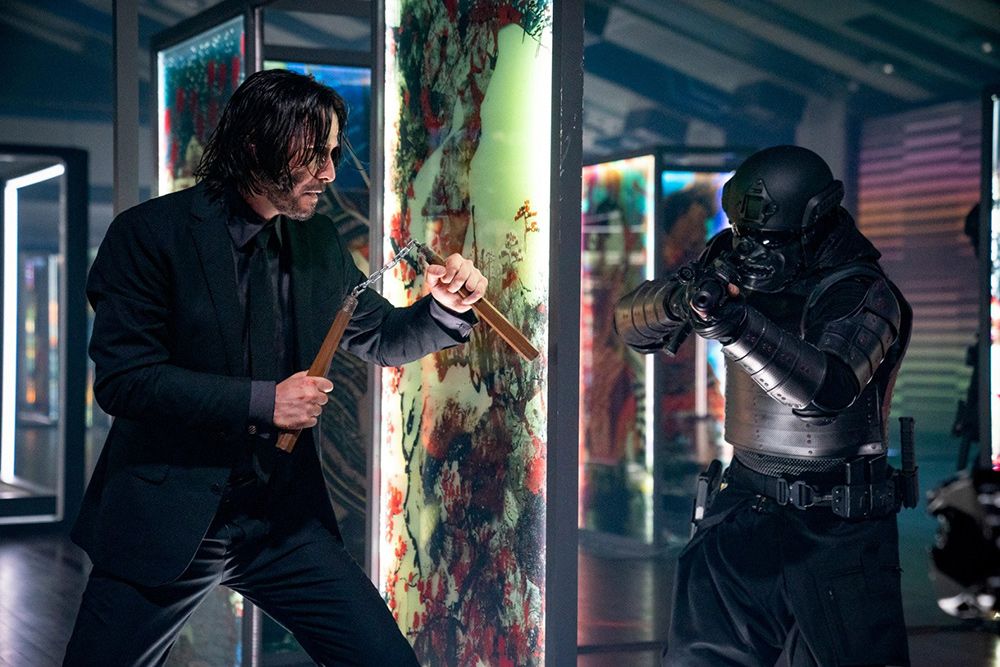 John Wick 4 is more "pew-pew-pew" than plot
This is not a complaint. And what remains of the story features engaging underworld-building about the assassin's way of life that is low-key convincing us to sign up. Hey, we'd at least get a free night, plus amenities, at The Continental.
ADVERTISEMENT - CONTINUE READING BELOW ↓
While watching, we felt like we were sitting down to a heart-pumping session of Dark Souls. The gamer frustration is too real with our stress levels going from 0-100 with every hostile encounter. Special mention goes to John Wick's (Keanu Reeves) torturous task of hobbling up the steps while severely injured and fending off enemies.
Whenever he gets knocked back several flights of stairs, he has to repeat "the level" all over again and start climbing — like Sisyphus and the boulder. (Basically, the story of John Wick's life.) And let's not forget that fast-paced chase across a busy Parisian intersection.
Fittingly enough for someone who's been tapped to direct the movie version of a hit PlayStation game, director Chad Stahelski really captures the feel of video game battle mechanics in his fights. When John does a sneak attack inside an abandoned warehouse, the camera quickly shifts to a bird's eye view, like the movie had transformed into a top-down shooter. He was even blasting incendiary Dragon's Breath rounds like it was a full-on barbecue party.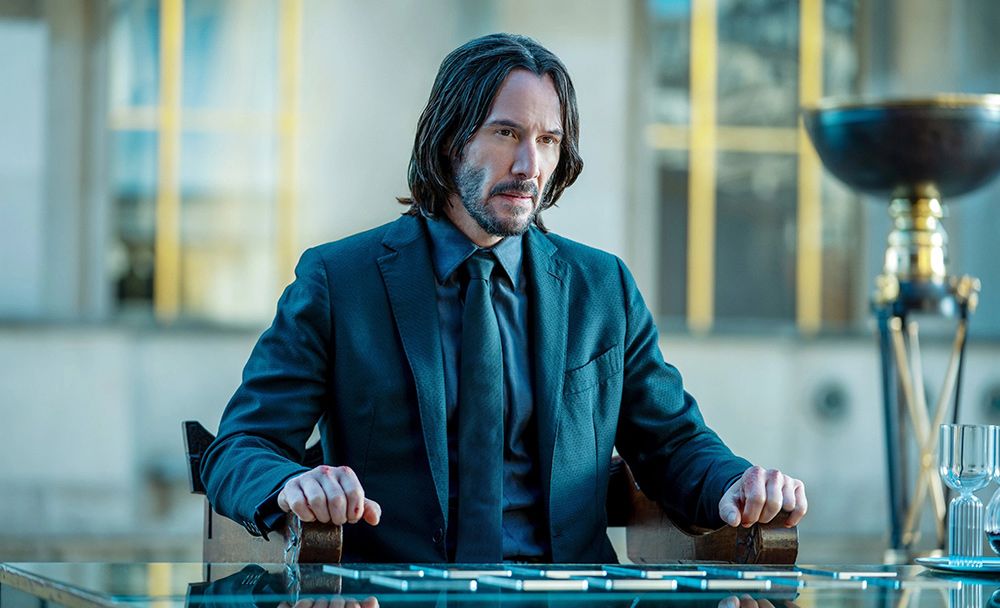 This is officially the anime heroes and villains era of the franchise
As much as we love the absolute carnage unleashed upon nameless mooks, it wouldn't be as entertaining without a cast of fleshed-out characters who can counterattack (and clapback!) accordingly.
With a whole new cast of fighters, it's comforting to see some familiar faces. John Wick continues to begrudgingly coexist with the hammiest characters around. Winston Scott (Ian McShane) and Bowery King (Laurence Fishburne) in particular both exude tremendous drunk tito energy. And as in every movie in the series, Charon (the late, great Lance Reddick) is one of the few sane people around.
Marquis Vincent de Gramont (Bill Skarsgard) is the overarching villain of the movie, who takes great joy in showing off his wealth and his monologues, just like every corrupt CEO to ever exist in shounen anime. We don't know much about mysterious new character The Harbinger, but actor Clancy Brown, who's also a veteran voice actor, gives him a commanding presence.
Having Osaka Continental manager Shimazu Koji (Hiroyuki Sanada) and blind hitman Caine (Donnie Yen) share the screen was an inspired choice. With devastating roasts like, "Even a blind man knows you've lost" and "You don't need eyes to see the right path," their entire interaction unfolds with all the gravitas of a war drama complete with talks of family and brotherhood.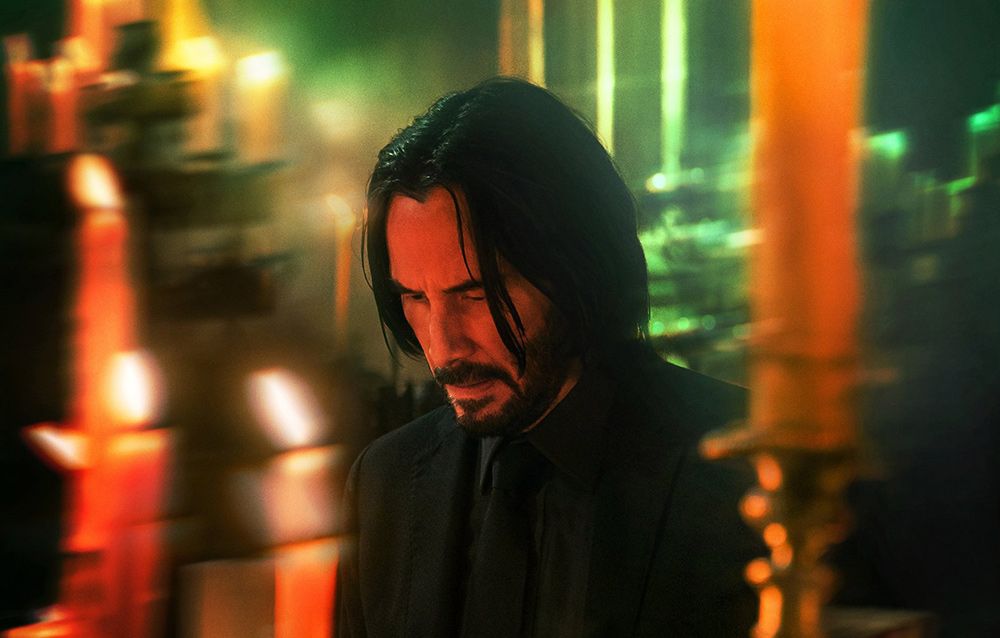 ADVERTISEMENT - CONTINUE READING BELOW ↓
Fun characters make John Wick: Chapter 4 worth holding your pee for three hours
Aside from the Accountants and some mooks, there weren't enough terrifyingly awesome women in this movie save for Katia (Natalia Tena), who didn't get to fight and just stood around menacingly, and Akira (Rina Sawayama), who catsuited up to make it rain arrows. Still, with ballerina assassins coming up, we fully expect the next spin-off to make up for the missed opportunity.
The most unexpected standout boss battle would have to be Killa Harkan (Scott Adkins). He was introduced as an executive slob... until he turned into freaking Bob from Tekken and started wailing on John Wick backed by the deafening tugs-tugs-tugs beat.
Out of everyone, the best new character, turns out, is not human but an "emotional support animal." Mr. Nobody's (Shamier Anderson) faithful accomplice is a German Shepherd that can be seen fighting in most of the major brawls. His special attack is a ball-busting move that targets the groin area and with that, he has effectively captured our hearts. Spoiler alert: Thankfully, the dog survives until the end!
In a nutshell, John Wick: Chapter 4 is one epic fight scene that's interrupted by the occasional plot point — and we wouldn't want it any other way. Enjoy three hours of glorious chaotic mayhem with video game violence and status-quotable anime monologues.
For real though, to avoid a urinary tract infection, just go take a leak before watching because you won't want to miss a second of the action.
John Wick: Chapter 4 is now showing in cinemas nationwide.