PWR's first show of the year, PWR Live: New Year's Wrestle-ution, held last January definitely shook the foundation of the promotion. Unbelievable victories, surprising comebacks, and a surprise title shot welcomed the Revonation into 2019.
This Sunday, the folks at PWR are looking to keep that momentum going at the Power Mac Center Spotlight in Circuit Makati for their February show, PWR Live: NICE. With this stacked match card, it's funny how everything that will go down will be anything but.
Alexander Belmonte III vs Super Vintendo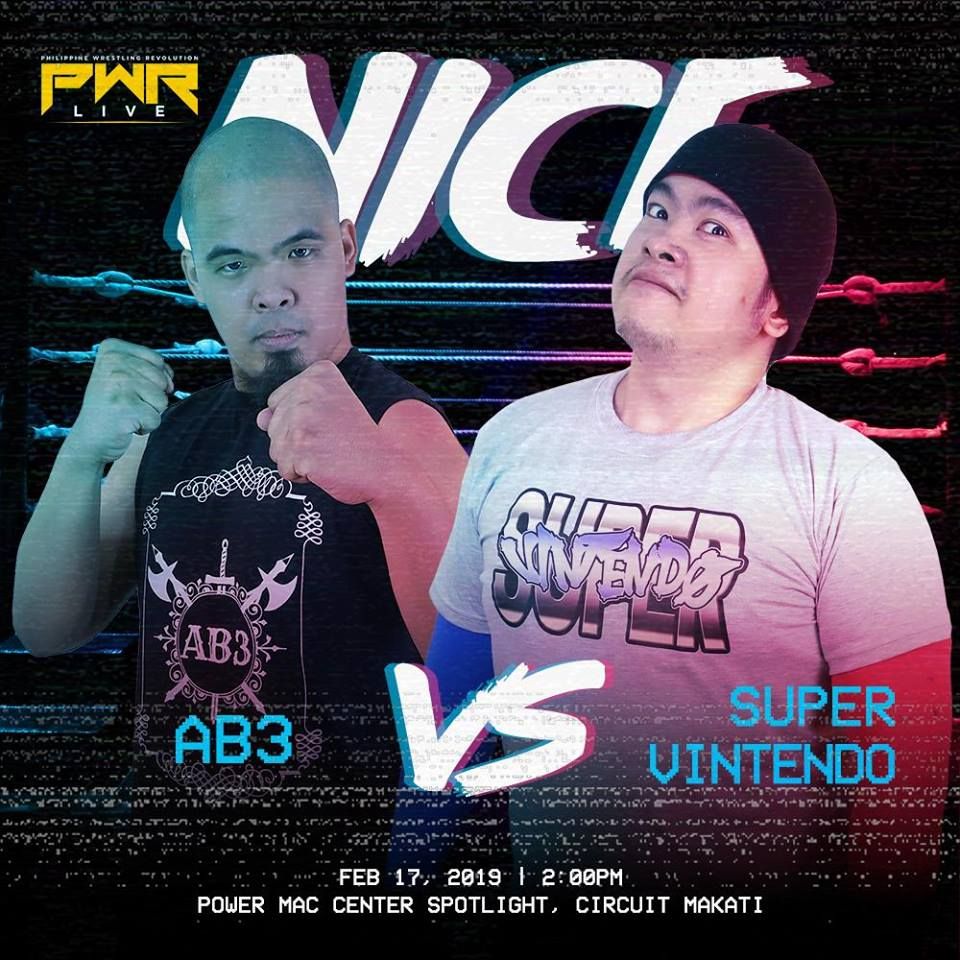 AB3 failed to recapture the All Out War Championship from Dax Xaviera last month, and he's all sorts of lost at the moment. Super Vintendo is looking to take advantage of that and put himself higher up the rankings with a victory over the former AOW Champion. For sure, this is going to be a brawl that'll bring the house down.
Continue reading below ↓
Recommended Videos
Cali Nueva and Jaye Sera vs. Jhemherlhynn and Trian Dela Torre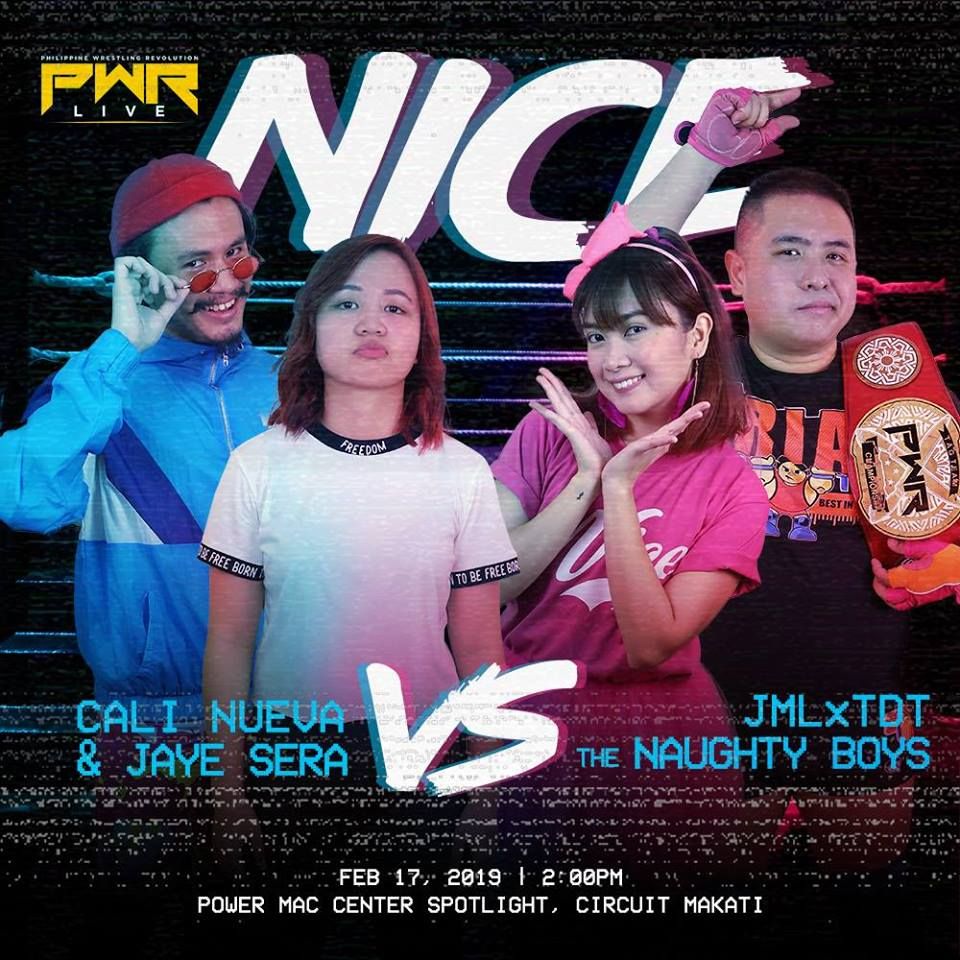 Both Cali Nueva and Jaye Sera debuted for PWR last month, and they seem to have found a common enemy in the Naughty Boys of Philippine Wrestling. Representing that team will be Trian Dela Torre and Jhemherlhynn, the only gal in the group. Jaye and Jhemherlhynn have been on opposite sides once already, with the former winning that bout. But, with TDT's help, JML looks to avenge her loss. Cali Nueva? Well, he's looking to make a name for himself in PWR.
Revo Ranger vs. Grab Camus
They're not bitter rivals or even your typical good vs bad. Revo Ranger and Grab Camus crossed paths in last month's tag team tournament, and it seems that their meeting left a bad taste in both their mouths. We haven't really seen them in singles bouts, so it'd be interesting to see Revo Ranger without Bolt, and Grab Camus without Kapitan Tutan.
Kakaibros vs. MSG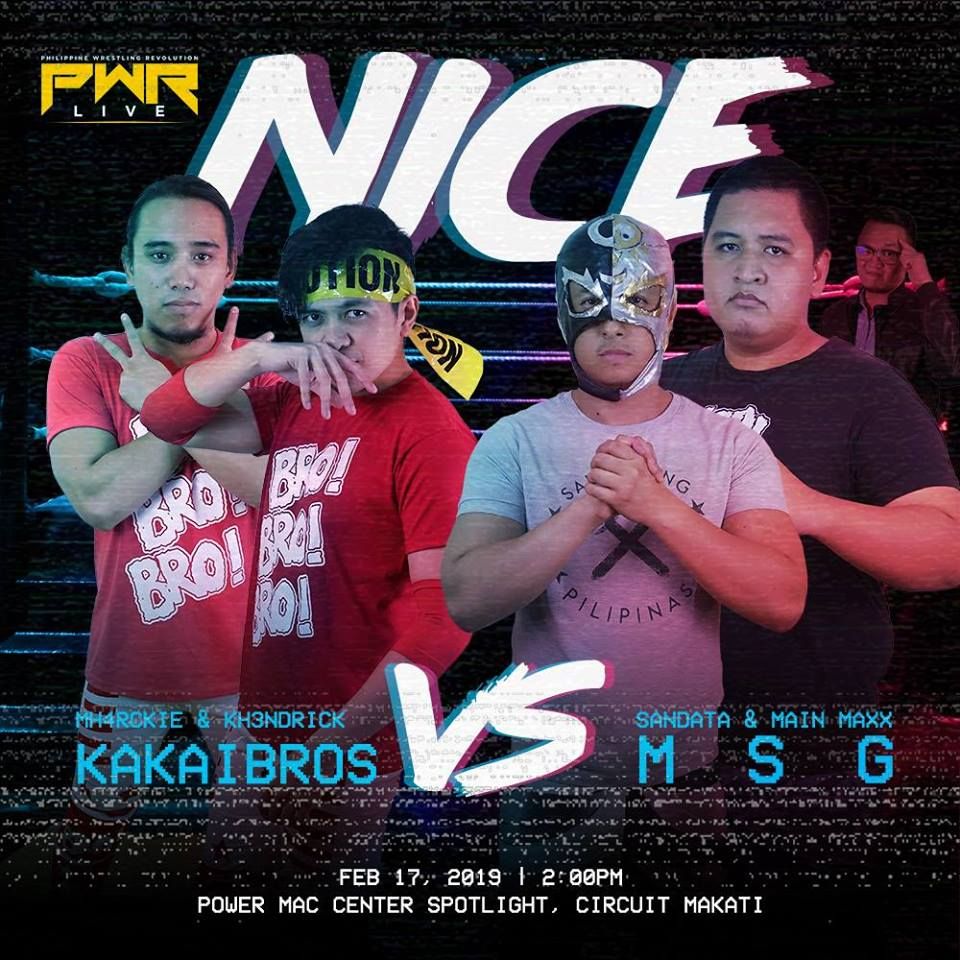 After losing their three-way tag team match to the Punk Dolls, it seemed MSG wasn't done with their business against the Kakaibros, and attacked them after the match. This Sunday, Mh4rkie and Kh3ndrick will have the opportunity to get back at Mr. Sy's boys one "BRO!" at a time.
Carlos Zamora vs. Kapitan Tutan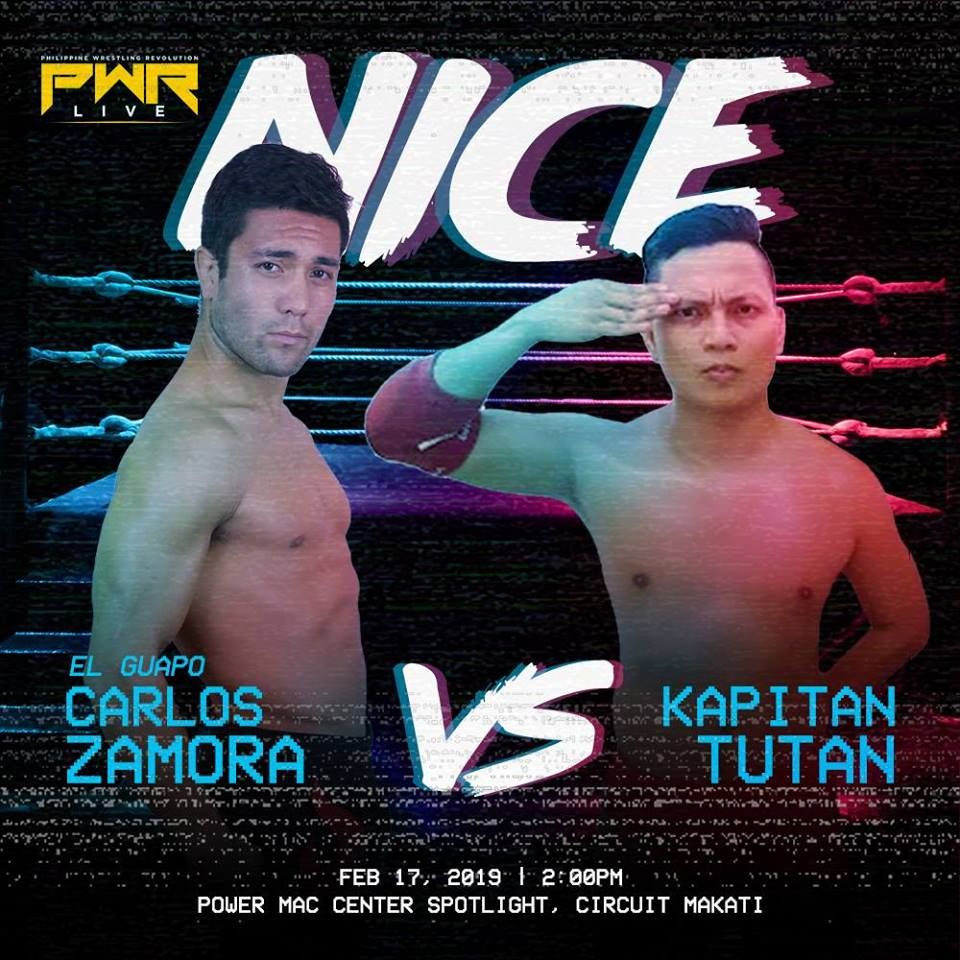 The handsome one, Carlos Zamora, debuted last month for PWR against PWR's resident luchador from Mexico (Pampanga), Kapitan PWR. El Guapo showed some flair in his exhibition of athleticism and pure strength. This time, he will face another "kapitan" in The Naughty Boys' enforcer, Kapitan Tutan. We're rooting for Kap here because Carlos Zamora is just too gwapo. We envy him so bad, we refuse to be on his side. But is he going to add another "kapitan" to his budding list of victims?
ALL OUT WAR Championship Match:
Dax Xaviera (c) vs. Joey Bax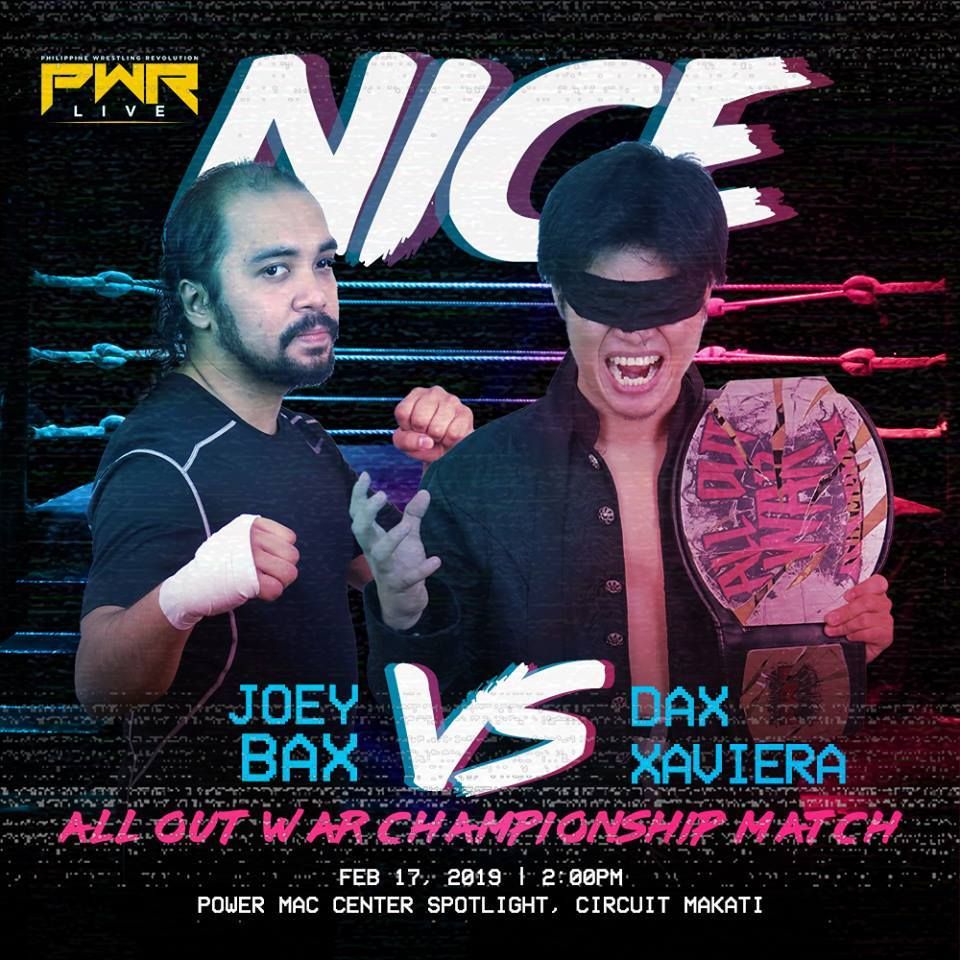 After Dax Xaviera successfully defended his All Out War Championship against former champion, Alexander Belmonte III, the Fighter 4 Hire, Joey Bax, returned and wasted no time in making his mark. He made his intentions clear by delivering a Slingblade to the champ, issuing a challenge. It would be fun to see if Joey Bax can actually stop the momentum of Dax Xaviera and take away his beloved AOWrora. The hashtag for this match should be #DAXvsBAX, just sayin'.
PWR Tag Team Championship #1 Contenders Tournament Finals:
The Punk Dolls vs. The YOLO Twins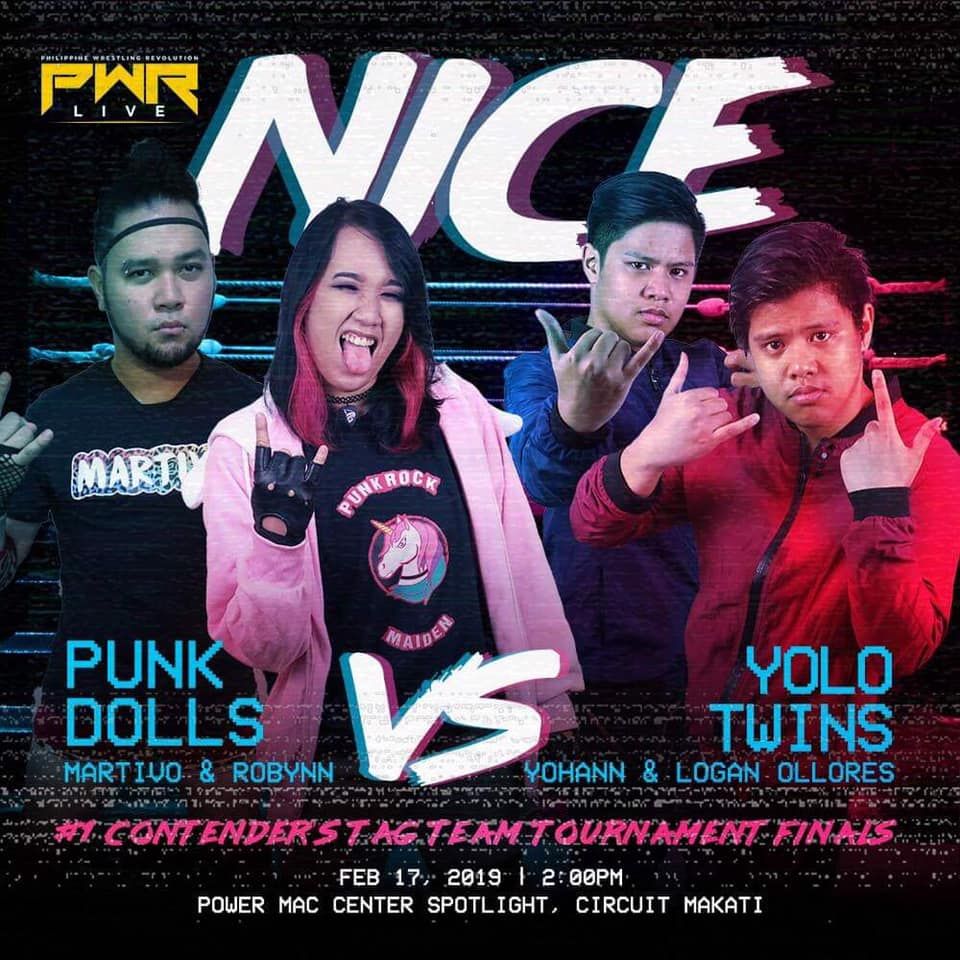 Martivo has been on a roll as of late in his singles run while Robynn was indefinitely suspended. Now that the Punk Dolls are back together, it seems the duo haven't lost their groove and bested two other teams into title contention. Meanwhile, The YOLO Twins have been men on a mission since they brought themselves back from the dead. They're looking to reclaim their spot atop PWR's tag team division, and even though there is a lot of competition, the terrible twins from Katips surely make it look easy.
Mike Madrigal vs. Quatro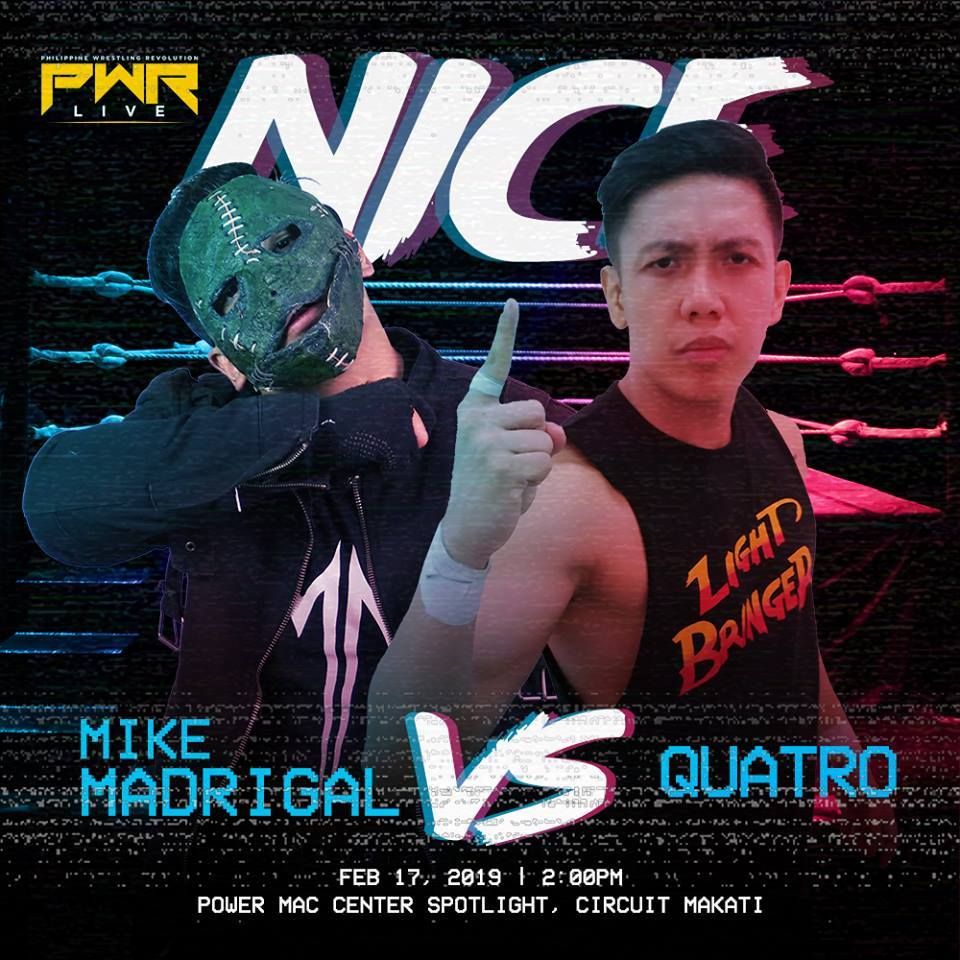 After an exhilarating match last month, "The Walking Death" Mike Madrigal, and "The Lightbringer" Quatro, look to deliver another match for the ages. After the match Madrigal put Quatro through a table. Hopefully, we see Quatro get even, and, soon, have a table match between the two. Hell, why not make it a table match this coming Sunday? We'll totally be into that!
PHX Championship #1 Contenders 3-Way Match:
Ken Warren vs. Chino Guinto vs. Jan Evander, Pw.D.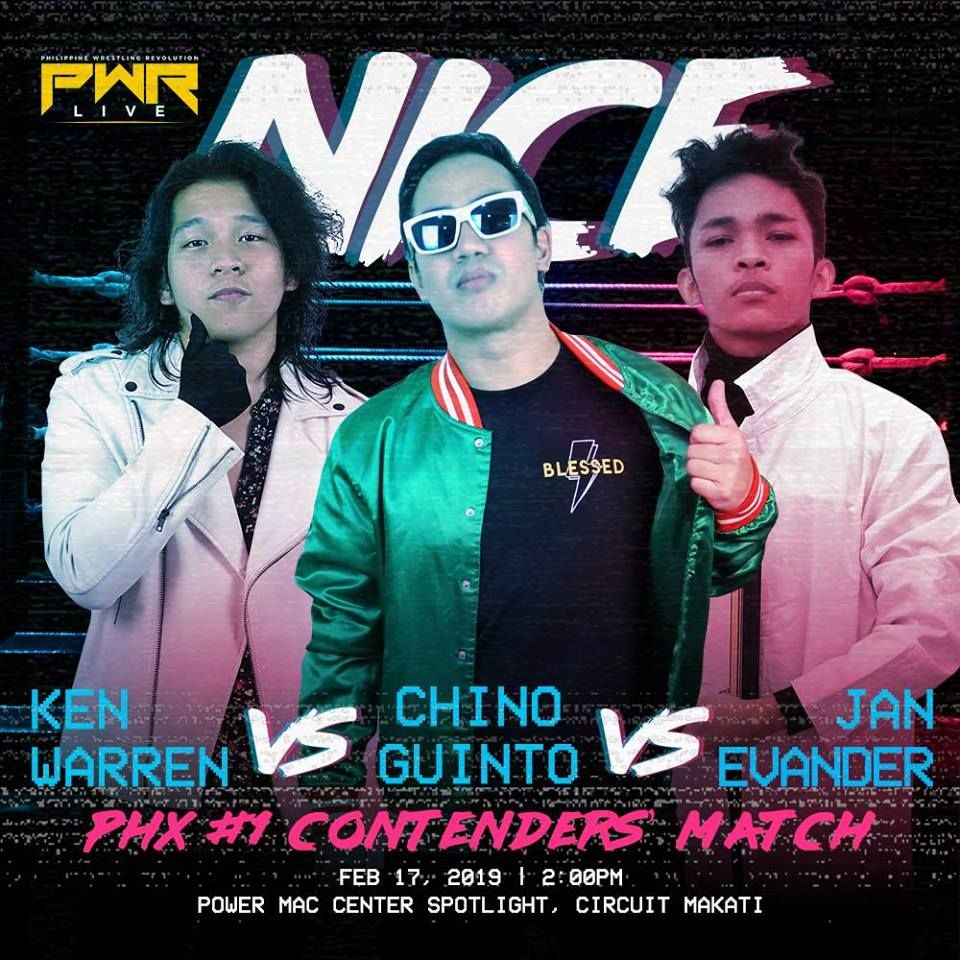 Chino Guinto is back! It was the comeback that rocked Philippine Wrestling Revolution, and it looks like it's going to rock the Philippine Excellence Championship title scene very soon.
Meanwhile, Ken Warren has been on a crusade to gain a one-on-one rematch for the PHX Championship (which he's still entitled to, by the way), but no matter how hard he tries, the opportunity has been elusive. Now the Social Media Sinister has another shot at PHX gold.
Jan Evander, on the other hand, has been on a quest to get back on the winning track along with his team, The Endgame, and has been amazing in matches but has failed to find the right formula to success. No doubt the pro wrestling doctor will be looking to bounce back and get a title opportunity at that.
Who's your pick for this three-way clash?
Jake De Leon vs. Vlad Sinnsyk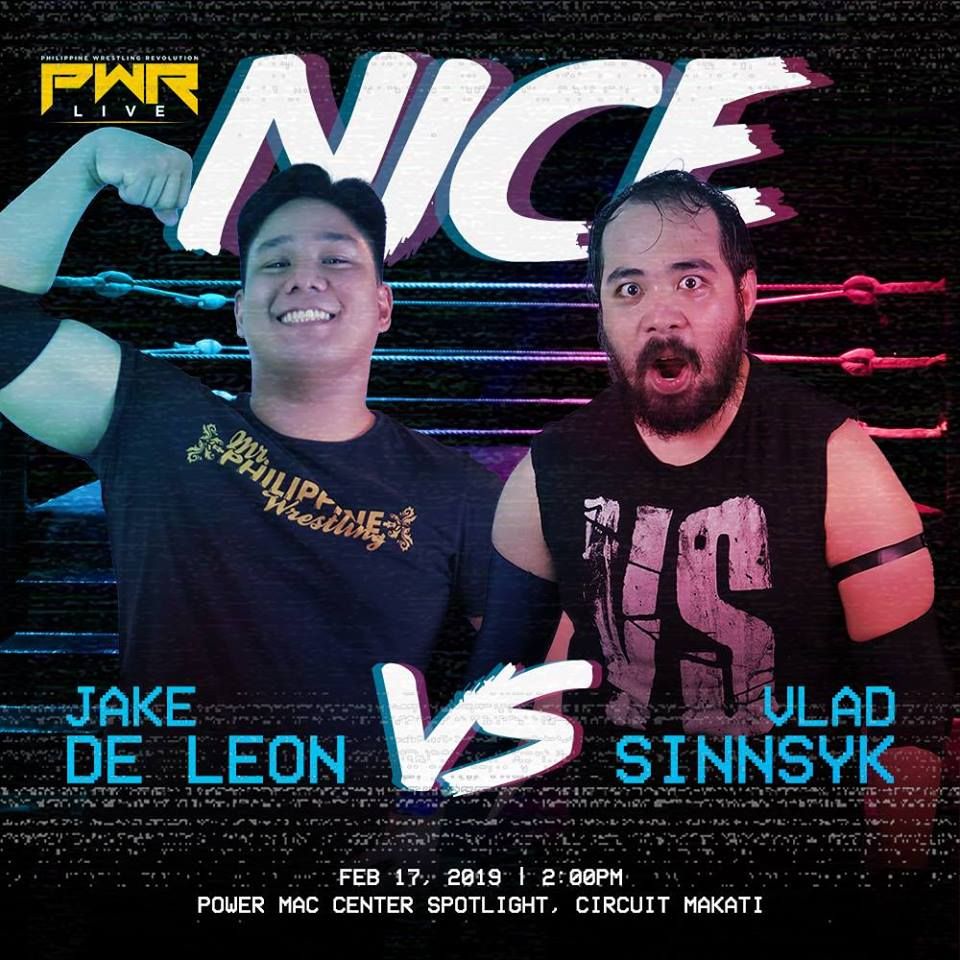 There seems to be some history between "Mr. Philippine Wrestling" Jake De Leon, and our favorite crazy tito, Vlad Sinnsyk. And, well, we could only call this a "grudge match." We haven't seen these two collide in the ring for quite a long time, and it would be refreshing to see both of them take center stage in a rivalry that's been brewing for months. Will The Senyorito put Mr. Sinnsyk in his place, or will Tito Vlad put Mr. Philippine Wrestling back on the injured list?
PHX Championship Match:
John Sebastian (c) vs. Chris Panzer w/ Mr. Sy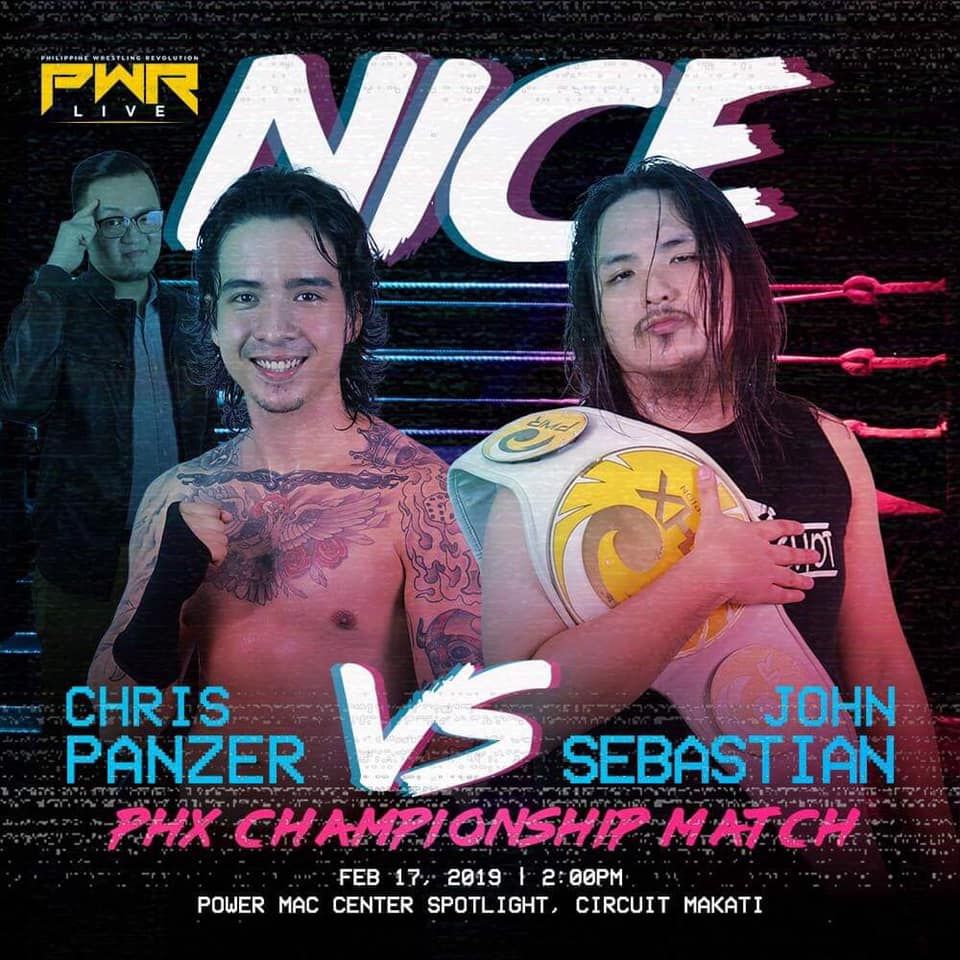 There's no surprise that John Sebastian would stoop to any and all levels to keep the Philippine Excellence Championship around his waist. Which is why the Wrestling Lord and Savior decided to disqualify himself in his title match against Jake De Leon in order to retain his prized possession. What was surprising, however, was Chris Panzer's decision to accept Mr. Sy's offer and join the maligned Mr. Sy Group a.k.a. MSG. Mr. Sy promised Panzer if he would join MSG, he would be guaranteed a title shot with no questions asked, and Mr. Sy delivered. And the best part of it? John Sebastian has never defeated Chris Panzer in a title match. Seriously, even if Panzer is on the "dark side" now, we're totally rooting for him to beat John Sebastian.
PWR Championship:
Ralph Imabayashi (c) vs. Evan Carleaux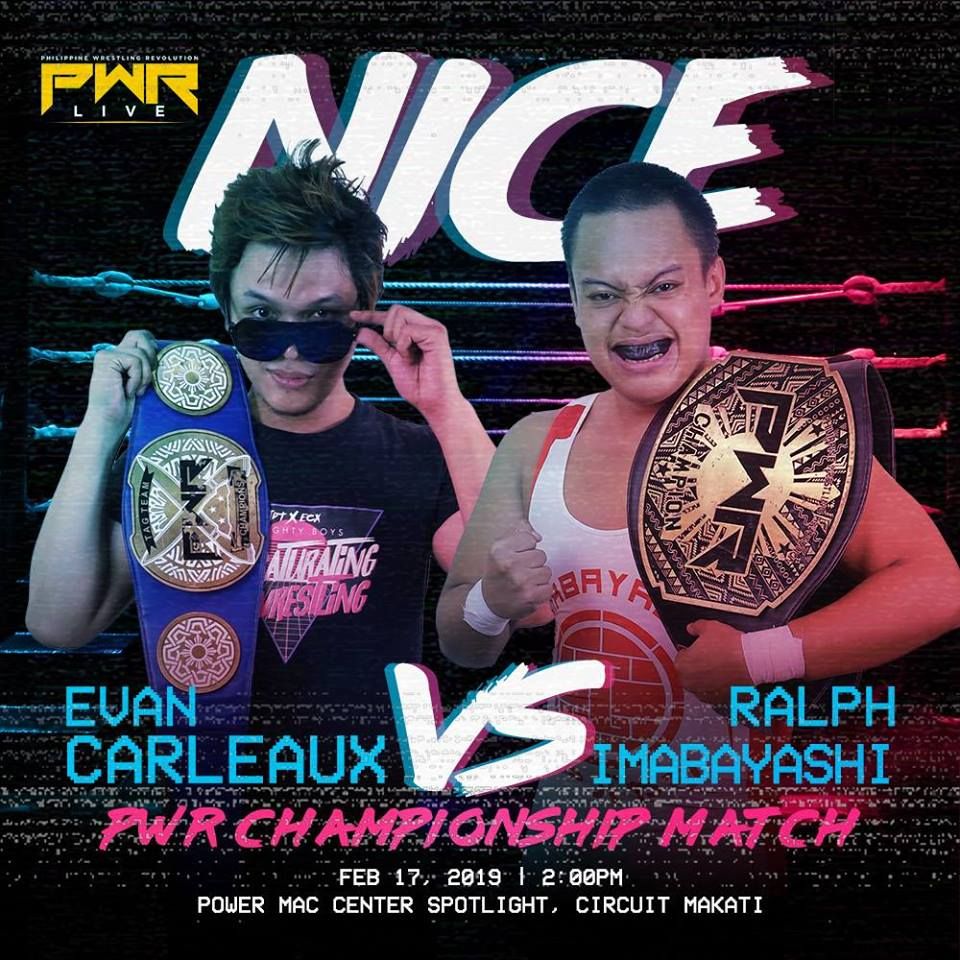 The unthinkable happened at the last PWR event in January. The PWR Champion Ralph Imabayashi tapped out after nearly 2 years staying undefeated. And the man who caused him to tap out was none other than Evan Carleaux of the Naughty Boys. The two met in the ring in the past PWR event after Ralph earned an opportunity at the PWR Tag Team Championships due to his stellar reign as PWR Champion. However, due to the breakup of MTNH and Rederick Mahaba's exit from PWR, Imabayashi had no choice but to call on the services of his former partner's PA, the newly-minted Cali Nueva. Suffice to say, the brand new team did not stand a chance against the tested and tenured duo of Evan Carleaux and Trian Dela Torre, and Imabayashi would tap out to Carleux's Tech Noir finisher setting him up for a very nice title shot in this coming event. Very nice, indeed.
There might be championship changes coming our way, so go ahead and grab your tickets now, and join us and the rest of the Revonation in the "nicest" PWR event this year, PWR Live: Nice, this Sunday, February 17, at the Power Mac Center Spotlight.
Get your advance and discounted tickets now. To order, send PWR a Facebook message or e-mail them at pwr.tickets@gmail.com.
TICKET PRICES:
- Earlybird Tickets (until February 16th) - P399 each
- Barkada Bundle (until February 16th) - P1,099 for three (3) tickets
- Regular Tickets (February 17th, at the venue) - P450 each