Like bent chairs, twisted limbs, and shattered hopes and dreams—all wrestle-utions are made to be broken. And, to be honest, we expect nothing less from the boys and girls of Philippine Wrestling Revolution.
Obviously, there's no better way to ring in the new year as a wrestling fan than to come out this January 27th, head to Power Mac Center Spotlight, and witness the best display of professional wrestling our country has to offer. In just two days, you better get ready for PWR Live: New Year's Wrestle-ution!
Side note: Whoever made that pun deserves his own championship or something.
Now, if you haven't been to a PWR event, sucks for you. But it's not too late to give it a shot and start with their first show this year! These are the matches you can expect to witness. Which do you think will steal the show? In our honest opinion, it's probably all of them.
Super Vintendo vs. Vlad Sinnsyk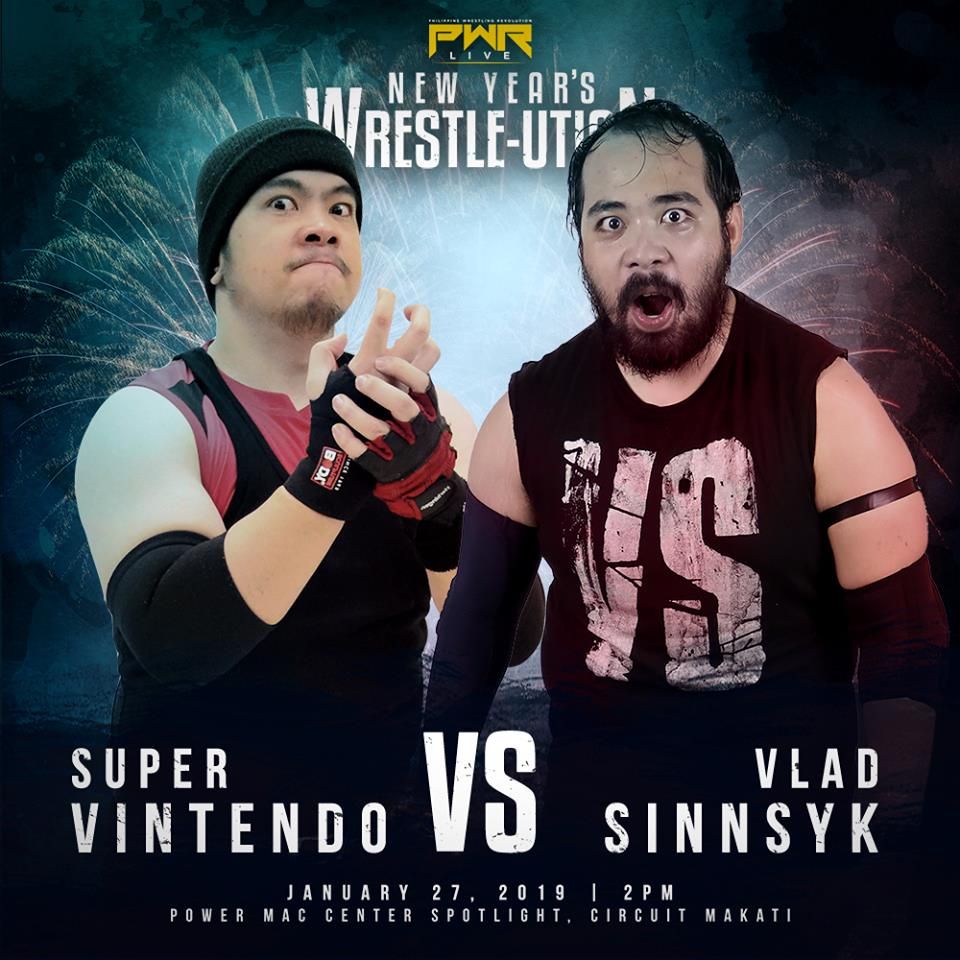 This will be one hell of a brawl between "The Final Boss" Super Vintendo and everyone's favorite psycho tito, Vlad Sinnsyk.
Continue reading below ↓
Recommended Videos
Around a year ago, these two duked it out for the ALL OUT WAR Championship. And we're wondering what difference a year made for both these competitors. Still, we can always expect to see some carnage when these two leave it all out in the ring.
PWR Tag Team Tournament
The competitors for this tournament have finally been announced! We now know that two matches will take place, both of them being three-way tag team bouts.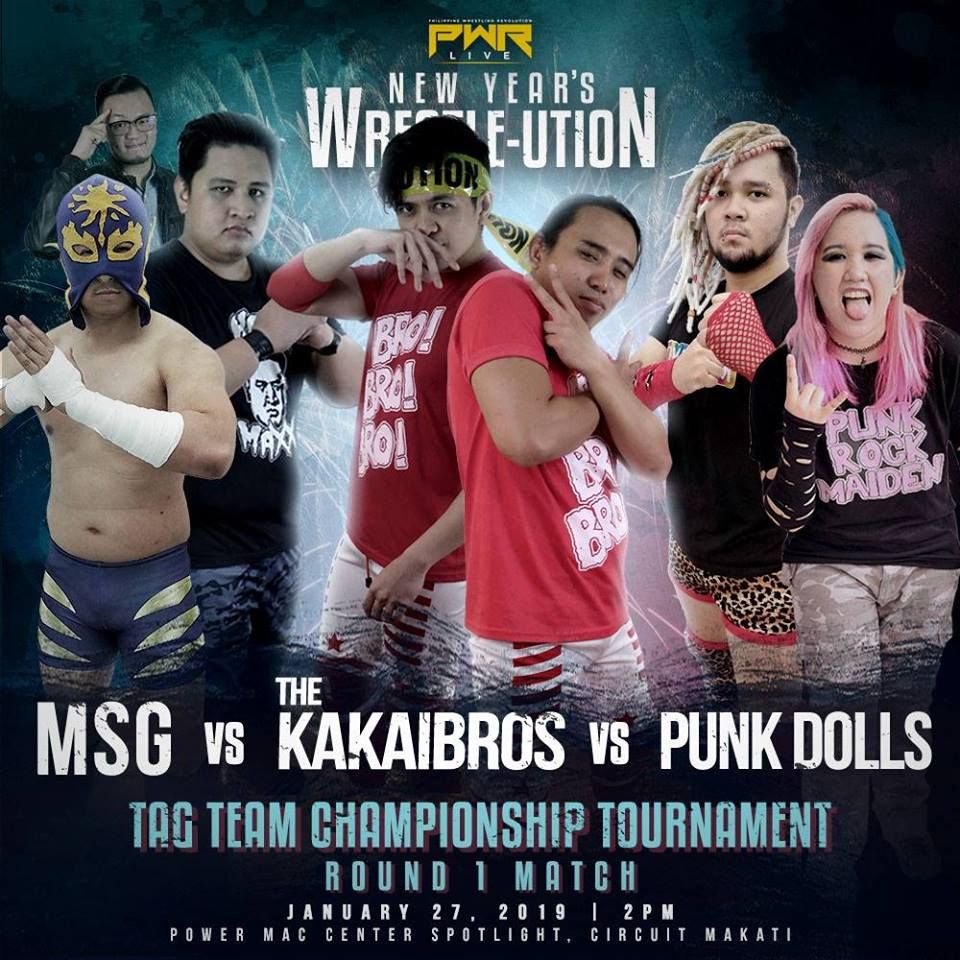 In one three-way, it will be the Mr. Sy Group (MSG) of talents, Main Maxx and the recently-signed SANDATA, going up against the Kakaibros, Kh3ndrick and Mh4rkie, and the Punk Dolls, beshy Martivo and the returning Robynn.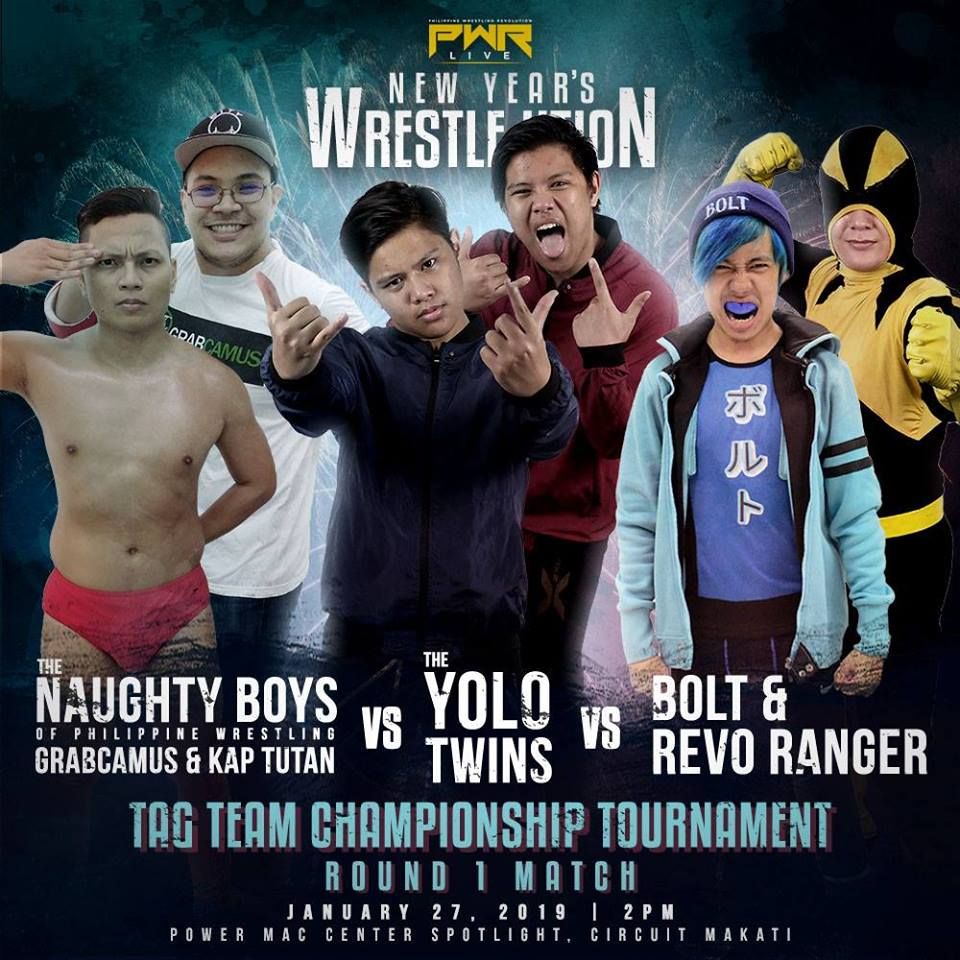 In the other match, it will be GrabCamus and Kap Tutan going up against the YoLo Twins, and the team of Bolt and Revo Ranger.
That's a lot of teams with so little time. Who you got?
Ken Warren vs. Jan Evander, Pw.D.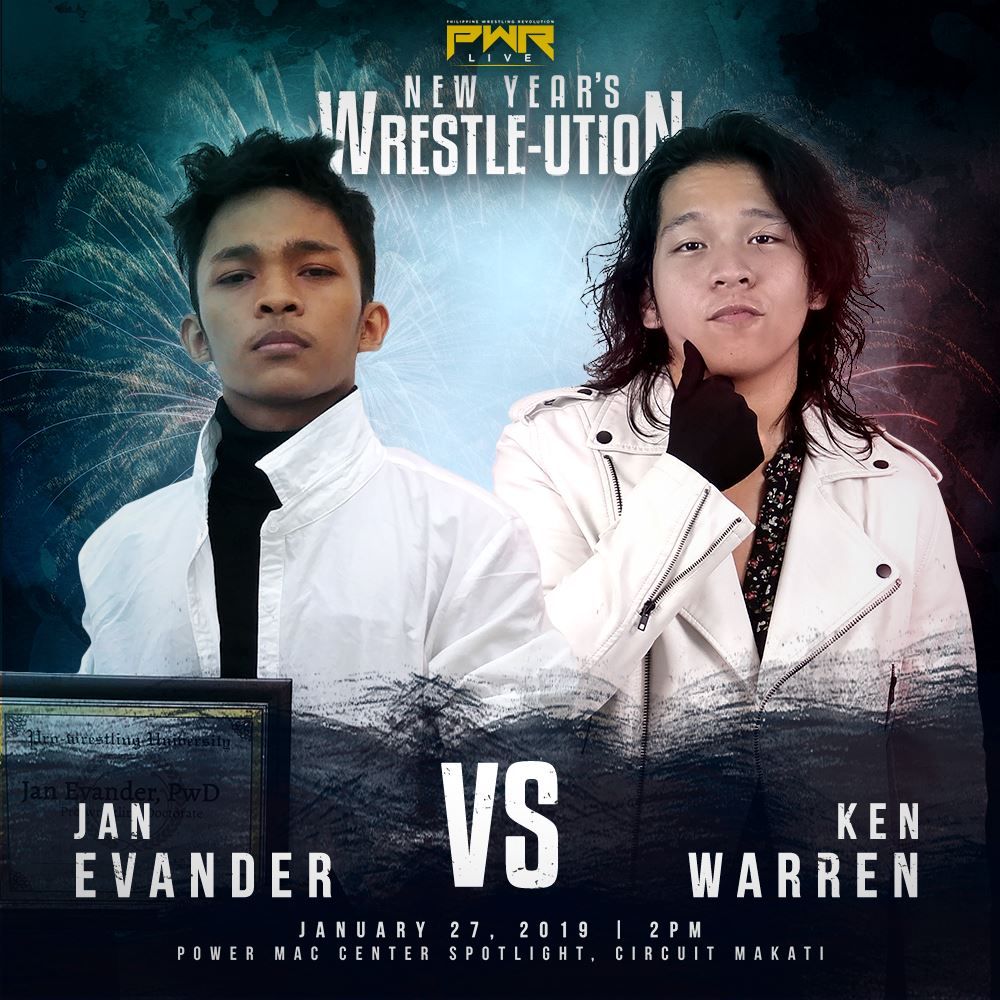 To say that Ken Warren has been robbed of his one-on-one rematch for the Philippine Excellence Championship is an understatement. We so desperately want to see him go up against Jake De Leon again. (Yes, not John Sebastian.)
But it seems like there are too many obstacles in his path to get what he rightfully deserves. This time, he is facing the highly intelligent and driven Dr. Of Professional Wrestling, Jan Evander. Let's just hope that The Endgame doesn't come and interfere in an otherwise epic matchup.
Chris Panzer vs. Crystal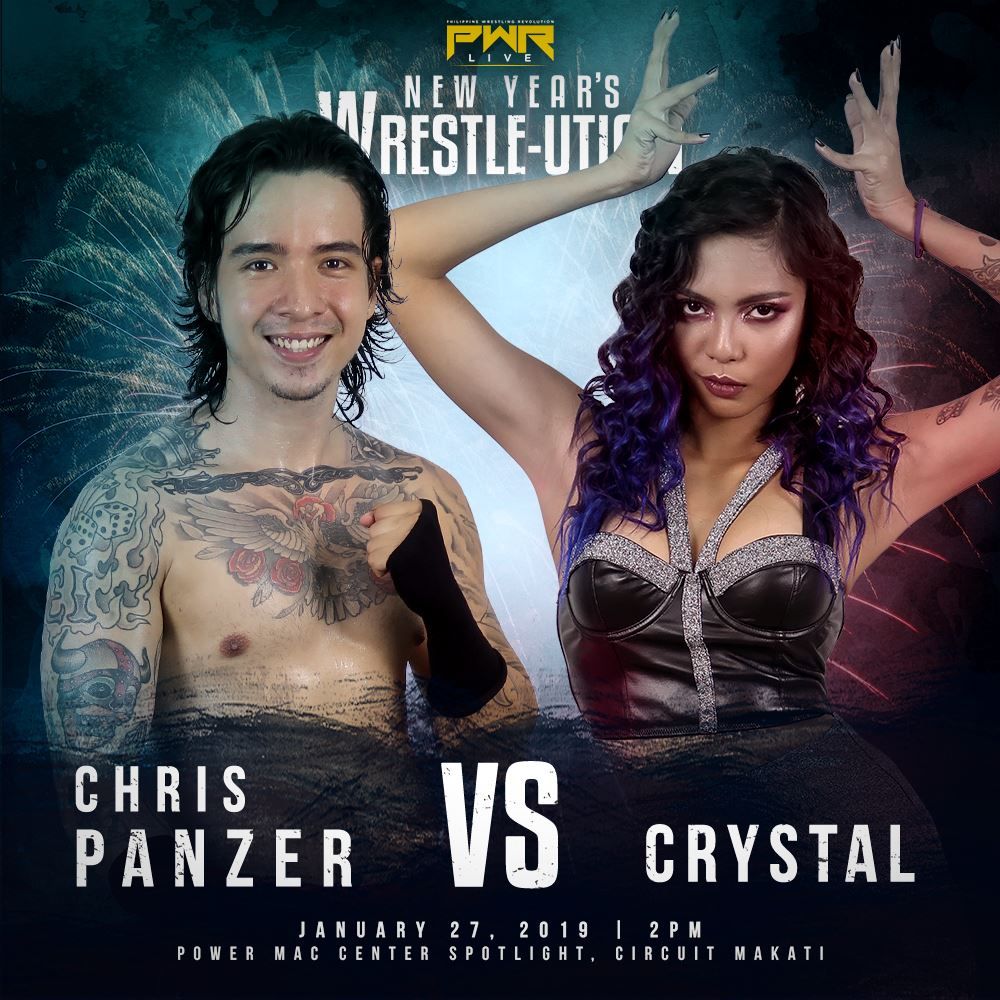 You can easily call this a match between the "faces" of PWR, but you damn well know that Chris Panzer and, our wrestling queen, Crystal, are more than just pretty faces. These two can really go at it. Trust us, we've seen them pull off some incredible stuff in the ring. But somehow, both of them came up short in the historic 6-way survival match at PWR Vendetta, blaming each other for their failures. Now, they get to settle their difference in the ring one-on-one.
Mike Madrigal vs. QUATRO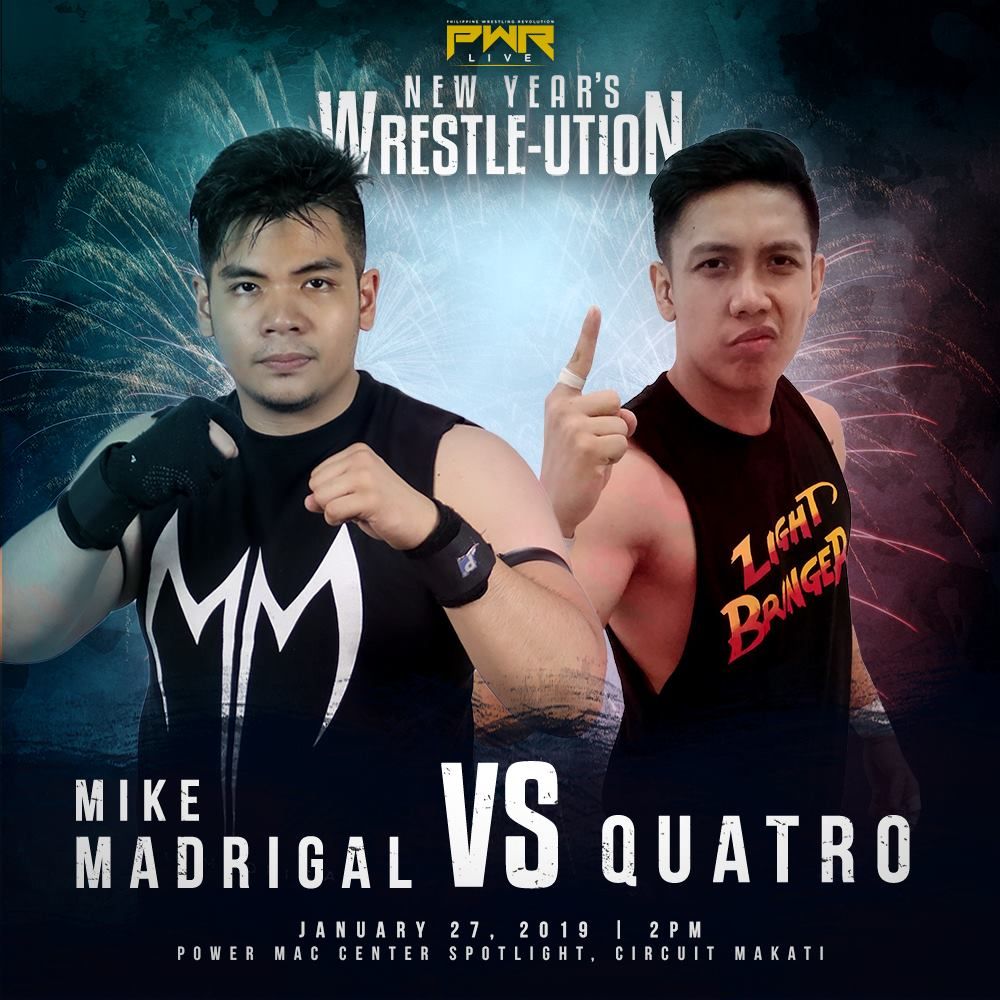 This fists-versus-flips match will not only entertain your wrestling heart, but also keep you wanting more. Both Mike Madrigal and QUATRO are highly talented competitors that have made quite a name for themselves in the PWR ring. However, both of them have failed to capture the PWR Championship on separate occasions. And now, their paths cross to bring us a new year's clash like nothing we've ever seen.
ALL OUT WAR Championship Match:
Dax Xaviera (c) vs. Alexander Belmonte III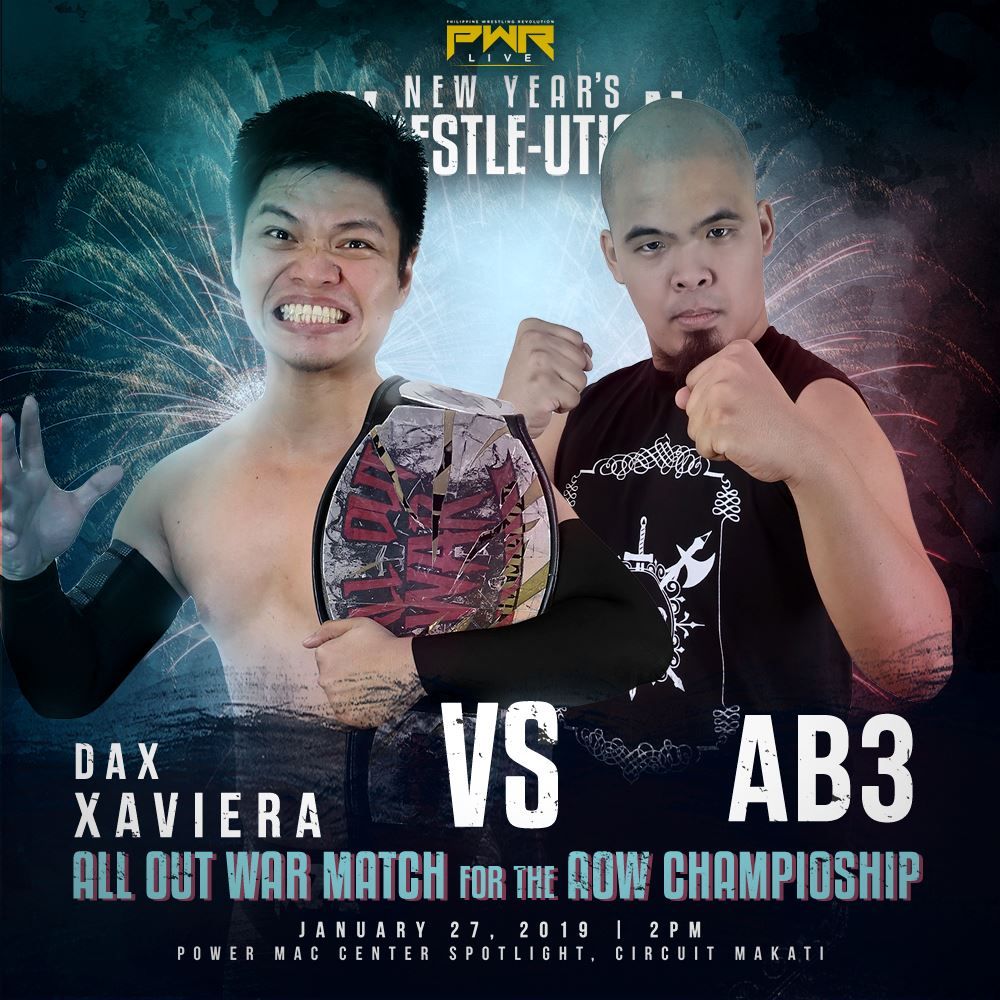 Dax Xaviera was finally able to claim his beloved "AOWrora" (a name he calls the ALL OUT WAR Championship belt) at PWR Vendetta at the expense of the former AOW Champion, Alexander Belmonte III. However, an enraged AB3 would attack Dax after the event and wasted no time demanding his rematch for the title at the next PWR event. This time, however, the title will be defended in the match that brought about its infamy: ALL. OUT. WAR.
PHX Championship Match:
John Sebastian (c) vs. Jake De Leon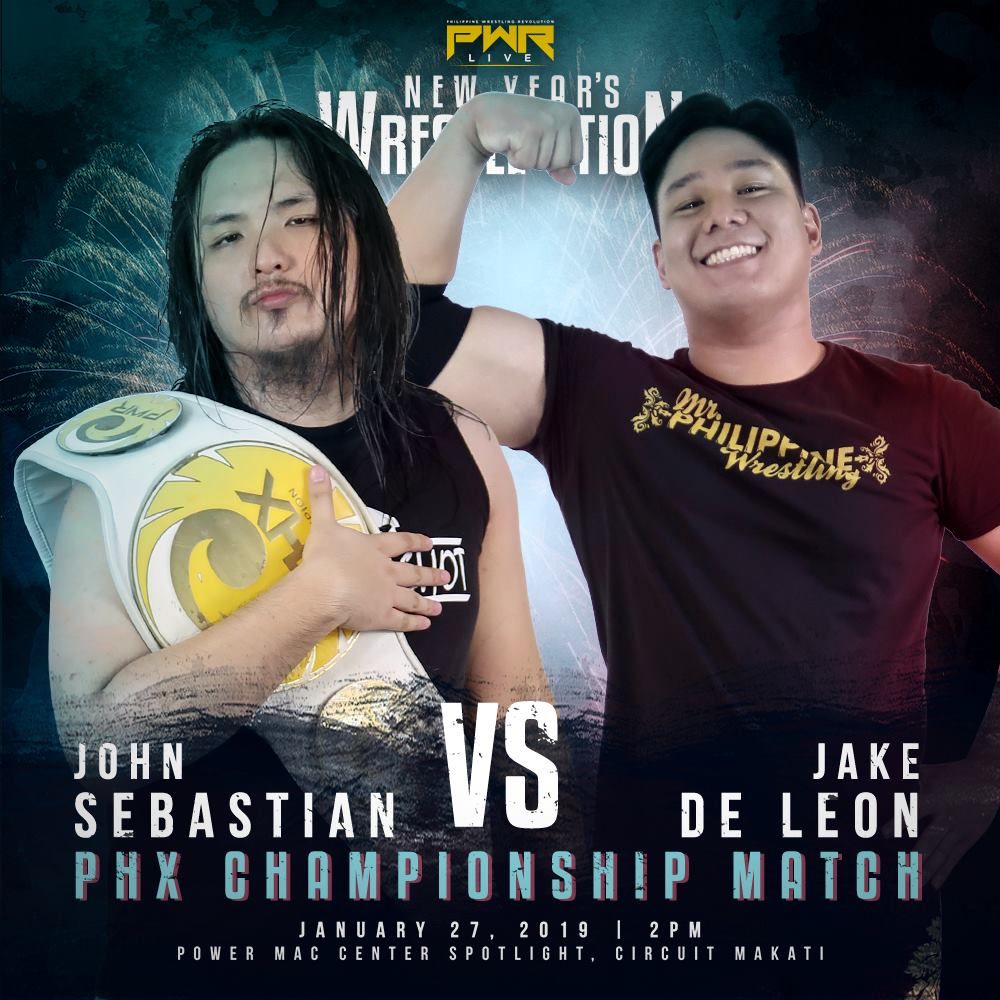 In a surprising turn of events, it seems that the newly crowned Philippine Excellence Champion, John Sebastian has granted the former owner of that belt, the Senyorito, Jake De Leon, his one-on-one rematch for the title amidst clamor from other competitors for a shot at the gold. No matter the circumstances, we only hope to see Mr. Philippine Wrestling drop this alipin. We all know that the PHX Championship should rightfully be around his waist.
John Sebastian, we have nothing against you. We just really like Crystal so damn much.
PWR Tag Team Championship Match:
The Naughty Boys of Philippine Wrestling (c) vs. Ralph Imabayashi & ???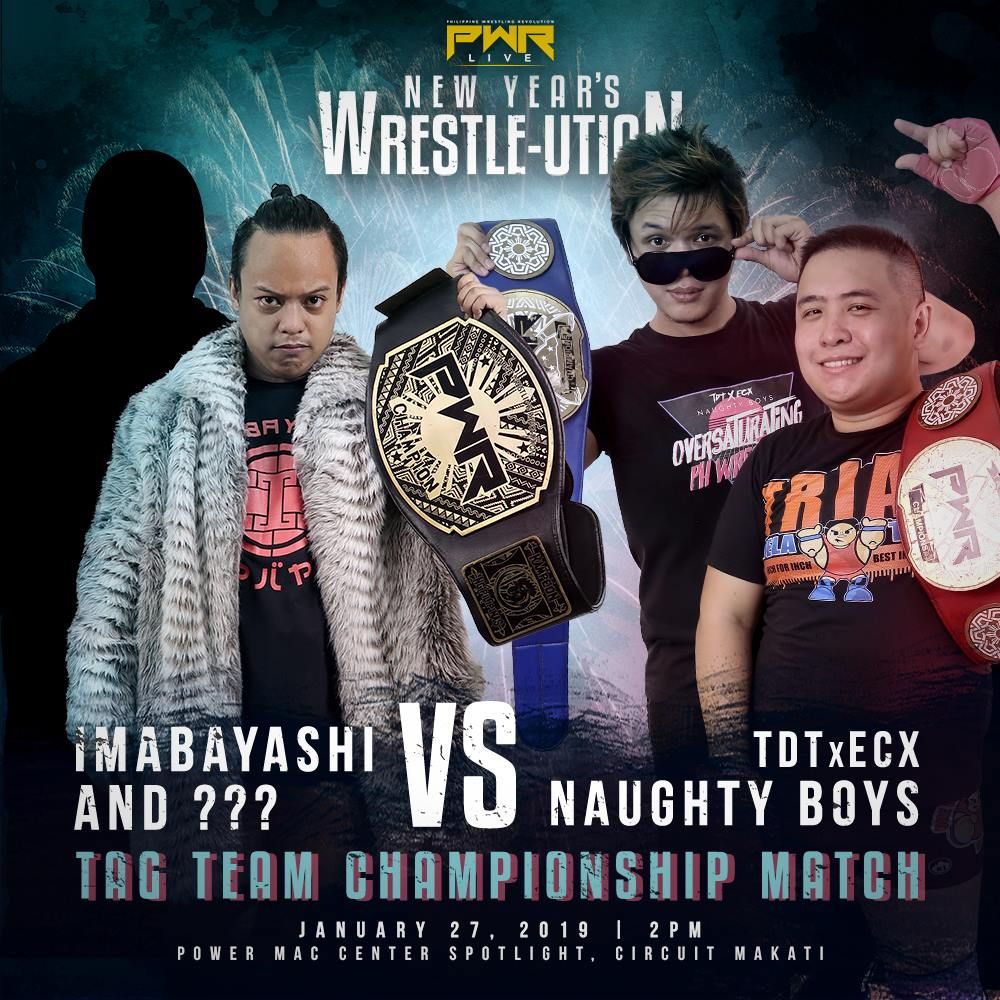 Despite Rederick "Mainstream" Mahaba's sudden departure from Philippine Wrestling Revolution, the PWR Tag Team Championship match that he and his former partner, Ralph Imabayashi, had requested at PWR Vendetta will still be pushing through! However, the question remains, who will be the PWR Champion's partner going up against the tried-and-tested PWR Tag Team Champions, the Naughty Boys of Philippine Wrestling, Evan Carleaux & Trian Dela Torre?
Nice! Nice! Nice!
These may be all the scheduled matches for the vent, but the Senyorito, Jake De Leon, has promised that fans will want to see the pre-show.
So, go ahead and grab your tickets now, and join us and the rest of the Revonation for PWR's first show of the year, PWR Live: New Year's Wrestle-ution! Again, it's this Sunday, January 27th, at the Power Mac Center Spotlight.
Get your advance and discounted tickets now. To order, send a Facebook message or e-mail pwr.tickets@gmail.com.
TICKET PRICES:
- Early bird Tickets (until January 26th) - P399 each
- Barkada Bundle (until January 26th) - P1,099 for three (3) tickets
- Regular Tickets (January 27th, at the venue) - P450 each