It's a long, tiring road toward PWR's biggest show of the year, Wrevolution X. Many will try to get through, but only those who are destined will make it to the finish line.
A month from now, on April 28 at the Power Mac Center Spotlight, the Wrevo-Nation will be making their final stop with PWR Live: Destino. Championships will be on the line, feuds will reach their boiling points, and battle lines will be drawn all for the sake of obtaining glory and reaching one's destiny at Wrevolution X.
But listen up boys and girls, SPIN has an EXCLUSIVE for you. At PWR Live: Destino, we will be seeing a first-time women's matchup where the up-and-coming angas ng Cavite, Jaye Sera, takes on the punk rock maiden, Robynn.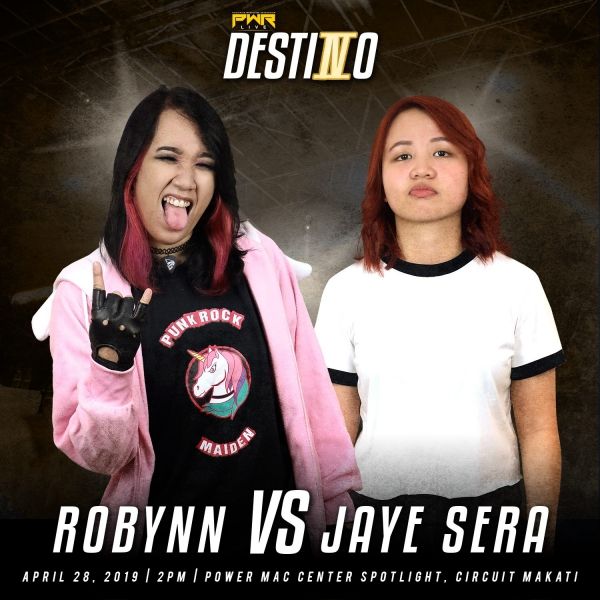 Continue reading below ↓
Recommended Videos
Of course, we all know that neither of these competitors was able to claim victories from PWR's Path of Gold event, so it's safe to say that both of them will be looking to get their momentum back by scoring a win in this matchup.
Robynn looks to be the odds-on favorite in this match. Why? Well, she's developed a strong resiliency inside the ring, and her tenure as a wrestler in PWR speaks for itself. Plus, if you all saw that match against Dax Xaviera at Path of Gold, you have to agree that this chick is tough as nails. But, as the few months have shown, it would be stupid to count out Jaye Sera. Aside from her impressive debut against the intern, Jhemherlhynn, Jaye has been showing a toughness and a tenacity that was unseen in a women's wrestler here in the Philippines until she came along.
If one's thing for sure, this matchup is something that you wouldn't want to miss.
Get your advance and discounted tickets now. To order, send PWR a Facebook message or e-mail them at pwr.tickets@gmail.com.
TICKET PRICES:
- Early bird Tickets (until April 27th) - P399 each
- Barkada Bundle (until April 27th) - P1,099 for three (3) tickets
- Regular Tickets (April 28th, at the venue) - P450 each
Tickets are now also available on ticket2me.net and will be available at their ticket partners: Kramer Toy Warden, Tavern at the Crossroads in Cubao Expo, and Cucina Di Paulina in 8 Seas Food Park.