MOUNTAINEERING is second nature for Gideon Lasco.
The man fondly known as 'Pinoy Mountaineer' grew up playing games of hide-and-seek for hours in the forests of Mt. Makiling and has been climbing mountains since he was eight years old.
His passion for the great outdoors has since spawned a popular website on hiking and a much-awaited book Day Hikes and Nature Walks from Manila, which was launched in partnership with Colorado-based outdoor brand Osprey Packs at the R.O.X. outdoor store in Bonifacio Global City.
The book condenses the essentials for beginner mountaineers and outdoor enthusiasts who are interested in starting their own adventures, a topic Lasco is more than qualified to teach.
A physician and medical anthropologist by profession, he is an avid mountain climber. Lasco has climbed over 150 mountains in the Philippines, hiked in 20 countries spanning six continents and scaled three of the Seven Summits of the World (the highest mountains in each of the seven continents).
Lasco also became the founding president of the UP Med Outdoor Society in 2007. He regularly contributes articles to the country's top broadsheets, and together with his friend Ivan Henares, launched the website PinoyMountaineer.com, which paved the way to the book.
Continue reading below ↓
Recommended Videos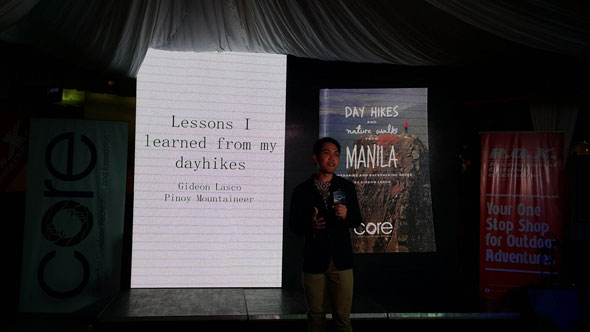 During the book launch, Lasco also shared some of the biggest lessons he learned from his day hikes through the years:
There's so much you can do in just one day.
He started by sharing a 2007 trip he made from Manila to Lucena City, one spontaneous climb brought about by an unpredictable opportunity.
"What happened was I was in medical school and we had classes in the morning. We woke up at 5 a.m. The professor texted 'No classes today' so we decided to go climb a mountain. [Since] may pasok sa hapon, we decided to make the most of the day, we decided to go to Manabu Peak," Lasco recalled.
The journey took them a few hours, and after another hour of climbing, they reached the peak, before getting back to Manila by 1 p.m. for their class.
For Lasco, breaks that present itself don't and shouldn't end up being wasted. One of the best ways to maximize your personal time, he says, is with a short climb rather than a long dive into your gadgets.

"If you don't have any plan for a Saturday, what would you end up doing? Sleep or siguro nakahiga kayo sa kama with your iPad or iPhones just resting. There's so much you can do in a day and climbing a mountain is one of the best ways to do that," he said.
"In fact, if you compare the average time Filipinos spend on social media in a week (30 hours) compared to the average time to climb a mountain (8 hours), there's no contest!" added Lasco.
There's so much you can learn in one day.
"Hiking is not just something you do. Hiking is something you learn from," said Lasco, who shares how mountaineering has been a great teacher.
"There's a lot to discover. For people who want to know nature at its finest and at its best, even if it's a day hike from Manila you can find a lot of creatures," he added. "It's really exciting for me to see a snake up in the mountains. At mas takot ang ahas sa tao, they will actually not harm you most of the time."
For Lasco, however, the most important teaching he got from hiking is the lessons about the conditions of the country brought about by climate change.
"In Mt. Balagbag in Bulacan, we saw logs being transported on the backs of men in the trail — signs of illegal logging going on. You also see the effects of climate change, we saw how dry the land is in Bulacan. People who climb mountains learn so much about the country, the environment and our changing planet," he shared.
You need not go far to find beauty.
Lasco implored that before dreaming of the majestic mountains of, say, New Zealand or Iceland, look around the country first.
"Beauty can be found in your own backyard. Before we go abroad, let's take pride (in what we have), our country has so much to offer. Let's explore," Lasco said.
He cites Mt. Pulag to find the 'Sea of Clouds,' or Mt. Binacayan in Rizal. He also pointed to a current Instagram favorite- Mt. Pamitinan, a scenic location in Montalban, Rizal that was opened to the public last year.
"It's not even in the book, it's a relatively new mountain," he said. "There's really so much out there. Every month may nadi-discover. But of course we have to be responsible. We cannot open mountains basta-basta. It has to be accompanied by a regulated system."
"But hindi kayo mauubusan ng bundok. If you decide to climb a mountain every Saturday for a whole year, I promise you hindi kayo mauubusan ng bundok!" Lasco declared. "If you like beautiful views hindi kayo mauubusan. The challenge in hiking is to go beyond the beauty and to really appreciate it for what it is."
Lasco, though, advocates for responsible mountaineering. Just as climbing mountains can change people, irresponsible climbers can heavily alter mountains.
"People change and when you go to a mountain, you realize some things are timeless and we should hold on to those things because as we grow, nandyan yung mga bundok palagi but mountains also change, sometimes not for the good," said Lasco.
"In Pico de Loro, there wasn't any structure on the campsites, but now there are a lot of makeshift stores at the top. Same with Binacayan, Pamitinan in Montalban there are sari-sari stores. We also have to be mindful that hand in hand with promoting the mountain, you have to balance it - actually clamoring for protection, for limits in how many people can climb in a day," he added.
No disability can hinder your ability to climb a mountain.
Lasco recalled some memorable hiking trips that delivered the powerful message that there are no excuses to exempt anyone from climbing mountains.
"Several years ago, I climbed with an amputee who was missing one of his legs. When he reached the summit of Mt. Batulao, he raised his prosthetic limb as if to declare, 'Kinaya ko! There are no limitations! I can do it!' The 2009 Amputee Climb was one of the most inspiring day hikes I've done," he shared.
He also had an inspiring climb with blind kids in Pico de Loro last month. "They would put their arm on my shoulder and for four hours we were hiking up the mountain, magkasama kami. Nahirapan ba sila? Nahirapan but the amount of time it took them to climb was the same as any first timer."
"We have our own limitations – finances, a lack of time or family refusing permission but may paraan. Let's be inspired by the people who climb mountains. Kaya natin!" he added.