THOUSANDS of runners led by his fellow PBA legends turned up for the Skywalkerun, a benefit race held for former San Miguel and Letran star Samboy Lim on Sunday morning in Pasay City.
Allan Caidic, Alvin Patrimonio, Vince Hizon, Noli Locsin and Johnny Abarrientos were among the basketball greats who showed up in jerseys bearing Lim's name and jersey number to fire off the over 3,000 runners for the fun run, a portion of the proceeds will help pay for the medical expenses of the beloved Lim.
Lim collapsed during an exhibition game in November 2014 and was rushed unconscious to the hospital. He woke up from the coma in January 2015 and has been receiving treatment at home since.
On Sunday, fans showed the 'Skywalker' all the love and his fellow PBA Legends gave back to the running community by running alongside them and posing for selfies and signing autographs.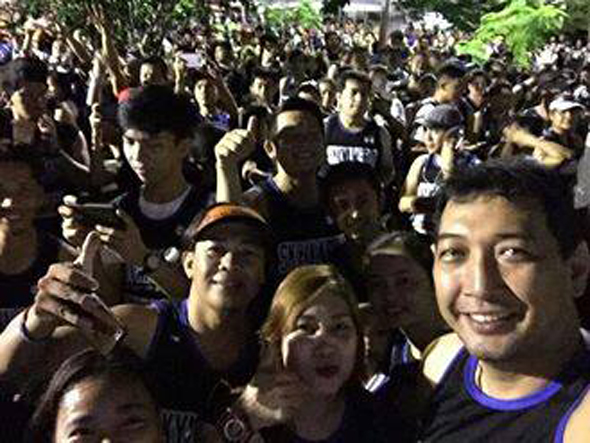 Continue reading below ↓
Recommended Videos
The event held at the Blue Bay Walk was fired off at 5 a.m. Fittingly, the longest distance was 9 kilometers, a reference to Lim's jersey number when he played for Letran, the national team and later the Beermen.
The race route also passed by the Cuneta Astrodome, once the home court of the PBA where fans cheered for the popular Lim, whose game was defined by his daring, above-the-rim exploits.
Finishers were rewarded with a finisher's shirt as well as a medal that bore the likeness of Lim. The fun run was organized by RUNtanantanan under actor-comedian Bearwin Meily.