IT's the same with every race. I cry for many reasons coming to me all at once - exhaustion, satisfaction, pain, gratitude - plus a bonus of hugs waiting for me at the finish chute. They are allowed to be in there because they raced too, my two brothers.
At first it was just marathons. Now, it swims, bikes and runs in the family. As if by lottery, it's the three of us among seven siblings, who are in triathlon. There are not too many similar things in our goings-on. Both my brothers are married with kids; my eldest kuya is twelve years ahead and the other, five years. We're in different places when it comes to our family and professional lives. Yet somehow, the formula works. We've seen each other through tough training seasons, three 70.3 (1.9 kilometers swim, 90 kilometers bike, and 21 kilometers) races, a couple of shorter ones, marathons and most recently, Cobra Ironman in Cebu.
THE BEST THINGS IN LIFE ARE THREE
Being 1/3, the youngest, and only girl of Team Altamira definitely equals to a lot of perks. I only have to say 'yes' to flight bookings, hotel reservations and trip itinerary when we're racing. During weekend long rides, I just have to wake up early to hop in the car (sleep while in it) and pedal according to the training day's objectives. The boys do fine calling the shots. The only task I never ask for, but is inherently mine, is to play referee when the brothers get too, let's just say, caught up with their opinions.
Continue reading below ↓
Recommended Videos
We are not an all-star team, that's for sure. There are other power couples and more successful siblings racing out there. What makes us unique is that we can get competitive but never with each other. Not even the boys, given they are not in the same age group. Having siblings in triathlon is the gift that keeps on giving. We're lucky we don't have to look far for training buddies, hotel roommates, and people to drag us out of bed when the weather is a little cozy for a swim. There's just this fail-safe well of support, encouragement energy gel and hydration goodies.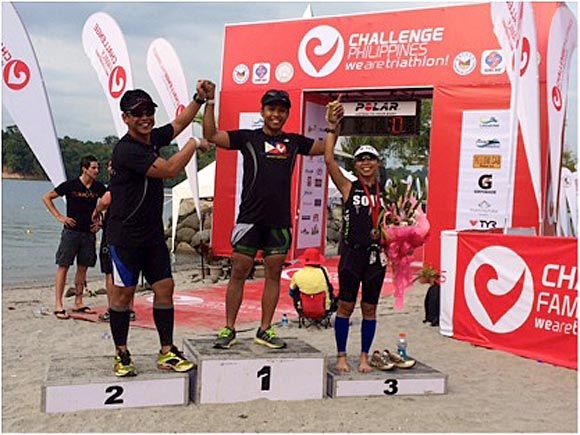 TOUGH LOVE
We're not a wordy bunch when it comes to affirmation. We'd move heaven and earth to make sure everyone is doing well but congratulatory gestures consist mostly of high fives and occasional hugs. We just squirm at the thought of verbalizing our affection.
We don't scrimp on tough love, though.
If you can't hear it straight out from your siblings - void of any sugarcoating - then you can't hear it from anybody else. As sibling, we just flat out say the hardest things, as we cannot be broken up with nor divorced. "Hey your stroke sucks when you hit past 1K." "Cramping again? Colds again? Are we never going to run out of excuses?" "Will you please invest on gadgets and accessories so and so for your own good?" (These lines are of course bleeped out for the benefit of the general public.) Coaches coach; significant others give constructive feedbacks; siblings just don't care how they send the message across.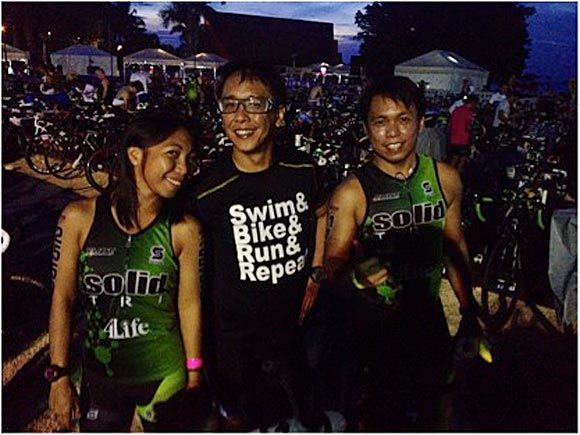 GOING PLACES
It's an often-heard cliché that sports take you places. It's this long, winding journey towards self-awareness. Especially we're in the early years in the sport, every training day is a discovery of what we are physically, biologically and mentally capable of. It's the hook that keeps us together. Outside our respective discoveries, we are there to witness the journey of the other two from close range. Best seats in the house, with soda and popcorn to boot.
The other side of going places is literally packing your bags and hopping in a plane to race. We just mastered the art of travelling with three bikes so we're now allowed to plan overseas races. We're eyeing Kona 70.3 in the not so distant future. The boys are also toying with the idea of doing the full Ironman distance, to which I say, 'No thanks.' For now. I can do touristy stuff while they suffer.
Since running shoes are way lighter than the whole triathlon ensemble, and full marathons are just the right dose of agony compared to full Ironmans, we insert running as often as we can in our calendar. Homage to our first discipline, man. Eldest Kuya and I did the Gold Coast Marathon two years ago and the boys are doing the New York City Marathon in November. We're now on the constant lookout for lottery openings of other international marathons to see where this endorphin bonding takes us.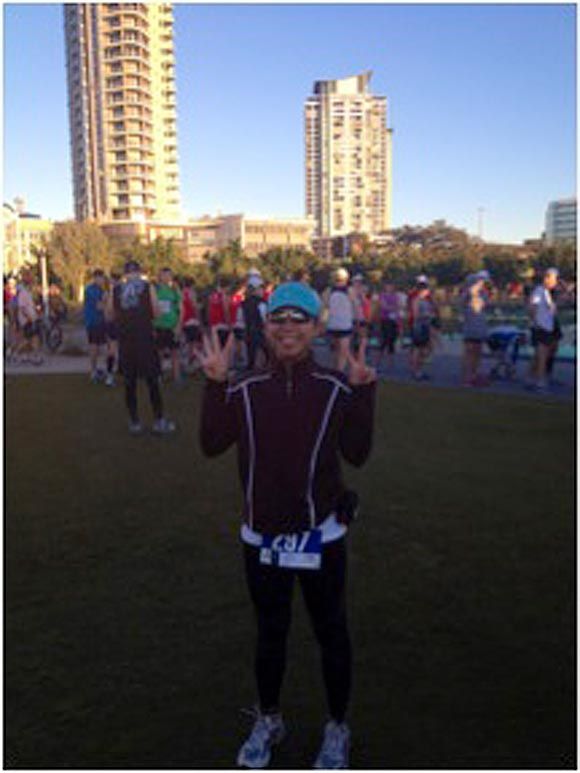 Marathons, triathlons … things you do on your own but take a whole team to get you to train for and finish. People might think they are such thankless pursuits, too. Of the thousands of people in the field, only three people make it to the podium. It is what it is but when I get to do what I love with the people I love, sure I'm already getting my every drop of sweat's worth.
---
Winna is a basketball and football nut. Her fascination for team sports is not consistent to her pursuit of an individual sport. She swims away when asked why. She tweets and instagrams as @WinAlt