THE Camp N Incubator and Bike Hub inside the sprawling Nuvali complex in Sta. Rosa, Laguna was newly launched to entice prospective bikers who dream of properly riding a mountain bike but have been intimidated in taking on the trails.
Officially launched on Saturday and in partnership with Specialized Philippines, the 3.4 kilometer winding trail was built within the six-hectare facility and offers a controlled environment where one can safely learn the rudiments of mountain biking.
"When you put yourself inside an incubator, you develop yourself. Using that metaphor, this is what this place is all about. We believe there is a segment who want to start the sport or adventure of mountain biking but don't know exactly how we can do it properly and correctly and this is where it starts," said Camp N operations manager Mon Jocson of Outbound, who was inspired by a talk with a lady foreigner in a bike shop in Makati who wanted to try the trails but did not know how.
A bike clinic that introduced trail riding was run by Specalized PH's Gelo Conwi and biker Ado de Leon for media members who were taught basic safety, bike parts, proper riding techniques, shifting and hurdling obstacles. There was also an intermediate lesson in riding pumps, hops and cornering techniques.
Participants were then given the opportunity to try the dip, bridges and obstacles designed to test and train a biker's abilities. There are pit stops on the trail where riders can catch their breaths and take water breaks.
ADVERTISEMENT - CONTINUE READING BELOW ↓
At Camp N, all bike and clinic fees will include bike and helmet rentals and a dedicated instructor. For beginners, there is an allocated space for balance bikes where kids can practice on two wheels.
"Since we started Nuvali in 2009, biking has always been ingrained in our vision as we conceptualized the developments to our master plan, we opened the trails to everyone and we are taking it a notch higher to cater more to the non-bikers by offering a non-intimidating facility for those who want to try mountain biking for the first time," said Nuvali marketing manager Jen Chua.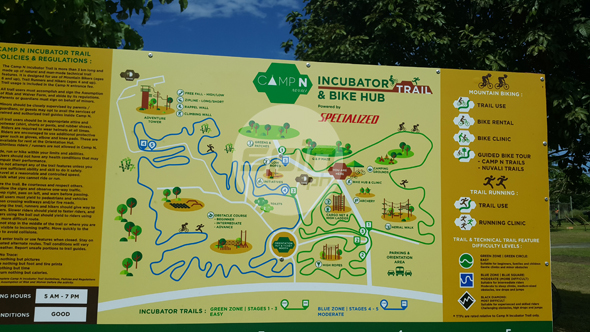 One of the most popular biking destinations outside Metro Manila, Nuvali has dedicated 50 percent of its Ayala Land estate to green and open topography that includes a 35-kilometer mountain biking and hiking trail. There is a lake as well as a wildlife and bird sanctuary.
Apart from the MTB trails, Camp N also features several thrill- and skill- based attractions. There is the Adventure Tower that boasts the biggest rollercoaster zipline in Asia and facilities for wall climbing, rappelling and free fall. There is an obstacle course with three difficulty levels and the Aerial Walk, a rope-based challenge several meters above the ground. Team-building exercises can tackle the balancing platforms and ropes of the High and Low Rope Initiatives.
Opened to the public starting on Oct. 29, the trail and bike hub are available for clinics and tours everyday from 8 a.m. to 5 p.m.
GETTING THERE: There are public buses going to Nuvali from Makati, Bonifacio Global City and Balibago. There is a shuttle to Camp N from the Nuvali terminal. For private vehicles, one can get off from South Luzon Expressway (SLEX) via the Mamplasan, Sta. Rosa, Eton-Greenfields, Silangan and Canluban exits.