NOT a few people believe San Miguel star Arwind Santos got off lightly for his monkey taunt against TNT import Terrence Jones.
The former league MVP escaped suspension for his racist taunt on Jones in Game Five of the PBA Commissioner's Cup Finals. Instead he was fined P200,000 and made to undergo 100 hours of community service as well as a seminar and counseling on equality and racial discrimination.
"Walang lugar ang racial discrimination sa basketball at sports in general at sa PBA in particular," said PBA commissioner Willie Marcial. "Hindi pinahihintulutan ng liga yung mga ganung aksyon, at kung maulit pa, mas mabigat na sanction ang ipapataw natin."
A lot of netizens, however, weren't too happy with the way the league dealt with the issue. And with good reason.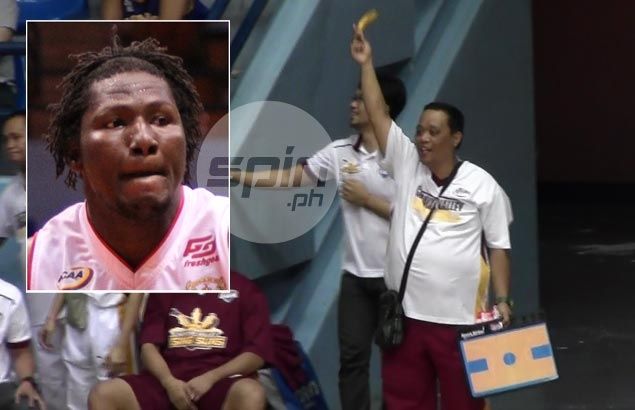 Continue reading below ↓
Recommended Videos
Remember this utility man from a PBA D-League team who, back in 2014, taunted San Beda's foreign player Ola Adeogun with a banana from the sidelines? He was suspended for 10 games by then commissioner Chito Salud who said in his decision, "Whether out of malice or ignorance, the act of waving a banana while carrying out motions akin to an animal is decidedly racially derogatory and pejorative."
Or how about the time then Rain or Shine coach Yeng Guiao called Meralco player Cliff Hodge a 'mongoloid' during a heated exchange in a 2014 game? He was hit with a P100,000 fine by Salud who later said, '[the use of the word] shows a lack of sensitivity to persons with disabilities and is particularly hurtful to the class of people suffering from the disorder, their families, and friends."
"The PBA, its players, and officials have to be aware that the use of words with pejorative tones has no place in the league that regards itself as an institution our youth can look up to as an example," he added.
Five years later, netizens believe the pro league took a step back on its stand against racism and discrimination the way it dealt with the Arwind Santos issue.
Here are some of the relevant comments on the issue, drawn from Twitter and SPIN.ph's comments page on Facebook:
Jackie Forster and son Kobe Paras were livid at Santos' lack of empathy and understanding of racial issues.
Kobe Paras wrote in the comments section, "Not everyone is educated mama... That's the sad reality of this world and especially our country... I'm so lucky and damn blessed I was raised by African Americans in LA..."
@jomeldeluna1 on Twitter raised a valid point about the plight of Filipino migrants and the consequences of such actions by a person of influence.
Tara Hendricks pointed out the irony of Santos being initially unapologetic by citing previous instances of Pinoys taking offense for the same reason.
"Mariah Carey allegedly (though it was later proven as false) called Regine Velasquez a 'brown monkey who can sing,' and to this day, the entire country's enraged about it. Claire Danes merely stated that there were a lot of cockroaches in Manila and she was declared a persona non grata by the city, a clipping of which is still posted on one of the hallways of its city hall. A Korean actress pointed out the difference between a New Yorker's English accent and a Filipino's English accent and it brewed up a storm in social media. And here we have a PROFESSIONAL basketball player - earning millions for playing the game he loves, achieved popularity and social ascendency amongst the populace, expected to use his stature as a role model for younger people and for the lesser privileged - openly, unapologetically, arrogantly and irresponsibly declare that there's nothing wrong with his blatant act of racism?"

"How can you be so ignorant, Mr. Santos? Or am I judging you too harshly? Are you just a delusional fool, living in your world where you're a superhero who's recording hit singles like 'Bagyo' and other fancies? If so, then please.... WAKE UP! It's not 1965 anymore, Mr. Santos. The world has changed. People have become enlightened. Judgments are no longer acceptable if they're merely based on the color of one's skin. What makes your abhorrent behavior worse is the fact that you're a prominent Filipino. Want it or not, all of us — your countrymen — are reflected in your actions. When that clip is played on CBS Sports, people will not say 'oh that guy is a bigot.' They'll say 'oh, look, those Filipinos are racist pigs!' Please, Mr. Santos, wisen up dahil nadadamay po kami sa kat@ngahan nyo."
@jezzamlb lamented the absence of general respect among some members of a professional organization like the PBA.
Jonathan Robin Ong underscored how dire of an offense racial discrimination is in other sporting events like FIFA.
"gusto kong makita kung paano ihandle ng pba ang klaseng pambabastos/racial discrimination. Sa european football pag ang fans gumawa ng ganyan gesture binaban sa stadium, mahabang suspension pag player naman."
@krisponcenrile explained to analyst and coach Charles Tiu why "forgive and forget" doesn't really apply to Santos' case.
Juan De Dios refreshed people's memory of the Gilas-Australia basketbrawl, as well as a popular proverb from Confucius.
"Maling mali k naman n dun brad. Ewan ko n lng kung hindi ka mapenalize or ma fine. Eh kung ung Gilas boys nga nakipagbugbugan sa mga australians dhl 'allegedly' tinatawag daw silang unggoy? Allegation pa lang un ha. Eh ikaw inamin mo pa. May tama rin naman talaga tong isa na to. Kht sinong pinoy ayaw na nabibiktima ng discrimination tapos ikaw pang pinoy din ang gagawa nun? ?????????????????"
@tupzicle compared Santos' situation to a similar incident five years ago, only it involved a D-League team staff that got a 10-day suspension.
Lie Gins had to put Santos apologists in their place, stressing the importance of information and that there are no excuses for racism.

"Tapos itong mga supporters nya kumampi pa sa maling gawain ng player na ito! Kahit anong sports ka it's NO NO to racial discrimination, ang masama pa doon when he interviewed after the game he reasoned out na mind game lang daw cmon men ur an athlete and a professional player but the level of ur mentality is like ur playing in an inter barangay. PBA need to educate all the players about values. It's not all about winning the game but how you played the game and respect ur opponent."