BALANGA, Bataan - Age and beauty came to the fore in the inaugural Powerman Duathlon Pilipinas on Sunday.
In what he said was probably his last Powerman race, Rob Woestenborghs, a 39-year old chiropractor from Belgium, bested his younger counterparts while Filipina elite Monica Torres proved the fastest in her class.
Woestenborghs, who considers the Powerman's classic 10 kilometer run-60k bike-10k run distance as his strongest race, crossed the finish line in two hours, 43 minutes and 42 seconds in his first race in the Philippines.
A former Powerman world champion for two years, Woestenborghs said the race is among his last as he will be retiring from the sport at the end of the year so he can focus on his profession and take care of his family.
"It's been a wonderful journey. i've been in the game for more than 10 years and it's time to step aside and I'm really happy with this victory," he told reporters after the win.
Woestenborghs took particular note of the humidity that was tough for Europeans like him and described the bike course as hilly, But he used his experience on the bike to maintain a four-minute cushion on closest pursuer Benoit Nicolas going into the last run leg.
Nicolas of France came in second in 2:46:16 followed by Thomas Bruins (2:49:34) of The Netherlands in third. Powerman world champion and favorite Gael de Bellec came in a disappointing fourth, followed by Robeno Javier - the fastest Filipino in the field of almost 700 participants.
Torres celebrated her return to duathlon by ruling the women's elite race, finally besting Airi Sawada of Japan for the first time after several tries.
"I haven't raced duathlon in the past three years so to have Powerman here and to take the win for the first time, I am very happy to represent the Philippines today," Torres told Spin.ph.
She said the bike part was very technical, characterized by uphill climbs, descents and turns. But she banked on her familiarity in the terrain to full advantage.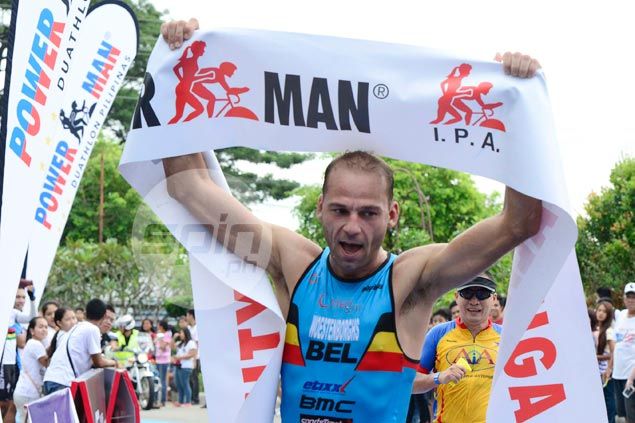 The race also featured a Sprint Distance of a 5k run-30k bike- 5k run, a team relay and age group leaders were also recognized.
Raymund Magdaluyo, CEO and president of FNF race organizers, said the arrival of Powerman - considered among the most prestigious duathlon brands in the world - will boost their efforts to promote duathlon in the same way Ironman and Challenge has done for triathlon.
"We are instilling pride in the sport. We are promoting not just pride for an event but for the program to promote the sport and the community."
Recommended Videos