IN the middle of the three-hour early-morning drive toward jump-off point, with our destination Mount Apo looming just ahead in all its splendor, dad talked about an inseparable bond that's going to be developed once you've reached its peak.
"You will almost hear her whisper, asking you when your next climb is," Arsenio Jr. smiled at us rookies while behind the wheel of his trusty white Ford Ranger, speaking from experience no doubt having set foot on the highest summit in the Philippines a handful of times already.
He was just sugarcoating, I remember telling myself. And I had long convinced myself it would just be a one-night stand, a fling, an experience that I can cross off from my still-growing bucket list and legitimize my being a true-blue Davaoeño.
Two months earlier, I didn't even think I would have the chance to be where I was. In Davao for just three days for a family matter, I managed to sneak in an interview with Social Climbers, an adventure organizer in which dad is a part of, focusing on mountaineering specifically peaks in Mindanao.
Founded a decade ago by a tight-knit crew of 10 youthful, accomplished Ateneo de Davao High School Batch 1979 alumni, the recreational company caters mostly to first-timers and family climbers, providing transportation from Davao and back, as well as home-cooked food and porters, apart from guiding them every step of the way in a total experience they call "glamping," short for glamorous camping.
Continue reading below ↓
Recommended Videos
As it turned out, the group was slated for a three-day Mt. Apo climb in two months. And Social Climbers chief Benjie Lizada, my interviewee, urged me to join, an invitation which I laughed off initially, considering the demands of work in Manila.
"Ikaw, dapat sama ka," tito Benjie insisted at the end of our conversation. "Wag ka mag-tawa-tawa dyan. Wag mo i-try."
Like Yoda told Luke in Star Wars: the Empire Strikes Back: "Do or do not. There is no try."
So I did. The opportunity presented itself. And if there was a first mountain to climb, it was definitely Mt. Apo. After all, life is too short to settle for anything less than the best — in this case, the highest (is what I captioned my Facebook profile picture of me reaching the peak).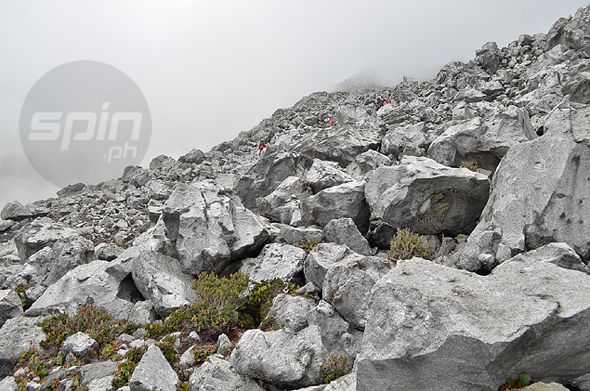 "Go big or go home nga 'di ba?" fellow greenhorn and adventure seeker Kae Carriedo said back at dad's pickup as we approached sitio Mainit in barangay Kapatagan, Digos City, Davao del Sur, one of the mountain's several entry points, where we were each assigned our porter.
And thus began the climb of 2,954 meters above sea level on that cloudy day in August.
Dad, one of the Trail Masters along with King Aviola and Buboy Ola, who made sure each group of climbers had a Social Climber to assist them, said we were blessed to have that kind of weather as they had been in climbs in the "brightest of days and the darkest of nights." Still, it was necessary to wear long-sleeved light-material shirt and a jungle hat.
Those three-hour weekend walks for those in Davao (and twice-a-week pick-up basketball games and sometimes shorter one-hour walks from The Arena in San Juan to our Sta. Mesa apartment for me) in preparation for the climb were set to be put to the test.
We first trekked through the farmlands where the planted vegetables could easily be picked (which I didn't do) unlike in Manila where some are sold for nearly twice the prices in Davao.
Basketball in paradise
It was a pleasant surprise to see a basketball court sitting at the middle of our first resting spot, a community they called Paradise. There was no time play ball, however.
Then came another surprise as I heard my cell, which was rendered useless there except for taking photos, ring in a rare area where there was phone signal. It was Spin.ph lead correspondent Richard Dy, who managed to reach me to ask for a favor at work.
"Sir, gustuhin ko man, kaso nasa gitna po ako ng bundok eh," I replied.
The trail turned from easy to difficult as we entered the jungle, where huge logs and streams of water stood in our way. That's also where the working gloves and leg sleeves/gaiters came in handy as they prevented scratches from twigs and thorny plants.
Never mind the mud that will surely leave your hiking shoes all dirty.
It was surely one of those what-have-I-gotten-myself-into moments for some as the path grew steeper and more dangerous.
There was surely nothing glamorous about this, I thought.
"It's a stairway to hell," said Kae, 26, a former AdDU high school varsity netter, who happened to have a fear of heights, until she smashed it with a strong forehand.
But it seemed like a cakewalk for our porters.
While we huffed and puffed with durable hiking shoes on our feet and light daypacks on our back, they carried our 15-kilo backpacks, which contained our tents and heavier gear, with seeming ease as you could not hear them panting.
What's more impressive is most of them wore just worn-out slippers, while some, including Kae's porter, Gerry, even went barefoot.
"Lingaw man (masaya eh)," said my porter, Nene Laman, 29, a fruit farmer and last-termer barangay kagawad, who has been doing this for years more as a hobby than an extra means of living.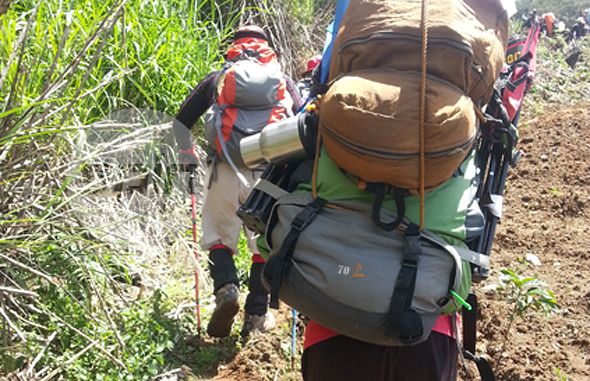 Good to be at Goody
After six hours of hiking, we finally arrived at our campsite for the next two nights, Camp Goody, where the Social Climbers took care of us.
If you felt dizzy or feverish after the initial climb, you could basically get a free checkup from Expedition Leader Fred Medina, who's a doctor by profession.
When it was time to eat, we headed over to the kitchen/socializing tent, where Kitchen Master Dave Vilela prepared hot dishes perfect for the cold weather like tinolang manok and arroz caldo for dinner, and Hungarian sausage on pork and beans, spam, and beef tapa for breakfast and lunch.
The night would not be complete without drinks as we had a few shots of lambanog that was given by one of the clients/climbers, while tito Fred was playing songs of yesteryears on his guitar, to which I tried to follow as if I knew them.
It grew colder as the night went on, leaving me shivering despite already wearing three layers of clothing. But the coconut-based alcoholic beverage seemed to keep me warm and allowed me to sleep like a baby inside the tent with dad amid temperatures that dropped to as low as 10 degrees Celsius.
Poop problem
When nature called, however, you're on your own. With only a biodegradable plastic in hand, you're left without a choice but to embrace your inner caveman as you had to take a poop inside a tent that stood as a lavatory they set up at the far end of the camp. After your ritual, you had to dig a hole outside and bury your plastic there.
That, I was told, was already an improvement from previous climbs when you were more exposed as there were no tents and you had to find you own spot outside camp. (eew!)
Another development during the climb was the addition of porters, who were tasked to collect the trash from climbers of the group as well as from reckless backpackers to preserve the beauty of the national treasure.
"Paakyat, we're not just guiding first-time climbers, tapos pababa nakalinis pa kami ng surroundings," said tito Benjie, whose role as advance/lead pack was to identify campsite, establish foothold, and pitch the kitchen tent. "Two birds in one stone ba."
One Social Climber in Greg Melocoton missed the climb due to a previous engagement.
Day 2
More than halfway through the mountain, we continued our trip the next morning, trekking the rest of the jungle before going through a pile of boulders where one wrong step could leave you with a sprained ankle.
As if the huge rocks weren't enough, we had to endure the pungent smell of smoke emitted by the sulfuric vents - proof the mountain remains potentially active.
We wasted no time after reaching our final pitstop, a camp called Boracay for its white sand. It was certainly no paradise after that as we had to pass through a steep 87-degree-angled path before we could get to the peak.
All our sweat and aches were finally rewarded as we set foot on the summit a little past noon, witnessing a majestic, albeit clouded, view that overlooked a part of Davao City.
It was still a sight to behold.
We naturally took pictures as proof and dropped some coins into a small wishing well.
Of all the wishes, the first was luck as we had to go through the whole trail again — in reverse this time.
We all managed to return to Camp Goody safely in the afternoon, but two neophyte climbers including Roy Garrido came in later at dusk, having to withstand the treacherous path in darkness while fatigue, fog, and rain set in. Wearing headlamps, both climbers also ran out of their personal water supply.
A sigh of relief and applause greeted them as they found their way back to camp almost 8 p.m.
"They're the first-timers who've had the most complete climb, kasi may night trail pa," said Camp Master and Social Climbers' life of the party Osler Sto. Tomas, who accompanied the two climbers back to camp.
Day 3
Eager to get it over with, we made it back down to sitio Mainit the next day seemingly in a flash, reaching jump-off point before noon, before slowly digesting what we had just achieved.
Looking back, Garrido offered no regrets and even hinted of an encore.
"It's worth it talaga," said the 53-year-old contractor, who took a picture with his climb ID, a loom band from his grandchild, and an altitude-measuring device at the peak. "I don't want to say the last, but if I'm going to climb it again, different route naman siguro."
As for me, only one thing was sure: I've been hearing those whispers since.
Ready for your own adventure? Contact 09209451979 to get the Social Climbers experience.