THIRTEEN years on, a long, elongated swimming pool near the east side of the Manggahan Floodway has churned out thousands of aspiring surfers. Some of them — like Lorraine Lapus, Bea Vega, Carla Sebastian, and My Life on Board founder and Spin.ph correspondent Michael Eijansantos — have even made names for themselves in the scene.
Wait a minute. Swimming pool?
It's not an ordinary swimming pool, of course. Rather, the swimming pool at Club Manila East in Taytay, Rizal is a wave pool. It's almost surreal: in the hot, still air of the city, you stand on the edge of swimming pool tiles and see the tide rushing in.
But, of course, it's not the wind that's driving the waves to the shore. Rather, a machine, hidden somewhere out of sight, stokes and churns the pool waters to create ocean-worthy swells.
Continue reading below ↓
Recommended Videos
"I accidentally stumbled upon Club Manila East Resort online [in late 2007] while looking for a location for a company outing for my staff in another business of mine," recalled Paolo Soler, head of the Philippine Surfing Academy, to SPIN Life. A picture of the wave pool, newly opened at that time, intrigued him.
He went over and checked it out. Then, soon after, he returned with both a longboard and a proposal.
"Once we tried the wave pool for the first time we immediately knew that it was the perfect place to learn and teach surfing," he said. "So after a bit of persuasion, the owners were kind enough to allow us to commence our surf training there. We became a concessionaire for surfing lessons at the resort."
It's a partnership that's been going strong for 13 years.
It's not like there aren't any other wave pools in the country. "There are more than 20 wavepools in the country," clarified Soler. "But all of them were purposed for swimmers and not designed for surfing."
The Club Manila East wave pool, according to their official site, is around the size of 10 basketball courts combined, and can generate waves that reach up to 1.5 meters high.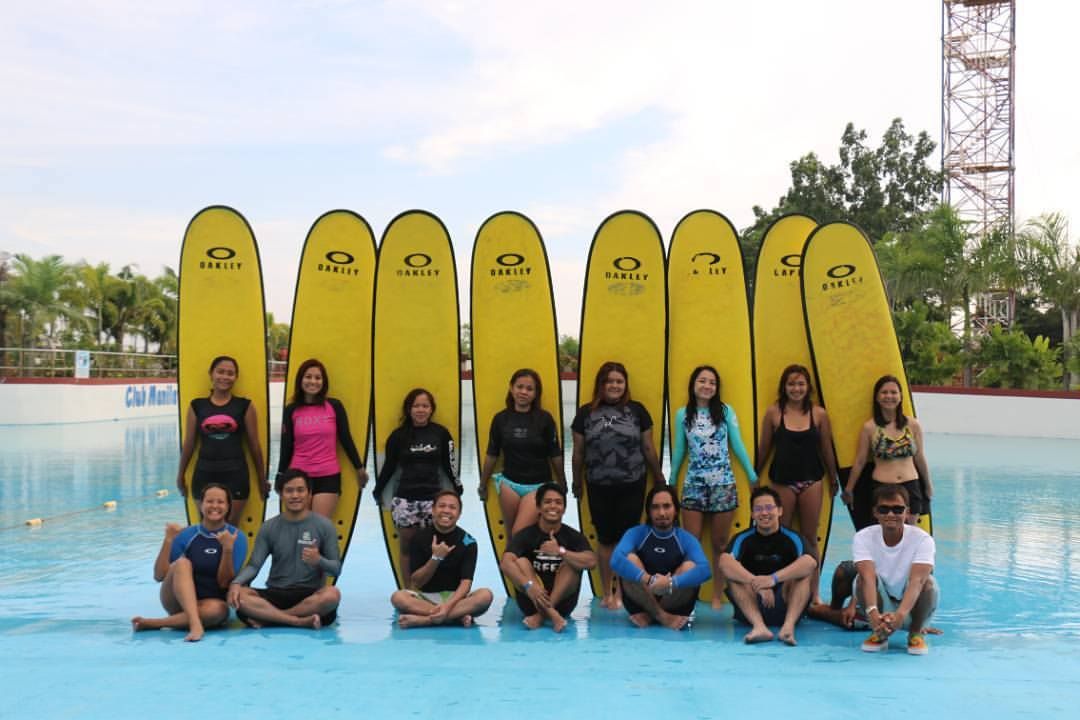 Some sections of the surfing community have long scoffed at the idea of a wave pool. The core experience of surfing, it is argued, flows from the beauty and unpredictability of nature, and how a surfer bends (with style) under its will. "Kung anong bigay ng dagat", as the saying goes. If the sea is flat, sullen, and uncooperative, so be it.
A wave pool, with its clockwork, never-ending smoothness of swells, is an affront to this experience.
Soler, naturally, views it a little differently. While he's been surfing the ocean for more than a decade already, he thinks of wave pool surfing as a training tool — the "ultimate treadmill," as he calls it, for the sport.
A wave pool can give what even the most ideal surf spot cannot provide: thousands of perfectly shaped and identical waves in the two hours that you've booked in Club Manila East. "You get eight times the riding time," stressed Soler.
As a longtime surfer himself, he understands the purist's perspective — even if it's given him not a little amount of grief over the years.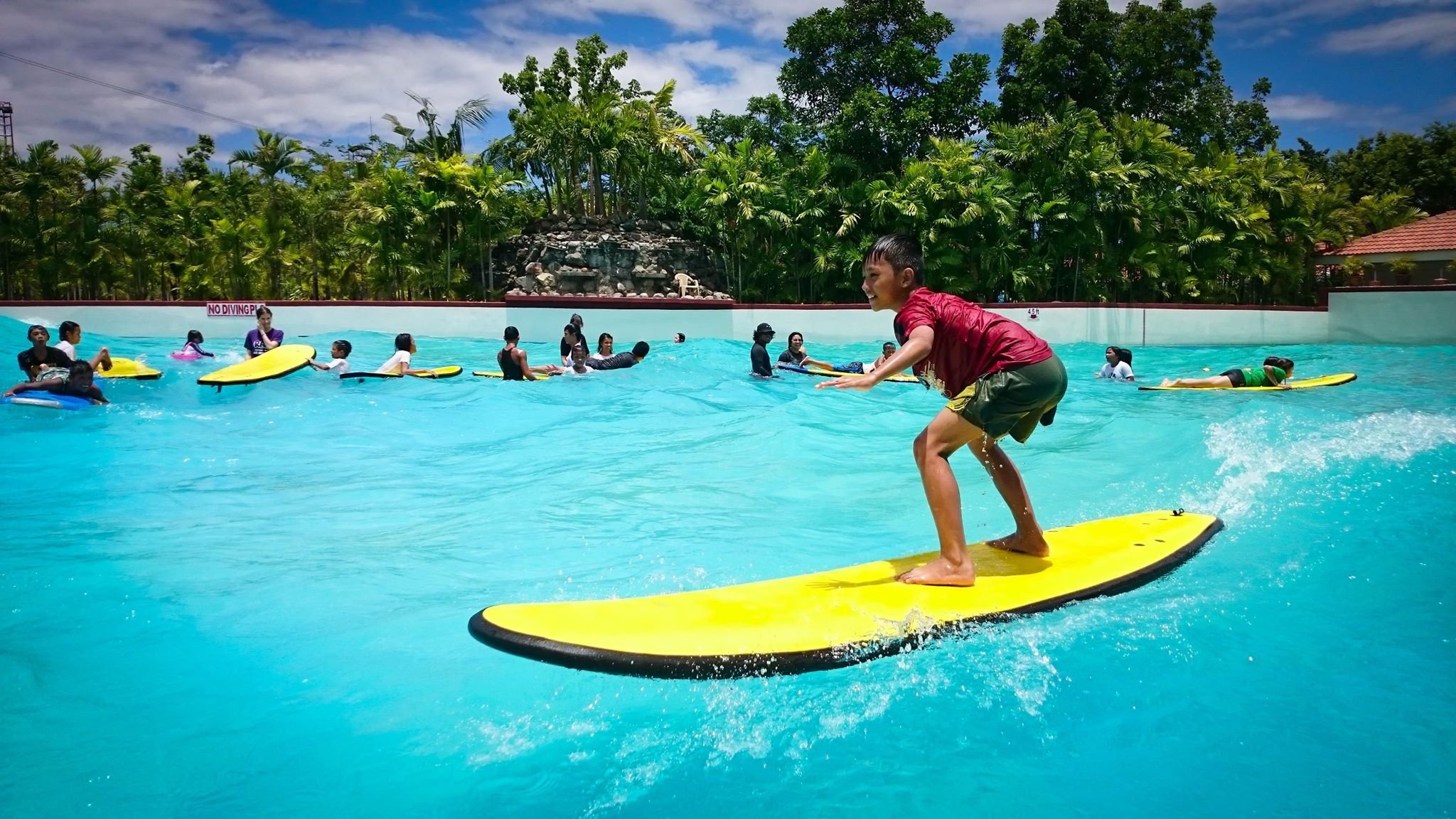 "In the beginning a lot of people laughed at and mocked the concept of surfing in a pool. We endured so much emotional stress in our early years," he said. "Surfing is such a sacred activity for us and being immersed in nature is a huge part of the experience so I totally understood where they were coming from."
However, he added: "When we started producing high level surfers out of Metro Manila we earned the trust and respect of even our harshest critics."
It's hard not to get with the program when even arguably the best surfer in the world, Kelly Slater, has built his own colossal, 20-acre wave pool in the middle of farmland of Lemoore, California — about a hundred miles away from the nearest body of water.
A massive hydrofoil rides across the edge of a 2,100-foot long swathe of water, slicing out a six- to eight-foot high wave like a carpenter's plane running across wood. The surfer rides parallel to the hydrofoil's wake.
While Slater's gigantic wave pool is still the dream, Soler knows that a giant hydrofoil is out of the question for the Philippines. Even more affordable alternatives like Wavegarden's modular, computer-controlled tech (found in four surf resorts around the world) is still too expensive.
So instead, Soler is busy churning out more practical ideas to upgrade wave pool technology in the country.
"I tell you though that after more than a decade and having trained tens of thousands of students in the simpler facility of Club Manila East, I have a design that can be made to produce bigger waves at the same volume," he revealed. "What interests me more than producing a powerful artificially generated wave for surfing is a wave that can also pump out something perfect for beginners at high volume for more students."
Everything is still in the planning stage, and, of course, with the quarantine still in effect, it's a plan that still remains a dream for now.
But when it does become a reality, the best part about is that it would be entirely locally made. "We have the technology and know-how in the Philippines to build our own at a much more affordable price," he declared.
Spin fans unite at the Spin Viber Community! Join the growing community now and complete the experience by subscribing to the Spin Chatbot.