A group of young Filipinas recently spent one hot weekend in Hong Kong. Their shopping list did not include the latest Louis Vuitton bag or toe pumps from Nine West. The boxes they were quietly ticking in their heads had unfashionable names like scrum, tackles and lineout.
Clearly, they were not here on a holiday.
Rugby sevens brought the Lady Volcanoes here and, for a young team, they were quick to embrace the challenge of competing against bigger, more experienced sides at the Hong Kong Asian Sevens. To the girls, the Hong Kong Football Club, with its sun-kissed artificial pitch, was like a laboratory: the ideal place to observe and learn – mostly about tactics, rules and game situations involving tough opposition.
How much they still had to learn was evident. The Lady Volcanoes had to wait until their last game to score a try, though they came close at times in earlier matches. They did not always nail the right moves as they would have wanted to, but there were enough positives to take from their performances.
No one understands the challenge the Lady Volcanoes face in charting their future better than coach Susan Konstanty.
"Because women's rugby in the Philippines is still fairly young, a lot of the girls are still just learning how to be athletes, how to train like athletes, how to eat like athletes, how to think like athletes, how to have that right attitude,'' the Australian says.
Continue reading below ↓
Recommended Videos
"They're getting there. But it's still a learning process for them because a lot of them have not been at this level in any sport. They've just got to learn and it takes time.''
Some of the players have crossed over from other sports, such as basketball, touch rugby (similar sport but no tackles), softball, boxing and even mixed martial arts. However, until they were selected for the Lady Volcanoes none of the girls had represented the country in international competition. Most of them also had taken the sport at a later age because rugby – whether sevens or the more complex 15-a-side game – is not played in local schools as of yet.
One of the more experienced athletes among the Lady Volcanoes is their regular captain, Ada Milby, sister of actor Sam Milby. Apart from having played college rugby at Wright State University in Ohio, she was also an ice skater and gridiron football player in high school. For the Hong Kong campaign, however, Milby, 31, can only help the girls off the pitch. Reason: she was three months pregnant.
The transition to Manila life, following Milby's move from the United States almost three years ago, was made smoother by her involvement with rugby. More than just a player, she is now head of development of the Philippine Rugby Football Union, tasked with promoting a game that Filipinos know very little of.
Milby is also the glue that keeps the Lady Volcanoes together. With Konstanty jetting in from Australia only for tournaments and training camps, it falls on Milby to see to it that the girls are well-trained and match-fit. Getting the team together regularly also presents problems because one group of players train on their own in Cebu, where they are based. To get more out of this set-up, Konstanty reveals that during local tournaments – where the Lady Volcanoes play against each other – Milby would gather the girls together for a development session the day after a match.
Because women's rugby in the Philippines is still in its infancy, the pool from which national players are drawn is small. The temptation to load the Lady Volcanoes with accomplished overseas-based half-Filipinos is hard to resist, but Konstanty would rather see homegrown players develop the necessary skills, with a couple of Fil-foreign players helping them out.
"It would be better to develop the local girls because in the long run it's much easier to work with the squad if they can train together and play together all the time,'' the coach says. "If we can get a bit more depth in the local competition and depth in the international squad that's the best way to go.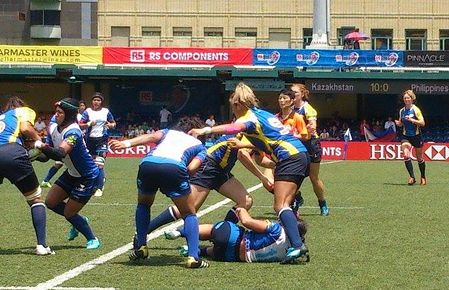 "In rugby, when people play together all the time, they get a lot of chemistry. They barely have to communicate to know where each other is. That's what I'd like to see in us.
"Yes, you want to get the best team out there but you have to look at the bigger picture. For the longer term, it's better if we develop the local girls."
Milby, who plays prop or center in sevens, says the four-year-old program is "the strongest it's ever been.'' This year they had their first all-women domestic league, a 15s competition between the Manila Mayhem and Cebu Lady Dragons, decided over eight games over four weekends. With support from Southern Plains, in Laguna, whose facilities and dorms have been made available to them, the girls have also been able to hold more development camps and team building activities. Baby steps, yes. But very vital for a sport that hopes to attract more Filipinas who, initially, might be intimidated by the hard physical contact and rugby's all-action nature.
But, as Milby tries to explain to non-fans, rugby "is really not much different from playing basketball or football.'' Knowing the safety and technical aspects of playing, she says, is the key to minimizing the risk of injury.
Rugby sevens, with its emphasis on quickness and strength, is a good fit for Filipinos, Milby says. Height, she points out, is not as crucial as it is in basketball. There is also less need for the bulky bodies required by some positions in the 15s game.
Aggression, an integral part of rugby, is not alien to the DNA of the Filipina athlete, as Konstanty has learned. "It just needs to be brought out of them,'' she says. Some girls, like those from Cebu, do not even need to be coaxed into playing hard and delivering tackles. When it comes to channeling their aggression into something positive and staying on top of their game, the girls don't need to look far for a role model, Konstanty adds. "You've got Manny Pacquiao,'' she exclaims.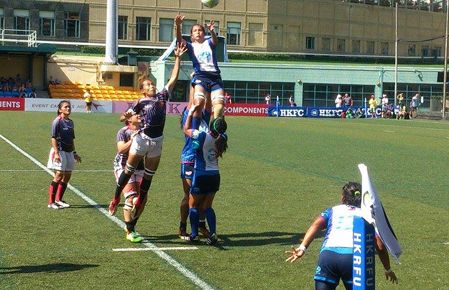 Konstanty herself would like to see more 15s tournaments played in the country, but she also appreciates the economic advantage of the sevens game: having less than half the number of players of a 15s squad means it's easier to assemble a sevens team – with the cost of sending it abroad for international exposure also considerably less.
In a local sporting landscape where volleyball reigns as the most popular women's team sport, rugby – for now, at least – is hard-pressed to compete for talent against the likes of badminton, swimming, tennis, basketball, running and taekwondo.
But one thing that could boost the appeal of rugby sevens among sports-loving Filipinas is its inclusion in the Olympic calendar and, by extension, regional meets like the Asian Games. Athletes looking for a path to international competitions and multi-event gatherings might just want to brave the tackles and scrum in order to push for a place in the national squad.
But even on this front, the Lady Volcanoes – and Philippine rugby as whole – have to play catch-up with most of the rest of the rugby world. The lure of an Olympic medal or success on the international stage, such as the Asiad and the Commonwealth Games, has seen other countries pump enormous money and resources into their sevens programs.
"It's still got a lot to go, but it's got potential to take off,'' Konstanty says of women's rugby in the Philippines, adding that the country has a large population from which it can groom potential winners.
It would also help, she says, if the Lady Volcanoes start winning.
"We can help that if we start achieving results on the international stage. That's the best way to get people into the sport.''