IN a triathlon, the crowd eagerly anticipates who finishes first. But is there anything left for the person who finishes last?
A lot, it turned out.
At the 2016 Asia-Pacific Championships of Ironman 70.3 held at Mactan Island in Cebu, SPIN.ph decided to wait at the finish line for the last person in the individual category to beat the 3:30 p.m. cut-off time.
In ones and twos, age groupers and relay team members trickled inside the guest parking lot of the posh Shangri-La Hotel and Spa serving as the finish line.
Only a small number of people remained from the hundreds of spectators that were cheering earlier in the day. Only a skeleton force of staff were left and in the process of preparing to pack up.
Soon after the announcer declared there was only a minute remaining, a solitary figure suddenly emerged from the last bend en route to the last 200 meters to the end line.
Everyone suddenly became alive and started cheering, "Come on! Kaunti na lang! You can do it!"
The runner was wearing a yellow and black tri-suit of the Lakantri Team. A pink bib indicated her as a female age grouper and the No. 2408 identified her as Maria Khristina 'Tin' Fontillas.
Continue reading below ↓
Recommended Videos
Tin was obviously on her last legs and was visibly struggling to move, much less maintain an even pace. Motivated by an enthusiastic crowd and a countdown chant of the last 30 seconds, Tin managed to cross with only five seconds to spare in a real-life Chariots of Fire moment.
A race official awarded the coveted Kenneth Cobonpue-designed medal to the last official finisher, who was soon surrounded by ecstatic family members and teammates.
In an interview with SPIN.ph after the race, we learned that Tin's accomplishment was made sweeter since she failed to finish in Cebu last year.
The 37-year old mother of two young kids admitted she already had a display case ready for her Ironman 70.3 Cebu medal since last year and that her DNF (Did Not Finish) in 2015 became a motivation for her.
"Nine-and-a-half minutes ako after cut-off so pagdating ko wala ng tao," the native of Santa Maria, Bulacan recalled laughing. "Siyempre malungkot. Kaya ang sabi ko, 'Next year babawi tayo.'"
Five years ago, Tin was content watching her husband John Paul compete in Ironman Camarines Sur before joining Cebu the following year as part of a relay of Lakantri, a team composed of triathletes from the province of Bulacan.
Surprisingly, it was not health concern that was Tin's primary reason for taking up triathlon.
"Double purpose: nagsi-slim down ka na hindi mo binabawasan ang kinakain mo," said the general manager of a tire company in Bulacan.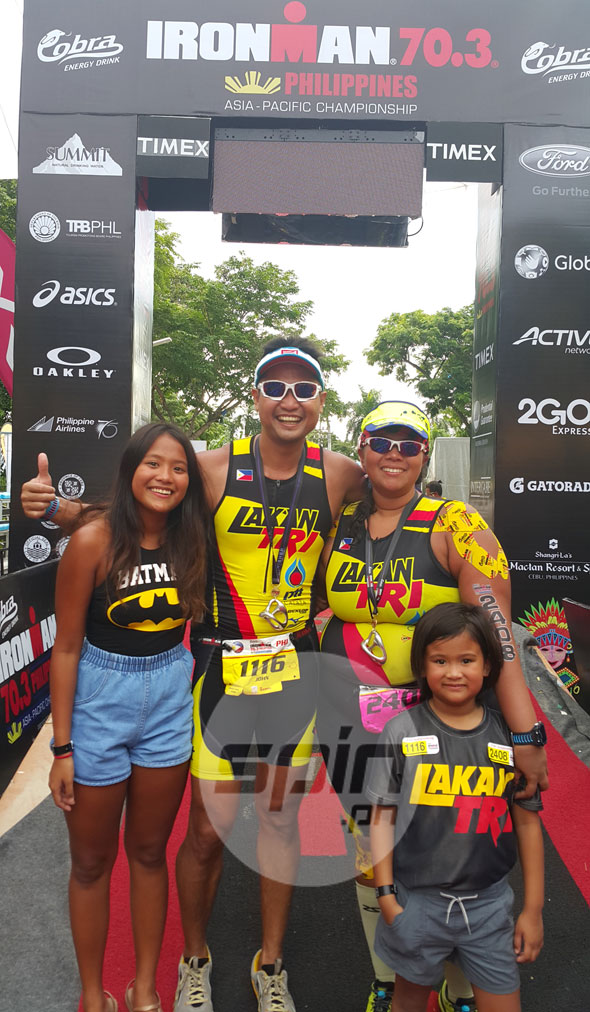 Ever since she started, Tin said she has burned 20 pounds but more than the weight loss, appreciates the physical changes - not just a slimmer but a firmer look.
"Before hindi ako nakaktakbo ng 3K. Ngayon naka- 42k na ako."
As part of her preparations for Ironman Cebu, Tin said she trained six days a week and also took part in Ironman Hawaii last June, "Ang sabi ko hangga't hindi ko nakuha yung medal na sinasabit sa akin..."
On race day, Tin said weather conditions in Cebu added to the challenge, citing the higher than expected waves that, she said, prevented her from reaching her target time in the swim.
She also encountered strong headwinds during the bike, "Dahil malaki ako lahat ng hangin tumatama sa akin," she laughed.
Tin has always considered the run her weakest.
"Lagi akong dapat pasok sa time kaya lang hindi ko kayang abutin yung time ng cut-off. Kasi talaga sobrang bigat (ko), ang hirap talaga tumakbo."
Doubts inevitably crept in during the transition from bike to run. Tin said she only managed 10k as her longest training distance for 70.3's 21k run due to pain in her knees.
"Feeling hindi ko kayang abutin yung time na gusto ko. I counted to myself para malibang, tapos yung mga tao pag nagchi-cheer sa iyo lalo kang lumalakas," she said.
Out in the course, fellow triathletes would shout out to her, "Idol! You inspire us! Kaya ako nag-triathlon dahil sa iyo!" adding fuel to her resolve.
As she neared the finish line at Shangri-La Mactan, Tin could sense the looming cut-off time.
"Sa labas pa lang sinasabi nila, 'Last two minutes!' naririnig ng mga tao sa labas and I was 200 meters away. Doon sa gate ng Shang parang one minute na lang (yung remaining time). Wala na akong iniisip! Gusto kong makita na yung finish line! Akala ko nga hindi ko maaakyat (yung ramp up to the finish line)!"
After racing for almost eight hours and 30 minutes, Tin finally earned the right to be called an 'Ironman.'
Just in the nick of time.
"This is it! Nakuha ko na. Napakasaya! Grabe! Kasi yung frame na paglalagyan ng medal last year pa nakahanda," laughed Tin who said she will celebrate with her team, nine of whom were members of her family that included her husband, father and three siblings.
"This race is the hardest kaya yung feeling mo mas fulfilled ka. Daig pa niya yung Hawaii sa hangin! I rank it as '10' dahil sobrang saya ko!"
Asked what was her biggest takeaway after she successfully finished her 1st Ironman Cebu race, Tin smiled and said, "This is so fulfilling. Na parang lahat ng pinaghirapan namin eto na kaya lahat ng teammates ko sobrang naiiyak din kasi alam nila for the nth time kailangan hindi na ako ma-cutoff!"