THE nationwide search is on for 'The Toughest Pinoy.'
With much fanfare, R U Tough Enough? (RUTE) was officially launched on Wednesday afternoon by action entertainment channel KIX at the SM Megamall in Mandaluyong City.
As an example of what participants will be facing, RUTE ambassador Daniel Matsunaga, together with strongman Moises Torcator, pulled a truck loaded with 18 KIX models for a distance of 18 meters to demonstrate their toughness.
The reality star and actor said "Filipinos are a tough bunch. Regardless of the adversities that are thrown at them, Filipinos are able to overcome the adversity and continue to flourish. It is part of the Pinoy spirit and I am certain we'll find many contestants to participate in this search for the toughest Pinoy."
Following the launch, KIX will deploy "Tough Troopers" around Metro Manila in search for men and women to compete in this challenge. The competition is open to all Philippines residents aged 18 years old and above. To join the contest, entrants must first apply online at www.kix-tv.com/tough. Shortlisted participants will be invited for a closed-door audition on August 16. The audition will determine 10 finalists who will compete in a final showdown at SM Megamall on September 5.
Continue reading below ↓
Recommended Videos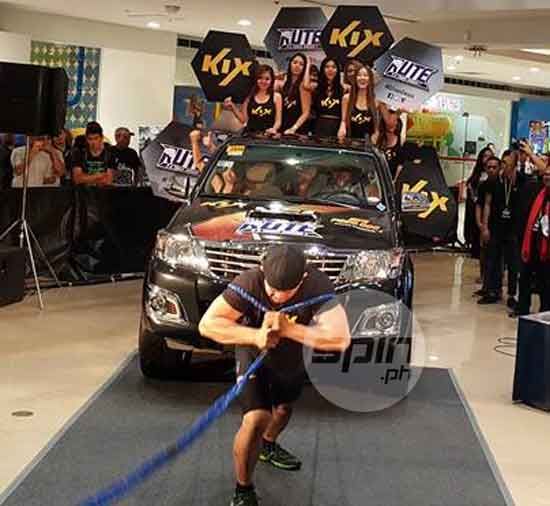 The final showdown is an obstacle course with challenges that will test each contestant both physically and mentally. Out of the 10 finalists, only one man or woman will walk away with the title of "The Toughest Pinoy" and the grand prize of P250,000.
Asked by host Aaron Atayde what makes a Filipino tough, Matsunaga answered, "Filipino ako sa puso… I have more Filipino friends than I do Brazilian friends and what I found most amazing about the Filipino people is that they have this strong heart. Despite all the calamities that happen to the country — the typhoons and everything — they are able to reconstruct everything, especially those who don't have anything anymore, they are happy. They have this power in their heart to be a better person."
KIX , a Hong Kong-based action channel that showcases MMA (mixed martial arts) fight events, action movies, and action series, first started RUTE in Malaysia last year and proved to be a success for the brand which followed it up with a second and tougher challenge in 2015. With the success of the competition in Malaysia, KIX decided to launch it in the Philippines.