ACTION and sports channel KIX will soon be searching for the 'toughest Filipino' in its new show.
The Hong Kong-based action entertainment channel will be mounting an original production in early 2015 called "Are You Tough Enough?"
The concept started off as a contest in Malaysia, and after positive media and consumer response, will now be turned into an original production in various countries including the Philippines.
The new reality show is in line with KIX's partnership with advertising sales representative Butty Media in a bid to further expand the channel's reach in the Philippine market.
Celestial Tiger Entertainment said its new partnership is part of its efforts to drive advertising revenue for KIX in the Philippines as it aims to be 'the ultimate destination for action entertainment in Asia.'
"We are very optimistic with this new partnership. Butty Media's local expertise and strong network in the industry, together with KIX's excellent lineup of action programs catering to a targeted audience, will make an excellent platform for Filipino brand and media managers. We are very excited about our upcoming plans, especially the launch of our first original production in the Philippines," said Nadia Hwang, vice president of advertising sales of Celestial Tiger Entertainment.
Continue reading below ↓
Recommended Videos
Butty Media's chairman, Luigi Nunez, said he is also excited with the new joint venture.
"We are thrilled to be partnering up with KIX. The channel has lined up an exciting slate of kick-ass programs, original productions and on ground events that will engage the testosterone-seeking market and give them a unique action-packed experience. We look forward to working with KIX to provide a great platform for brand managers in the Philippines."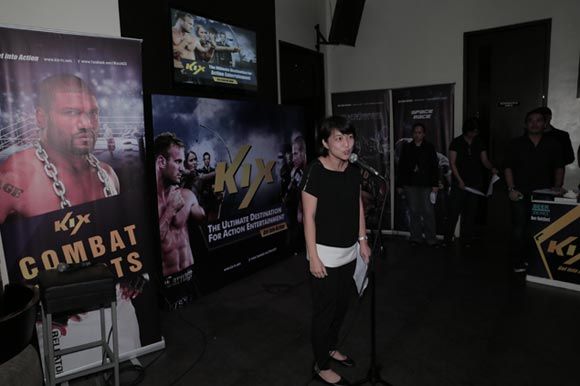 During its media event at the Bonifacio Global City, KIX guests were treated to a night of food and drinks, action-inspired contests and topped with a raffle of several prizes that included a Samsung LED widescreen TV and an iPhone 6.
Launched in the Philippines in 2011, KIX expanded its reach this year by adding Cignal to its growing list of Filipino pay TV carriers.
KIX has also fine-tuned its programming to better cater to Filipino action junkies. Its upcoming programs include combat sports/MMA events such as Bellator Fighting Championships, World Series of Fighting (WSOF), and the premier global kickboxing league, the Glory World Series (GWS). Special fights will be carried 24 to 48 hours after the event takes place in the US.
For action movie lovers, KIX also offers dedicated primetime movie programming which includes classic and new action movies from around the world. Blockbuster franchises coming up include the entire Indiana Jones series, the Rocky series and the Transformers trilogy. And for TV series, KIX will be bringing new seasons of Top Gear Korea.

KIX can be seen on SkyCable (Ch. 63), Cignal (Ch. 122), Cablelink (Ch. 220), and Destiny Cable (Ch. 10).