For quite a while, DC and Batman fans in particular, have been waiting for a glimpse of what The Hangover director, Todd Phillips' Joker would look and feel like. We were teased around seven months ago with the first look at the unsettling take of Joaquin Phoenix as the Clown Prince of Crime.
Then we got showered with various behind-the-scenes photos.
Continue reading below ↓
Recommended Videos
And then, the big announcement came with the official poster for the Joker, with Phillips telling fans to wait for the teaser trailer the next day.
Now, it's finally here, and we understand that even the most loyal of DC and Joker fans can be torn about the trailer that had come out. But that's just because people are not used to seeing this iconic character in any other form. Well, until now. Todd Phillips had already explained before that this will be a "character study" of sorts more than an actual superhero/supervillain movie.
If you haven't seen it yet, here's the full trailer of the Joker:
Now, there are a ton of things we spotted on this phenomenal (and promising) trailer, but we've narrowed the important ones down to 10, so strap in and get ready for a trailer breakdown.
Joker is talking to a Kane?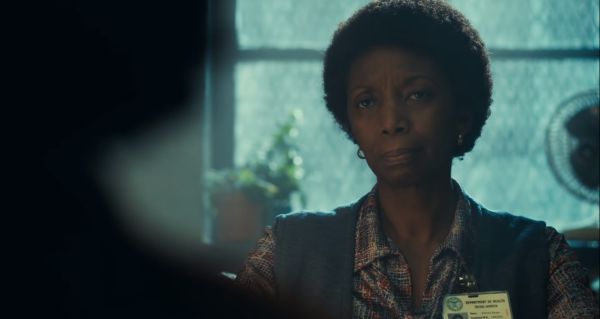 We open with a scene where a social worker from Gotham's Department of Health is asking our protagonist, Arthur Fleck, if "talking to someone" would help him. That someone, we assume, would be a therapist, and that could mean we'll spot a cutesy little blonde lady by the name of Harley Quinn back in her Dr. Harleen Quinzel days. Fingers crossed.
Other than that, keen-eyed viewers would've spotted that the social worker's name is Debra Kane. That could almost be a direct reference to Bob Kane, who along with Bill Finger, is credited with creating the Batman. And yes, Bob did have a daughter named—you guessed it—Deborah.
The world's (other) greatest detective
Next, we see Arthur walking down a garbage bag-ridden sidewalk. But what you need to keep an eye on is the closest neon sign to him, which reads "Holmes Pharmacy." It may be pointed to instantly as a nod to Sir Arthur Conan Doyle's Sherlock Holmes, an omni-present figure in the lore of the Dark Knight himself.
To be the Joker, you need jokes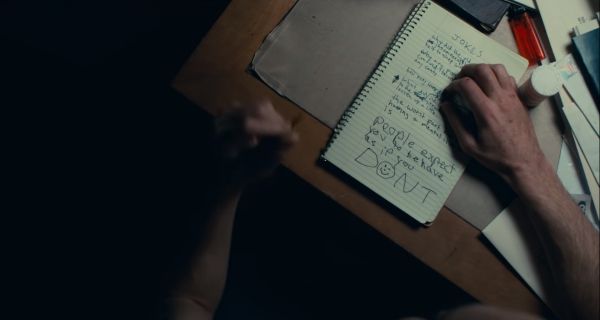 In his room, a shirtless Joaquin Phoenix gets busy with his pen and paper, writing a series of "jokes" that we assume is for his stand-up gig for that evening. More on that later. What we need to focus on is the stuff he's actually written. They actually give an insight into Arthur's sense of humor as well as his state of mind. "Why are poor people so confused? They don't have any cents."
Then there is his final joke, which appears to be his most heavily favored, written larger than the others: "The worst part of having a mental illness is people expect you to behave as if you don't." No one's laughing, is there? That's a message worth dissecting and considering in the mind of every viewer, but for now, we'll simply take it at face value, and assume that Arthur is mentally ill, and he knows it. And more importantly, he is struggling to make his life work in the face of it.
His mother is dying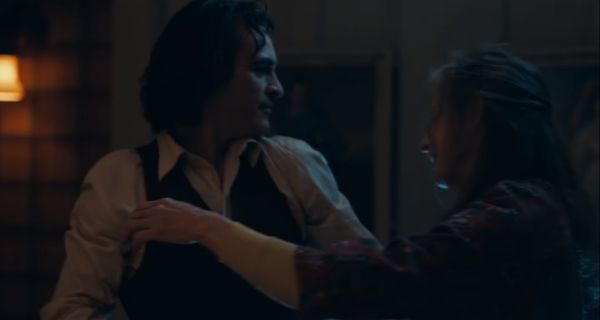 Earlier in the trailer, we see Arthur giving his mom a bath, and then there's this part where he's dancing with her in the living room. All we can see from these is that she might not last very long. That's why they're enjoying the last moments they have together as mother and son. We also see that there's no other part of the trailer that Arthur was happier than in these scenes.
It really feels like a heartwarming plot in a story of a madman. But fans can rejoice in the fact that Arthur's mother is his last tether to sanity, and when she (spoiler!) eventually dies, that's what will shift the movie from Arthur's story to Joker's.
Zazie's Sophie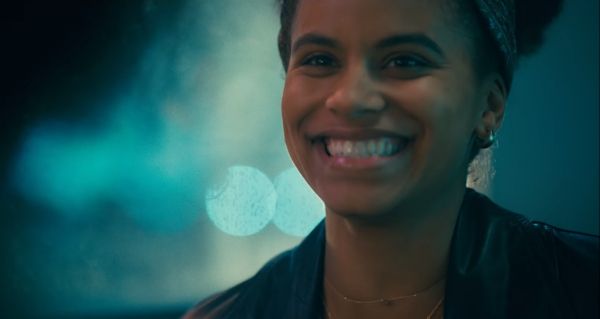 While the trailer doesn't give in detail just how broken and evil Arthur will become as he transforms into the Joker, we do know that there's one citizen of Gotham that will shape his journey into becoming the Jester of Genocide. That honor goes to Sophie Dumond, played by Deadpool 2 and Atlanta actress, Zazie Beetz.
Sophie was originally described as a single mother trying to make ends meet in Gotham, the most likely embodiment of Gotham's injustice, where the working people of the city are struggling (and suffering) while the city's wealthiest have turned their backs. Arthur seems genuinely charmed by Sophie's laughter, so if his social life is as strained as it would seem, Sophie's opinion of Gotham's power structure could be incredibly influential on Arthur as he makes his mission against the aristocracy a reality.
Charlie Chaplin screening at Wayne Hall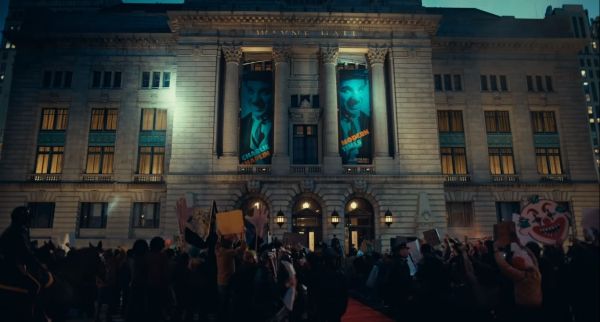 So, we get the confirmation that this movie happens around the late '60s or early '70s. It looks like there's a screening for a Charlie Chaplin movie called Modern Times. The more you are familiar with Chaplin's work and life, the more this shot significantly affects you.
Though he was a pioneer of cinema comedy, there was an obvious underlying melancholy to Chaplin due to his difficult upbringing. An absentee father, and a mother who was committed to an asylum. Do you see where this is going? Add to that the fact that Chaplin would rule cinema behind a pale-faced clownish persona, and you got yourself an almost direct inspiration from which this movie's story is based on.
Arthur's ties with the Waynes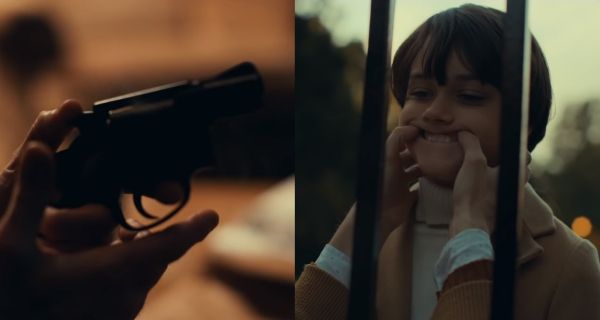 Soon we see this image of (presumably) Arthur holding a gun with a voice coming from the TV speaking about someone doing something "cold-blooded" while hiding "behind a mask". That voice is actually Thomas Wayne, Bruce's father. As soon as that statement ends, we see Arthur in his clown makeup throw a clown mask into a trashcan in the subway.
Next, we see Arthur poking around outside what seems to be a manor of a rich family in Gotham. Then we see him forcing his fingers on the corners of a child's face to make him smile. Is it safe to assume that this is Bruce Wayne? Right now, we're inclined to say "yes."
The Killing Joke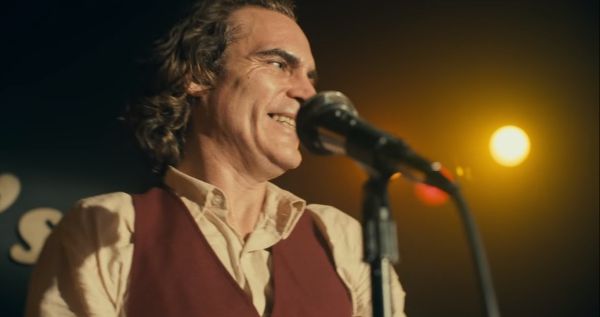 Remember the jokes he wrote from earlier in the trailer, we safely assumed that he's bound for a career in stand-up comedy. And we were right. But where this comes from is from Alan Moore's "The Killing Joke," where it tells the origins of the Joker until he became Batman's archenemy. Soon enough, we might even see Arthur Fleck get booed and laughed off the stage and humiliated to the point where he spirals out of control. Or not…
The King of Comedy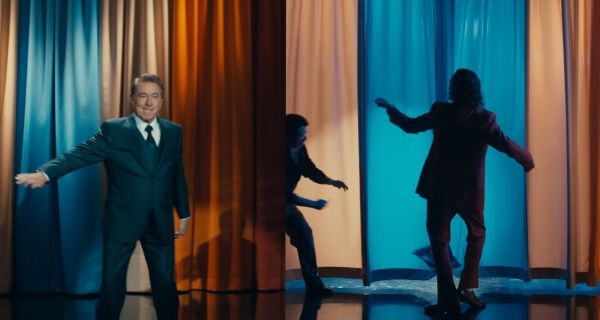 When the first reports began to describe the Joker movie as a tale of an unhinged, aspiring comedian's rise to ludicrous levels of insanity and fantasy, it made perfect sense for director Martin Scorsese to be on board as producer. After all, that basic premise describes Scorcese's own (criminally underrated) film, The King of Comedy, where Robert De Niro starred as Rupert Pupkin, a struggling comedian who fantasizes about—we kid you not—becoming a late night comedy legend.
It's still not clear if Robert De Niro will be reprising that role, but to see him as an actual late night host opposite the debuting Joker just makes our hearts HAPPY.
The tragic hero?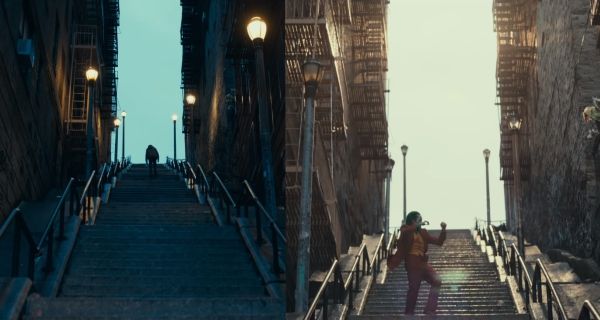 Aristotle defined a tragic hero as a flawed character (almost always the protagonist) that evokes the sympathy of an audience. Then, because of his flaws and errors in judgment, it leads him down a path of his own destruction. But in this case, we see two separate shots in the trailer: First, Arthur is ascending a tall set of stairs to reach his home at the end of the day, with the sun setting before him. This perfectly captures the world wearing him down one step at a time. We pair that with the final shots of the trailer as Art—no, Joker— descends the stairs newly bathed in morning sunlight, dancing every step of the way. Heroes rise. When they fall, it's pretty tragic. But in the case of the Joker, doing the opposite with a grin on his face feels oddly perfect. It really feels like his descent (to madness) is what puts a smile on his face.