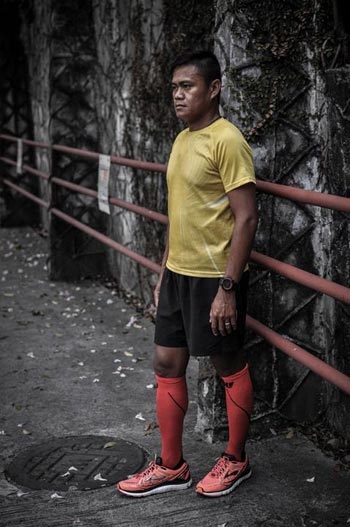 FOR Jerry Segarino to run from Batanes to Sulu in a span of 45 days, he will need to cover a distance of 81 kilometers on a daily basis.
Segarino, a 37-year old security officer who provides close-in protection for VIPs, will embark on his Megamarathon run on June 12 - Independence Day.
The last person to accomplish this feat was Cesar Guarin in 1983. The acknowledged Father of Ultramarathon in the Philippines covered the 2,300 kilometer distance from Zamboanga City to Baguio in 37 days in his Trans Filipinas run.
When Segarino's wife asked him what was he thinking when he decided on a run across the country, he merely said "Gusto kong tumulong. E wala, dito ang kahiligan kong tumakbo e."
Having completed his first ultramarathon in 2012, Segarino said he is dedicating his run to the country's street children.
"I was born into a poor family and I know how hard it can be for kids," said the native of Tabango, Leyte and eldest of seven siblings who used to haul sugarcane to help his family.
In 2012, the former Philippine Marine ran his first ultramarathon, a three-day run from Quezon City to Baguio. The experience encouraged him to run even further. He followed this up the following year with a Quezon City to Laoag City run that took him six days to cover the 490 km. distance.
Continue reading below ↓
Recommended Videos
Wishing to become the second person to accomplish what his idol did, Segarino said he sought Guarin, who is currently on a solo run to become the fourth person to run 42,000 kilometers around the world, for advice.
"I went to the airport to see him before he left for Bahrain for his Global Run. I introduced myself as a fan. When he arrived, I shook his hand and I told him how he has inspired me to become an ultramarathon runner and I told him how I also want to join him run in different countries."
The man known as the Filipino Global Runner graciously welcomed Segarino in his future runs but advised the former Marine that before he does he should discover his own homeland first.
Wanting to rid of bad habits such as drinking and smoking, Segarino said he decided to take up running as an effort to change into a healthier lifestyle.
A former athlete who took part in the Palarong Pambansa when he was a child, Segarino rediscovered the joy of running the more he took to the road.
"I used to be afraid of running in the rain and the friend who invited me to run joked I was like a goat that's afraid of water and that would prevent me from being a runner," he said in Filipino.
His first race was a 10K in Marikina City in 2005. Emboldened, he started training and then joined the adidas King of the Road race, another 10K race.
As part of his Megamarathon leg, Segarino will host a 21k fun run at the Quezon City Circle when he reaches Metro Manila on June 25.
Getting support from fellow runners and private individuals for his endeavor, Segarino and his dream has gotten the attention of SRI, the company that markets US-based Brooks footwear in the Philippines.
As part of its support, Brooks has provided Segarino with 10 pairs of running shoes for his run across the archipelago.
Also providing valuable assistance is Guarin's own running consultant, Jun Maliksi, who has provided the maps, schedules and logistical plans for Segarino's run across the country.
When asked what he likes the most in being an ultra runner, Segarino smiled and said, "I enjoy myself when I get to see the places in the provinces during my runs. You know, the first time I was able to visit Baguio was because of running."
With this latest run, he will get to enjoy a lot more.