THE Sneaker Wars has just heated up with adidas announcing that NBA James Harden has joined its stable of endorsers, reportedly for US$200 million over 13 years.
Rumors that the bearded Houston Rockets star was leaving Nike have been floated for weeks, and finally confirmed by a tweet from adidas on Friday.
Sources said Nike decided not to match adidas' offer.
Harden's 13-year deal is reportedly larger than the $185M Derrick Rose signed with the German apparel firm in 2012.
What's ironic is adidas will receive extra cash after the reported departure of Harden's Houston teammate Dwight Howard from its lineup.
It is expected that Harden, who wore several shoe models with Nike, might finally get his own signature shoe with the German brand.
Even with Harden jumping the proverbial fence, Nike still has an impressive roster with LeBron James, Kobe Bryant, Kevin Durant and Air Jordan brand athletes Carmelo Anthony, Chris Paul, Blake Griffin, Kawhi Leonard, and Russell Westbrook, who incidentally beat Harden for last year's scoring title.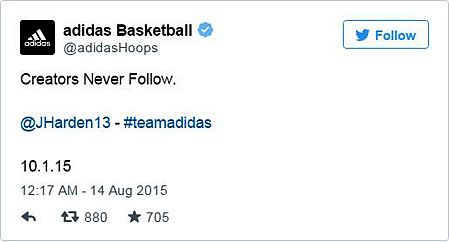 Continue reading below ↓
Recommended Videos
With Harden's signing, the sweet-shooting guard will likely supplant the oft-injured Rose as the flagship endorser for adidas which encountered difficulty in marketing Rose's shoes in his lengthy absence on the court. There are also rising stars John Wall, Damian Lillard and former No.1 pick Andrew Wiggins.
With Harden and his beard, adidas hopes to tear of a chunk of Nike's sizable hold on the basketball shoe market. Despite the best marketing efforts, a lot hangs on his performance plus the design of his shoe to make things happen.
Harden-Adidas partnership super official pic.twitter.com/NlWEouz5Fi

— Zach Harper (@talkhoops) August 13, 2015