COACH Yeng Guiao made the right decision to delay the announcement of the official Gilas Pilipinas lineup for the 2019 Fiba Basketball World Cup.
As soon as the names of the Final 12 were revealed on Sunday, the all-knowing hoops analysts of Twitterverse quickly dished out their hot takes:
Continue reading below ↓
Recommended Videos
Perhaps the way this revamped squad was put together and the new faces headlining it stir doubt among the usually supportive local basketball aficionados. After being honored with the 2014 World Cup Most Valuable Fan (MVF) Best Country Award, Pinoys are now turning against this latest Fiba lineup of Gilas and already counting them out before the games even start.
Upon closer inspection, though, one could make the case that this recent collection of talent is the best chance we have at keeping up with our loaded foreign rivals' modern style of play and actually shocking the basketball world with a couple of wins.
First crack at foreign hoops
A series of tuneup games and a pocket tournament served as acid tests for this speedier version of Gilas versus bigger foes. These matches saw some of the national team pool members go down with injuries and solidify their places in the final list.
They may have failed to go up against the best available opposition in Spain's Marc Gasol and Ricky Rubio after losing the first game of the mini-tourney, but the mixed results still managed to highlight Andray Blatche's all-around dominance, the team's strong young guard play, and the stabilizing presence of their veteran leaders.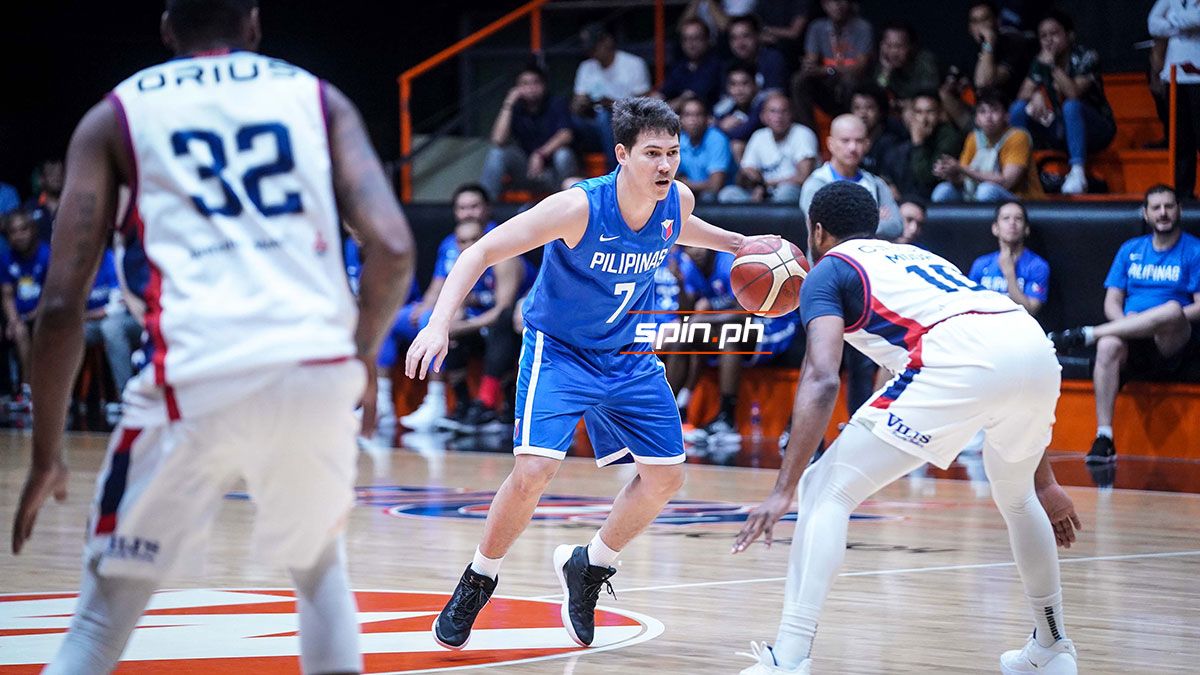 One thing's for sure: Robert Bolick, 23 years old, CJ Perez, 25, and Kiefer Ravena, 25, didn't look like boys among men. Bolick, Fiba's top prospect in Group D, and Perez conspired with Blatche to turn back No. 62 Ivory Coast twice and split their series with 82nd-ranked Congo and the Adelaide 36ers, while Ravena had a solid comeback in the last exhibition.
The respective losses to Congo and Adelaide underscored the importance of three-point shooting and execution for the relatively undersized and inexperienced squad. For the same reason, the steadying force of World Cup returnees Japeth Aguilar, Paul Lee, Gabe Norwood, and June Mar Fajardo will also be heavily relied upon.

Look back at last time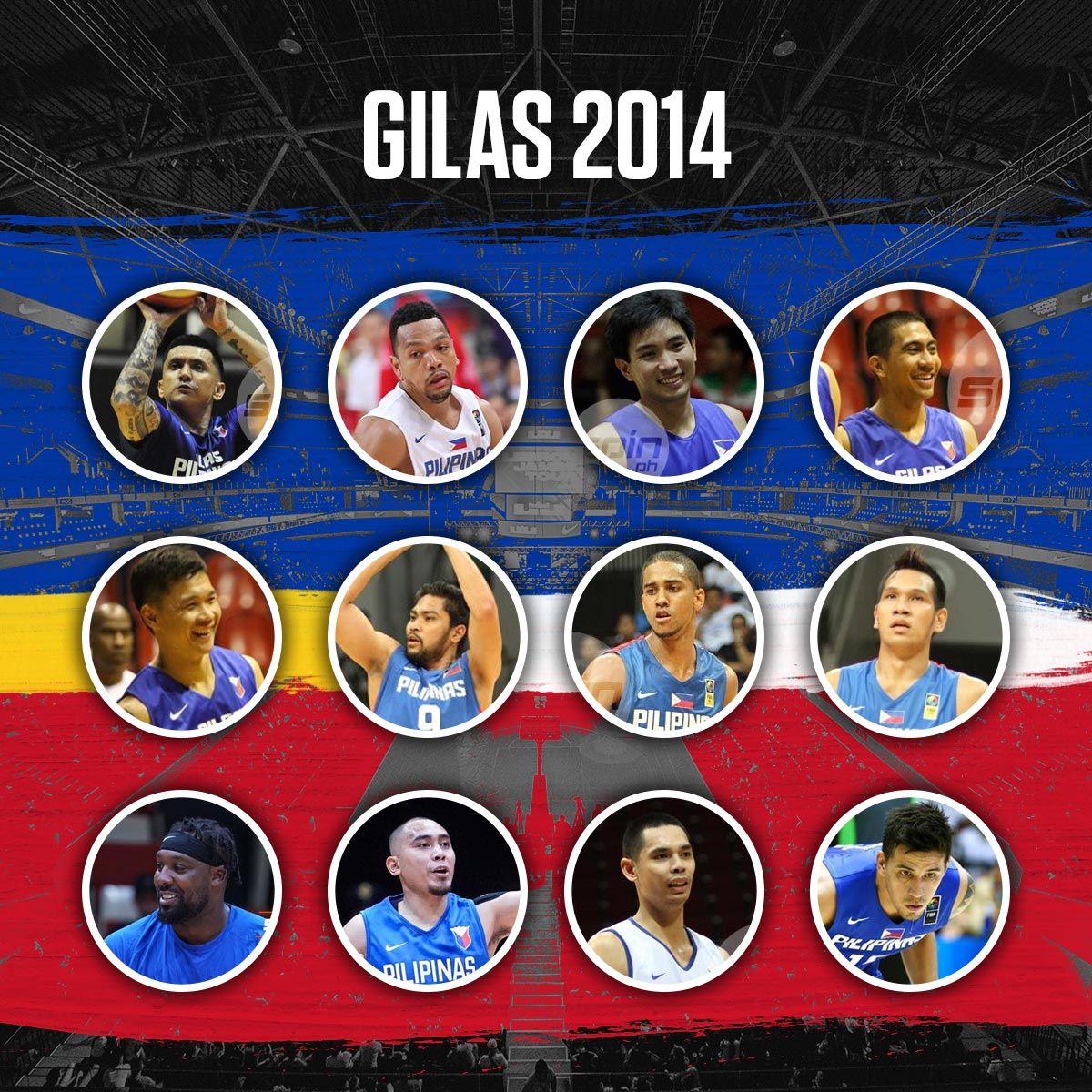 The current cream of the crop couldn't help but be compared to the last iteration of Gilas to qualify for the Fiba Basketball World Cup in 2014. The Chot Reyes-led team only won against Senegal yet came close to beating Croatia, Argentina, and Puerto Rico.
While the group from five years ago might look taller at first, the two teams actually have the similar average height of 6'4", according to fiba.basketball. This isn't really surprising considering that their three most towering players — Blatche (6'11"), June Mar Fajardo (6'10"), Aguilar (6'9") — are basically holdovers from 2014.
Raymond Almazan and Troy Rosario, who are both 6'7", essentially replaced a pair of 6'6" forwards in Marc Pingris and Ranidel de Ocampo. Almazan, 30, and Rosario, 27, somewhat mirror the defensive intensity of Pingris and De Ocampo's stretch-four ability, respectively, but they're also a bit on the younger side. Their predecessors were both 32 in 2014.
The most significant difference lies in their new-look backcourt.
Ravena and Lee have huge shoes to fill, particularly those of the legendary Jimmy Alapag and Jayson Castro. Bolick and Perez have yet to get their feet wet in international competition, so it would be interesting to see how CYG divvies up the minutes.
Get out of Group D
A pair of victories in the Serbia-dominated Group D can secure Gilas a Top 2 finish and a spot in the quarterfinals. Advancing to the next round, especially getting that second W, won't come easy, though.
Despite being pegged as the group's underdogs, the Angolans are 11-time African champions and ranked 39th for a reason. Four World Cup debutants join five-time participant Eduardo Mingas, 40, as the best team in the continent tries to score an upset over its more favored counterparts, including a hastily assembled and 31st-ranked Gilas squad.
Based on Angola's performance during the African Qualifiers, centers Yanick Moreira (6'9") and Valdelicio Joaquim (6'10") will try to assert their dominance in the paint. When Blatche parks in the perimeter, it will be up to Aguilar and Fajardo, as well Almazan and Rosario, to position themselves for box-outs and prevent second-chance points.
Gilas' first game against Italy is also its most important. The nationals have proven in the past that they could stand toe to toe with NBA talents, sharing the court with Group B's Bojan Bogdanovic and Dario Saric of Croatia, Luis Scola and Pablo Prigioni of Argentina, JJ Barea of Puerto Rico, Gorgui Dieng of Senegal, and even Giannis Antetokounmpo of Greece in 2014.
This time around, the 13th-ranked Squadra Azzurra will be led Marco Belinelli and Danilo Gallinari, Both NBA vets sum up the Italian brand of hoops, which focuses on mobile, playmaking bigs and running gunners. What Gilas needs to do is keep Beli and Gallo in check, then neutralize the rest of the European star players, particularly Luigi Datome, Amedeo Della Valle, and Awudu Abass.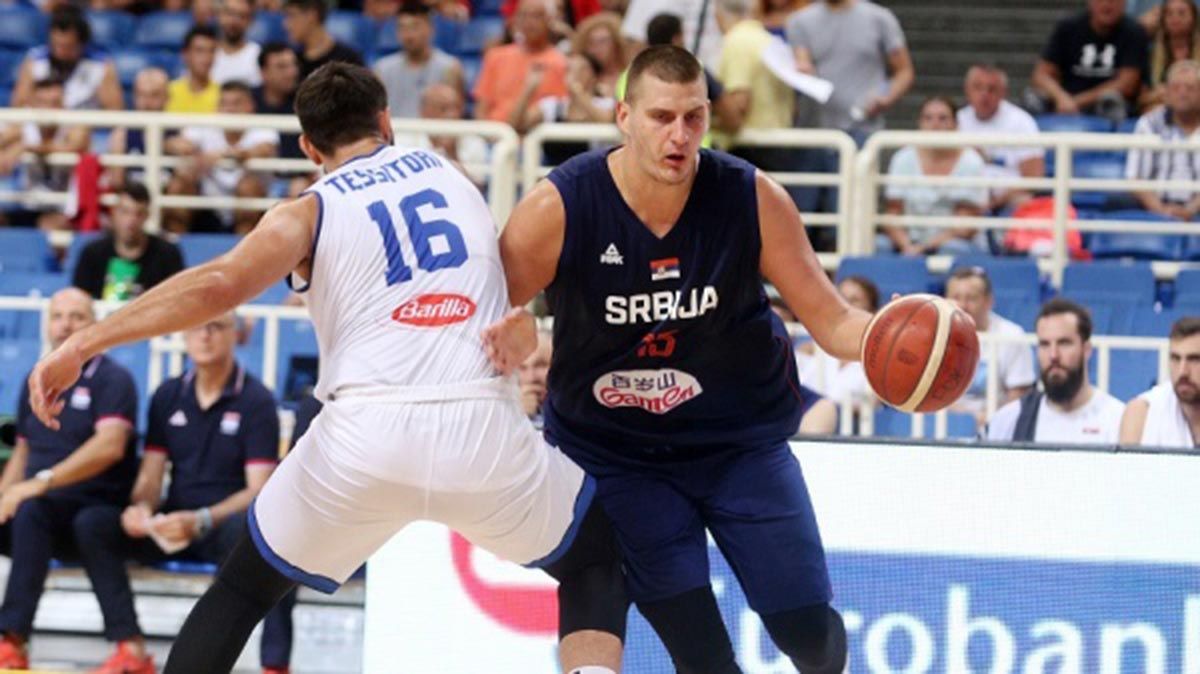 Bannered by legit pros Nikola Jokic, Bogdan Bogdanovic, Nemanja Beljica, and Boban Marjanovic, Serbia poses the biggest threat not only to their group but also the rest of the world. This is what you get when you combine the best qualities of euro ball — crisp passing, imposing giants, sweet shooting, athletic guards — and put them on steroids.
A perfect outing isn't enough to topple the Orlovi powerhouse, which means Gilas has to do everything to try and throw the Serbians off their game. Whether it's gang rebounding versus four seven-footers and closing out on those long Serbian snipers, they have to make playing basketball hard for Jokic and Co. if Gilas wants a shot at the biggest upset in recent Fiba World Cup memory.