THE past few years has seen the sport of triathlon's rapid growth in the Philippines, drawing several high-profile races to the archipelago with Sunrise Events Inc. at the forefront.
Led by one of the pioneers of the sport in the country, Wilfred Uytengsu, Sunrise Events has successfully staged popular triathlon races in Philippine shores, with Ironman-branded events starting in 2009 with the annual 5150 and 70.3 triathlons bannered by major corporate sponsors that include Century Tuna, Regent, Safeguard and Cobra Energy Drink. They even organized the inaugural Ironman 70.3 Vietnam last year.
Which begs the question that SPIN.ph asked during the media event of the recent Regent 5150 in Subic Bay Freeport: When will the Philippines host a full Ironman race?
The 53-year-old Uytengsu, who is also the Alaska Milk Corp. CEO and president, had a quick response, saying he has long been deliberating about the possibility of bringing in the biggest triathlon event for quite some time.
ADVERTISEMENT - CONTINUE READING BELOW ↓
"I have been asked that question a lot of times and it would be great pride, not only to Sunrise but to the Philippines, to be able to hold the full Ironman distance," said Uytengsu.
But he was also the first to admit that it would entail a lot of work, beginning with the search for an ideal location for the race.
"We need to find the right infrastructure to be able to do that. I want to honor the sport... We need to have a good set of roads that are going to be able to do that," Uytengsu said.
For the uninitiated, a full Ironman distance is composed of a 3.86 kilometer swim, a 180.25km bike and a run equivalent to a full marathon (42.2km) which translated to miles is termed a 140.6 race. A 5150, on the other hand, is a 1.5km swim, 40Km bike, 10Km run course.
ADVERTISEMENT - CONTINUE READING BELOW ↓
With a new administration taking over, one that's reportedly keen in supporting sports, Uytengsu is optimistic that the full Ironman can finally come to the Philippines soon. But he has one more wish, aside from a capable infrastructure, when the time comes.
"Now, whether President Duterte makes good on his maverick ways, we will see. But we will do a race when we have the infrastructure and I think when we have the athlete population to race full distance. When we do that, I would like to see at least 50 percent of the starting line be Filipinos."
That doesn't figure to be a major problem, according to Kim Atienza.
The celebrity weatherman and TV host, one of the most popular triathletes in the country and a regular in all the big races, echoed Uytengsu's sentiments and is equally confident that the full Ironman long dreamt of by local triathletes is close to becoming reality.
ADVERTISEMENT - CONTINUE READING BELOW ↓
"When the (triathlon) races started a few years ago hindi marami ang sumasali, 200-300 lang. Now we have thousands (joining races). In Cebu, we had 3,000," said 'Kuya Kim' who started doing triathlon in 2010 after he suffered a stroke that precipitated a lifestyle change and entry into the multi-sport lifestyle.
"It's inevitable. The number of people who are ready already for a full Ironman because of the number of years that triathlon has been here is quite big. And instead of them going abroad (to places such as Hawaii or Australia), eventually we could have it here. We have the infrastructure for it in Subic or Cebu," added Atienza.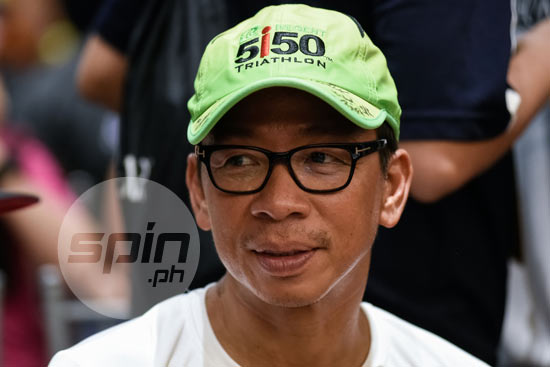 ADVERTISEMENT - CONTINUE READING BELOW ↓
But the Kapamilya star also emphasized other concerns that come in play for a full Ironman aside from the hotel infrastructure that would house both local and international participants who would surely be drawn to the new event.
"You can do it anywhere in the Philippines, there's Palawan, El Nido, Bohol, but will the municipality be able to take in all of the participants from all over the world? When you say 'Ironman,' it's a franchise [where people] fly in from all over the world because they know it's a good race. May number ba ng hotels? Yung magkagulo ang traffic?" said Atienza
"Ang may kaya lang yan [so far] Cebu and Subic," he noted.
Atienza, however, is not worried about drawing adequate number of triathletes as he sees their numbers will only continue to grow, more so when the country finally stages a full Ironman.
"First of all, its aspirational. We see these professionals coming to the Philippines. And triathlon is such a big movement all over the world and they know of it and to realize for these pros to come to the country and rub elbows with local triathletes. They're stars. In Cebu, the pros are hobnobbing with each other and they're on a first-name basis," the dapper Kapamilya weatherman and TV host explained.
ADVERTISEMENT - CONTINUE READING BELOW ↓
"I was telling Princess (Galura, Sunrise Events Inc. general manager) and Fred for the past three years to focus on it. They assured us triathletes — if the numbers are there, then it will come," he added.