TWO types of people were going to two versions of Pico de Loro last Saturday along the Nasugbu-Ternate Highway in Cavite.
Mountaineers and weekend warriors have long associated the 'Parrot's Beak' with the mountain and its iconic, stone tower-like 'Monolith.' The public at large, especially in the coming years, will soon associate the name to the coastal community SM Land Corporation is developing on the stretch of the Hamilo Coast.
I first got the chance to climb Pico de Loro eight years ago, and with looming development set to permanently change the landscape of the Mataas na Gulod Natural Park, I decided to jump at the chance to go back, courtesy of an invite from outdoor brand Merrell for Spin.ph to take part in the outdoor brand's recently launched 'Getaway to Adventure' campaign (https://www.facebook.com/MerrellPhilippines).
Pico de Loro (664+ meters above sea level) is part of the Mt. Palay-Palay mountain range and can easily be reached even by public transport from Metro Manila. It is considered one of the most popular day hikes for beginners.
The 26 members of our party assembled at 3 a.m. at the McDonald's in El Pueblo where Precy Santos of Merrell introduced me to Joel Grande of Trail Adventours (www.trailadventours.com) who was in charge of the climb. After a quick breakfast, everyone piled into two vans that left shortly past 4 a.m.
If you managed to stay awake during the two-hour trip from Ortigas to Ternate, Cavite, you will see a gradual transition from urban development to countryside and finally to a road passing through a forest within a DENR protected area. We soon found ourselves at the DENR station near Magnetic Hill (so-called due to a 'magnetic' force that can 'pull' idle vehicles uphill).
Joel, as lead guide, gathered everyone and conducted a roll call as well as a short briefing prior to our four-hour climb to the summit. He also introduced everyone to the three other TA guides.
During the ascent, I got to know some of my companions: there was Byron, a seemingly quiet yet amiable occupational therapist with a penchant for the outdoors; Melvin, a well-traveled family man and entrepreneur who is trying to convince his family to join him in his mountain adventures; and our sweeper Mikhail 'Miks' Gomez, who fell in love with mountaineering in college and has continued the love affair as a trail guide even as he joined the corporate world.
As for the trail, the trek is not difficult for seasoned climbers but can prove quite challenging to beginners. The forest canopy was thick enough to shield us from the sun but not the intense summer heat. The surface was dotted by large rocks festooned in some parts with tree roots with thick foliage surrounding the path.
Due to the surprisingly humid conditions, I was soon sweating profusely and found myself cramping despite imbibing huge quantities of water. Miks helped by stretching my plank-stiff legs and carrying my pack up the rest of the way while Byron provided much-needed water and salt pills. Without these two fine gentlemen my story would have been limited to what I saw while lying on the ground.
Less than a hundred meters from the campsite, both my legs gave out due to severe cramps in a downhill part of the trail and I was soon struggling to walk.
My earlier target of getting from the jump off point at Magnetic Hill to the summit has been drastically reduced by several orders of magnitude. My immediate goal soon became from where I managed to stand 'to that rock' or 'to that tree' which ranged from three to five feet away. It was a trail version of baby steps that was repeated several times over. It was truly a humbling experience but also an important reminder to exercise and stay fit.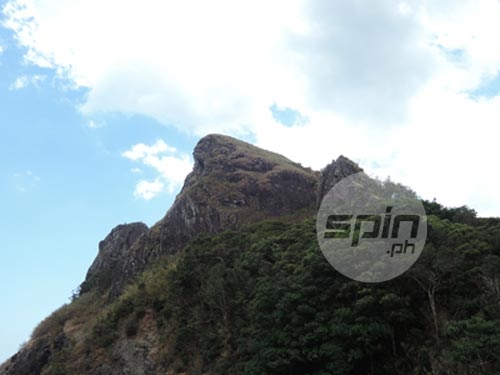 Upon arriving at the campsite, we were greeted by several bamboo groves and trees that offer much needed shade and protection from the elements. Locals have recently opened a small store that sells cold drinks (P40 for a bottle of softdrinks) and snacks.
Looming above is the imposing summit and 'the Monolith' but my condition prevented me from joining the others at the peak which was a 15-minute climb from the campsite. Fortunately, I still remember my first climb and the outstanding 360 degree view that covered a vast expanse that included Manila Bay, Corregidor and parts of Cavite, Bataan, Batangas and even Laguna.
Parking ourselves on a bamboo bench, Miks and I had a nice chat where he shared his memorable climbing experiences (otherwordly Mt. Mayon stood out) while we watched over the gear left by our group members who made the summit assault. I soon managed to recover enough to walk around and marvel at the panoramic vista and began taking photos.
After a packed lunch consisting of fastfood fried chicken, I soon heard Joel informing the group we would be descending in a few minutes.
Using a race as an analogy, climbing a mountain actually has two finish lines - the assault on the summit and the trip back to civilization, and the latter always takes greater precedence. The lack of exercise took its toll and I had to gingerly watch every step on my sore legs. In lieu of a walking pole, a wooden branch provided by Miks greatly aided me in maintaining balance and Gandalf's 'You cannot pass!' impersonation, to the amusement of my companions.
It was a test of patience and every stride was made with grat effort but pretty soon we were able to get back to the DENR station in one piece. I celebrated with Byron whose daylong wish of eating halo-halo was granted by a nearby store (he was so happy he had two orders).
After everyone freshened up, our group decided to celebrate the climb by having dinner at Leslie's in Noveleta where we compared notes of our adventures, misadventures and future plans for more.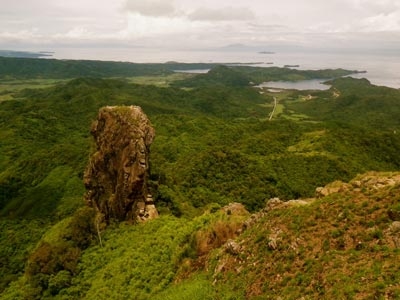 Here are some takeaways from the climb:
Climbing is a great way to bond. As with previous experience, we went up the mountain as strangers but came down as friends. A few hours after the trip we already had a private page on Facebook with members planning the next out of town trip!
Never take H2O granted. After one experiences thirst on the mountain, you will never look at water the same way again. If you are prone to leg cramps make sure you drink lots of water. Gatorade and bananas also help.
Shoes can make a difference. Several members of our group were first timers and made the mistake of wearing footwear that was ill-suited for the unforgiving terrain - many a pair of running shoes met their demise that day. Fortunately, the Merrell Moab hiking shoes stood up to the rigors of the trail and kept me stable despite my 'old man legs'.
The mountain will not only test physical fitness but also mental strength. Several times we encountered groups along the trail whose members were on the verge of giving up. Our group was no exception and it was only through the encouragement and efforts of our guides and fellow climbers we got to the top.
"Good Morning/Afternoon po." In the mountaineering community, courtesy is a necessity on the trail where people overtaking others will ask permission first (by doing so, you can differentiate newbies from veterans). It's ironic that there is more civility in the mountains than the cities and the digital world. If only we could practice this "taga-bundok" trait more often, the world would be a far better place. You want to meet nice and polite people? Join a climb!
Why do people climb mountains? I don't precisely know how to describe it but reaching the summit is like drinking an elixir that makes the aches and pains suddenly disappear. You simply have to experience it.
Recommended Videos