AT first sight, you would think Christian Albert Gacias simply got lost and strayed into the Clark International Speedway by mistake.
With the heft and size normally seen from American football linebackers, the cyclist in a black shirt printed 'SHUT UP LEGS' and the cheery disposition was an inspiring sight as he completed his first duathlon in the Santo Barley Domination.
SPIN.ph caught up with the 27-year-old electrical engineer from Quezon City shortly after he finished the 4-kilometer run, 40-K bike and 4-K run event and asked where he got the courage to compete in the grueling race.
"First is, I want to get fit. I tried running but minsan hindi natin maiwasan, napapakain tayo, napapainom. We have to change our lifestyle. Minsan pag run lang, nabo-bored ako so sumali ako sa multi-sport," he said.
Gacias had been taking part in fun runs for about a year now (his last run was a 10K at the recent Condura Skyway Marathon) before deciding to take up cycling as part of an active lifestyle he adopted in the fourth week of October 2014.
Initially opting for a Japanese bike for fitness and to strengthen his left knee that was operated on for a torn anterior cruciate ligament (ACL), Gacias got more than he bargained for.
Continue reading below ↓
Recommended Videos
Soon enough, he was hooked on the two-wheeled machine.
"Masaya! I'm having fun, meeting new friends — yung mga cyclists natin sa Philippines very friendly sila. They'll greet you, 'Good Morning!' every time makasalubong mo sila," he said.
Gacias, who regularly bikes at Nuvali, said he looks forward to improving his time as he laid down plans to join a triathlon this year.
"Actually this March I'll be joining Tri-United 1 where I registered. If I get bored running, I can try swimming and biking to make things exciting," he explained.
At this stage, Gacias said he wants to improve on his swimming strokes which he describes as "basic" in preparation for his foray into triathlon.
"Para maging competitive ng kaunti!" he said with a laugh.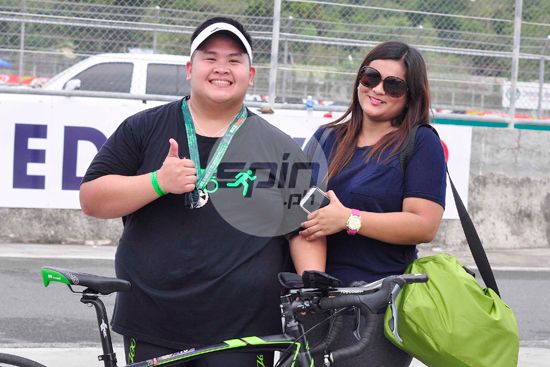 Gacias said he decided to do adopt a more active lifestyle "on my own," not wanting to wait for a doctor to tell him to exercise.
People, according to him, would usually be surprised when they see him training, "'Yung iba hindi sila makapaniwala kasi malaki ako!"
The newbie cyclists' efforts are paying off. He has lost 10 pounds since last month from his peak weight of 280 lbs. His target is to return to 180 lbs.
"Everytime I race isa lang iniisip ko, I want to run - I want to prove to everybody na maging inspiration sa kanila na wala naman sa body weight or age 'yan e."
His support, he says, comes from like-minded friends who helped him get started, as well as his family.
"Pero tinatago lang natin ang gastos kasi medyo mahal kung minsan," he joked, adding it was a pretty good investment especially when it comes to one's health.
Gacias said he is inspired to see cyclists in their 60s who don't require maintenance.
"Gusto ko din makasabay sa kanila. Minsan sila malakas pa, ako catching up so at least nandyan sila at tutulungan nila ako."
Last Sunday in Pampanga, his girlfriend was also there cheering him on as he approached the finish line.
"Everytime I see the finish line I want to finish strong kasi that's the time makikita ka ng mga tao na patapos na may energy ka pa!" Gacias said.