AFTER representing the country as a national team player, Chris Tiu is taking the daunting task of Organizing Committee Deputy Director for Volunteers Program of the 30th Southeast Asian Games.
The former PBA guard, who retired from professional basketball early this year, has been a very hands-on leader. When he's done interviewing applicants and attending meetings left and right, Tiu even helps his team clean up after programs.
He admitted that it took him a while before he got used to his new job, but after a couple of months, he is now well adjusted and is dedicated more than ever.
"Naninibago ako. It's a totally new arena for me," he said during the SEA Games Volunteer Program Cluster Launch at the ASEAN Convention Center in Clark on Friday. "For the longest time, I've always been an athlete — competing in the court, in rubber shoes, in uniform, for the country in multi-sporting events. I think I also participated in two SEA Games and two Asian Games, but now I'm wearing a different hat and it's been fun."
One of Tiu's first tasks as Volunteers Program lead was to mobilize 9,000 volunteers to assist in the different areas of the biennial meet, namely accreditation, cater services and food, security, and IT department, as well as at the athlete's village, medical doping, and media broadcasting, among others.
He recalled, "I was like, '9,000 is a huge number, it's a really daunting task.' At first, I was a bit worried that we might not hit that target, but when we launched the recruitment program, the support has been overwhelming."
As soon as they made the announcement, an overwhelming 14,000 online and 6,000 students applicants showed up, so they had to close the online application on June 30. Tiu shared that volunteers from all over the Philippines expressed interest, with some coming all the way from Marawi, Ifugao, and even Singapore to be interviewed without any assurance of being chosen.
So far, his team has conducted fact-to-face interviews for 1,500 online applicants, 750 from Manila and 750 from Subic and Clark.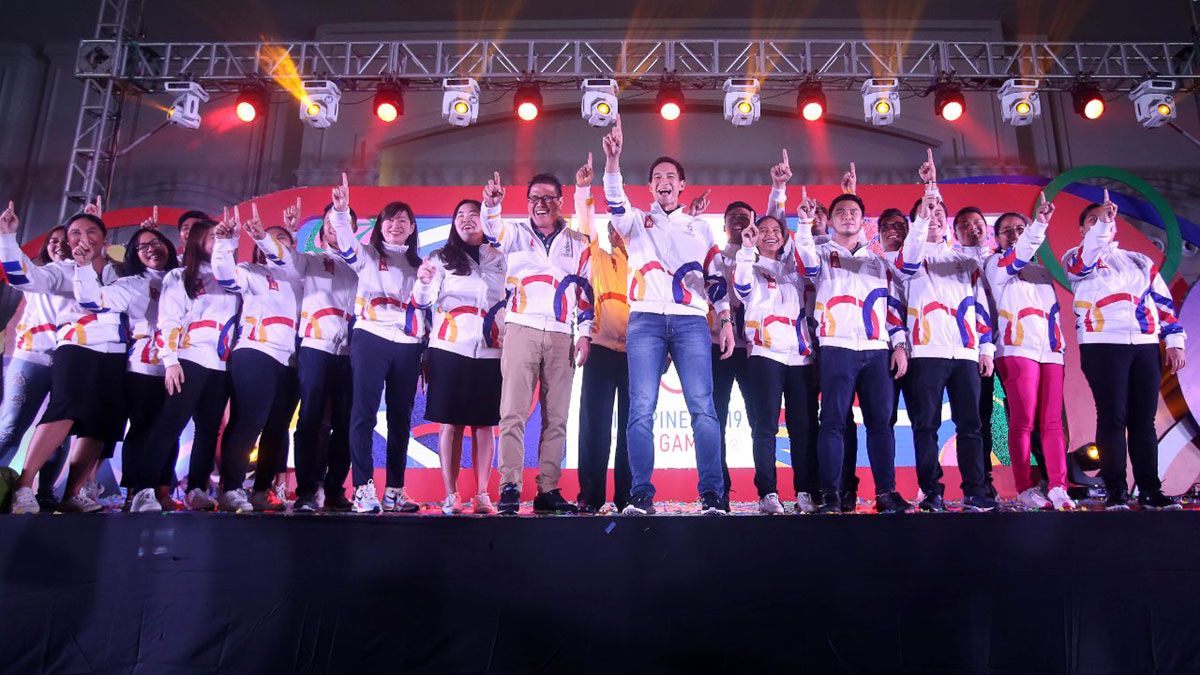 The dedication of the aspiring volunteers fueled the collective's desire to do best and serve the country in their own way. Tiu's experience as an athlete has played a major role in his new job, and he reminded his fellow volunteers of what to do and what to expect.
"Firsthand na-experience ko 'yung interaction sa mga liaison officer in multi-sporting events like this. So napakaimportante [ng volunteers] kasi sila lang ang direct contact namin sa bansa na 'yun," he said. "Kung hospitable or masungit siya, magre-reflect sa buong bansa. They will be unsung heroes. Their efforts might go unnoticed but their contributions will be very significant."
Plans for the volunteers program have already been laid out, and it's just a matter of implementation for Tiu and co. Aside from helping out in the SEA Games that will be held in Manila, Subic, Clark and other key venues from November 30 to December 10, they will also assist the subsequent Para Games.
He acknowledged their limitations and challenges, but with a hardworking team and his training as an athlete, they have been finding solutions and ways to make things work. "[I am] very hands-on. As much as possible, I know all the details. At the same time, as a leader, I allow my team — the designated managers — to also make decisions and run their department. I have a good team and I'm confident that we can deliver."
Recommended Videos