SPIN.PH resident triathlete and distance runner Bobby Go once said triathlon is one of the few sports in the world where a 50-year old man can battle a younger opponent on equal terms and win.
A few minutes before the 6:30 a.m. gun start on Dungaree Beach, SPIN.ph talked to two individuals who were part of the diverse group of 650 in the inaugural Century Tuna Ironman 70.3 Subic Pilipinas that took on the challenge of proving themselves in the fast-growing endurance sport.
It's hard to imagine a 300-lb. athlete as the best swimmer on your team but that is the role of Jon Cruz in the Tri Monkeys relay team.
The 36-year-old human resources manager took part in the 1.9 km swim course off the coast of the former Cubi Naval Air Station, his first attempt in open water.
"Actually pinaka-strongest ko ang swim kaso may goosebumps pa din e. Sana maganda yung oras para yung teammates ko sa bike and run hindi sila mainip," Cruz told SPIN while waiting for the race to begin.
In an effort to lose weight, Cruz took up biking four years ago and added running a year later. His multi-sport journey came full circle when a friend invited him to take up swimming.
Continue reading below ↓
Recommended Videos
"Ang goal ko talaga is to lose weight kaso hindi talaga bumababa (laughs)," he said.
His heft has not prevented him from joining races — in fact his family has also followed his lead and taken up triathlon.
"'Yun lang sa akin is to finish the race and finish strong — masaya na ako doon. And at least my family - yung wife ko nagta-triathlon na rin. 'Yung first born ko magri-race this end of March sa Clark sa kid's distance. "
Cruz, who actually finished faster than a third of the swimmers, usually registers in sprint and standard type races and will join the Regent 5150 in Subic in June - his longest solo race yet.
"It's never too late. I'm a big guy, at least mobile ako. I meet new friends and its healthy living. Tumatanda na so kailangan ng exercise and it's a good way to spend time with my children," he shared.
"So far masaya ang triathlete community, very supportive ang co-athletes. They cheer for you kahit hindi ka nila kilala - they boost your confidence," he added.
In another part of the beach, Wilhelmer Pumarada also stood waiting for his turn to jump into Subic Bay's cold water.
One of three Filipinos entered in the nine man-strong 65 and above age group, Pumarada was determined to do one thing.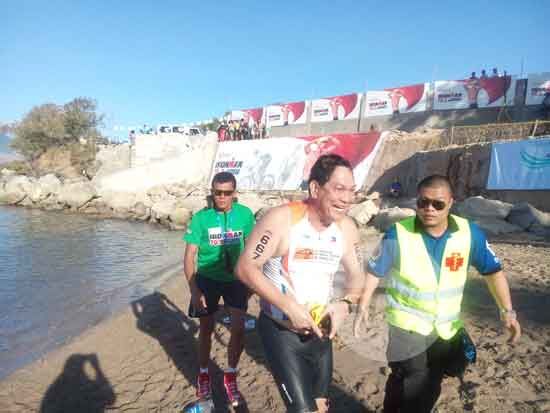 "Tatapusin ko ito regardless anong mangyari, at least masabi ko 70.3 natapos ko," said the spry septaguanarian. In his last Ironman event in Cebu, Pumarada said he was ten kilometers away from the finish line when the 8 and 1/2 hour cut off time reached him.
Running since 1982, the budget manager of the International Container Terminal Services Inc. finished his first marathon in 1988. In 2001, he took part in the early triathlons, competing in the extreme distance and Olympic distance categories. The 70.3 is his longest tri yet.
"I wouldn't be here if I wasn't enjoying myself," smiled the financial expert who keeps in shape by biking every other day and running regularly.
SPIN saw Pumarada finish the swim course in one hour, two minutes and 13 seconds - one of the last swimmers out of the water. Medics approached him when he seemed disoriented but he told them he was okay, proceeding to the transition area. It took him 4:10:49 to complete the bike but unfortunately was unable to reach the finish line before the cutoff time.
Even as the cast of international professional elites and the celebrity age groupers enjoy all the attention, there will always be folks like Cruz and Pumarada, who race not for fame and glory, but for the satisfaction of finishing strong.