CEBU — The Borlain Sisters Tara and Samantha posted a 1-2 finish in the 2016 Alaska Ironkids on Saturday.
Competing in the girl's 13-14 year old age group for the first time in Cebu, Tara Borlain took first place with a time of 46 minutes and 31 seconds in the 400 meter swim-12km bike-3km run course in the picturesque island of Mactan.
Elder sister Samantha was 26 seconds behind while Karen Andrea Manayon took the third spot on the podium.
"There's no sibling rivalry because we know each other and we accept whoever wins and whoever loses because we're sisters," said Tara, who came out of the water second behind Samantha but moved into first during the run.
In the boy's side, Juan Francisco 'Wacky' Baniqued never relinquished the lead from the time he emerged from the water, crossed the finish line with a huge smile for and clocked 44:49 for his third straight win in Cebu.
Joe Bernard Sarmiento was second, seven ticks ahead of Jose Manuel Arao.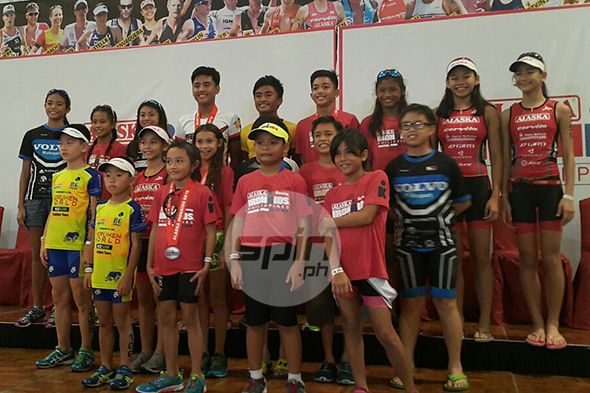 Continue reading below ↓
Recommended Videos
"Everything I thought about yesterday happened. Nauna po ako sa swim, sa bike and sa run," said Baniqued who considered this race to be his best so far since the Ani de Leon Brown talent managed to leave the competition in the bike portion which he considers his weakness.
Franchezka Borlain took first place in the girls' 6-8 age group, 37 seconds ahead of Zurielle Galo.
Former national bodybuilder Ringo Borlain said he originally planned to skip the race to test the mental fortitude of his daughters, but still planed in Friday night.
"(I told them) let's see how strong your minds are. Do really want it? Do you like the sport or is it because I'm there… It's about time you do something without me because there will come a time when I will not be there and they said they would go through (with the race)… I tested their courage," said Borlain.
The races drew almost 400 participants, the largest so far in the Ironkids series.
In the 11-12 years old division, Korean Hyonde Keum ruled the boys' group while Catherine Yu took the distaff side. For the 9-10, Matthew Hermosa won in convincing fashion as did Kira Ellis.